Trade CFDs on an award-winning platform
Go long or short on 9,000+ instruments with tight spreads and low commissions.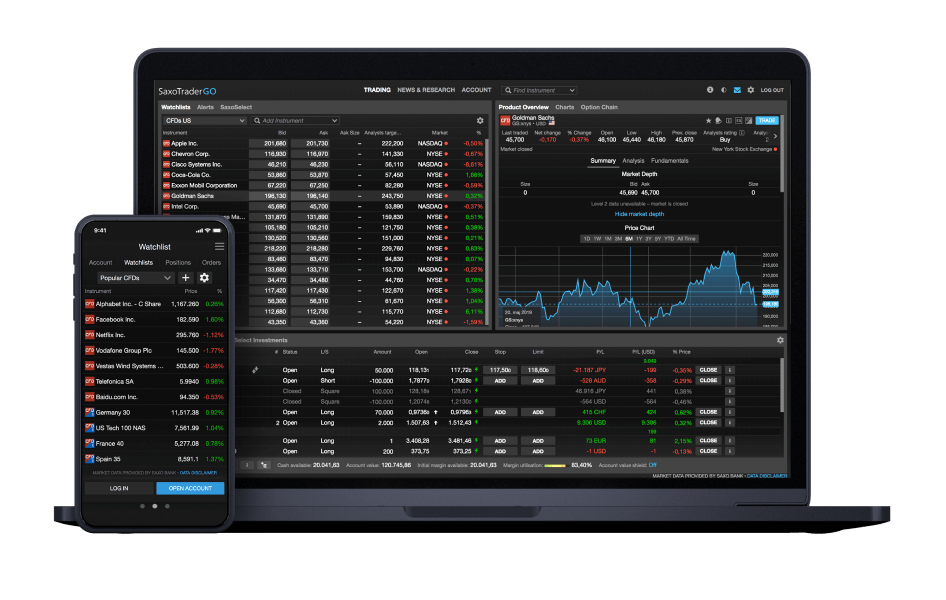 Why trade CFDs with Saxo Bank
Ultra-competitive pricing

Trade US stock CFDs from USD 3 and US Wall St 30 from 1.4 points.

Access 9,000+ CFDs

Trade CFDs on single stocks, indices, forex, commodities, options and bonds.

Award-winning platform

Benefit from integrated Trade Signals, news feeds and innovative risk-management features.

Expert service, trusted for 25 years

With 800,000+ satisfied customers, Saxo Bank offers world-class service around the clock.
Ultra-competitive CFD pricing
We offer three levels of pricing depending on your account tier.
Swipe left or right for more
| Instrument | Classic | Platinum | VIP |
| --- | --- | --- | --- |
| US 500 | 0.70 | 0.50 | 0.40 |
| GER 30 | 1.20 | 1.00 | 0.90 |
| US Tech 100 | 1.00 | 0.70 | 0.50 |
| US 30 | 3.00 | 2.00 | 2.00 |
| UK 100 | 1.00 | 0.90 | 0.85 |
Receive lower prices as you trade more with our Platinum and VIP account tiers. Learn more
CFDs risk warning
A CFD is categorised as a red product as it is considered an investment product with a high complexity and a high risk.
Danish banks are required to categorise investment products offered to retail clients depending on the product's complexity and risk as: green, yellow or red. For further information click here