Trade 4,200+ bonds digitally
Trade 4,200+ government and corporate bonds in Europe, US, Asia, Middle East and Latin America digitally.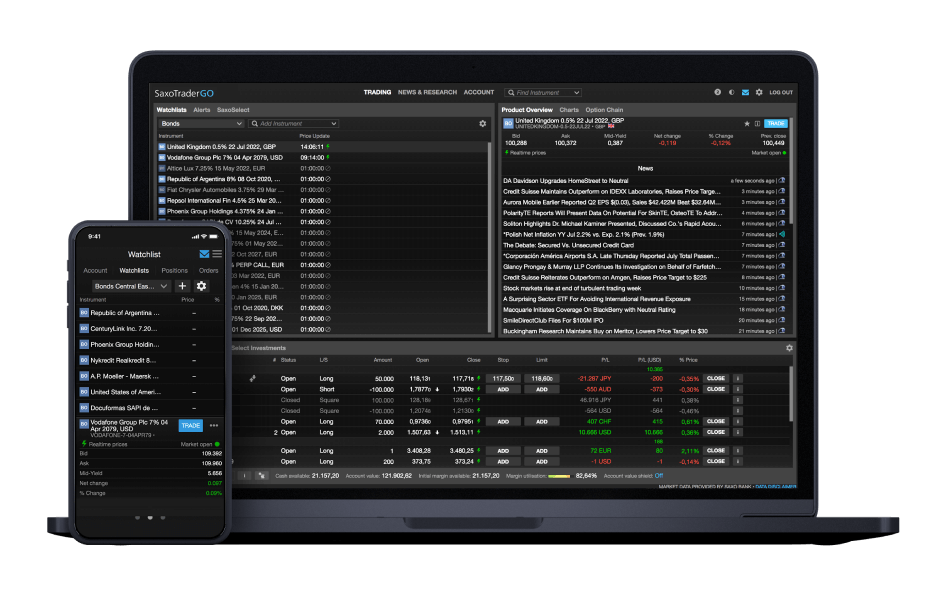 Why trade bonds with Saxo Markets
Ultra-competitive pricing

Standard commission rates start at 0.20%, and drop as low as 0.05% as you trade more.

Trade bonds digitally

Get direct access to tier 1 liquidity and receive the best spreads with minimal mark-up.

Award-winning platform

Trade bonds from the same platform as other assets and access powerful analysis tools.

Expert service, trusted for 25 years

With 810,000 satisfied customers, Saxo Group offers world-class service around the clock.
Ultra-competitive bonds commissions
We offer three levels of pricing depending on your account tier. All prices have an equivalent minimum commission if traded in another currency.
Swipe left or right for more
| Type of bond | Classic | Platinum | VIP |
| --- | --- | --- | --- |
| European government bonds | 0.20% (min. EUR 20) | 0.10% (min. EUR 20) | 0.05% (min. EUR 20) |
| US government bonds * | 0.20% (min. EUR 20) | 0.10% (min. EUR 20) | 0.05% (min. EUR 20) |
| European and US corporate bonds | 0.20% (min. EUR 20) | 0.10% (min. EUR 20) | 0.05% (min. EUR 20) |
| Emerging markets bonds ** | 0.20% (min. EUR 20) | 0.10% (min. EUR 20) | 0.05% (min. EUR 20) |
Receive lower prices as you trade more with our Platinum and VIP account tiers - learn more
Benefit from fully digital bond execution
Low spreads

Orders are routed straight to an optimised digital dealer auction, where the top end of 50+ liquidity providers compete for your order and return the best possible price for an instant trade.

Low commissions

With direct electronic access to liquidity providers, we eliminate manual processes across the value chain of traditional bond trading - so that you can benefit from significantly lower commissions.

Tier 1 liquidity

We source liquidity from our network of more than 50+ Tier-1 liquidity providers in the global OTC market, covering the US, EU and emerging markets including LATAM, APAC and MENA.
Trade bonds on our award-winning trading platform

Trade bonds on our award-winning trading platform

SaxoTraderGO is our powerful yet easy-to-use platform. Trade from PC, Mac, tablet or smartphone.
Powerful bond trading tools
Benefit from extensive charting with 50+ technical indicators, integrated Trade Signals, and innovative risk-management tools.
Access 4,200+ online and 3,600+ offline bonds
Fast and reliable access to the markets from your phone, tablet, laptop or multi-screen desktop set-up.


Saxo Markets allows Professional clients to use a percentage of their investment in certain bonds to be used as collateral for margin trading activities.
The collateral value of a bond position depends on the rating of the individual bond, as outlined below:
| Rating definition* | Collateral percentage |
| --- | --- |
| Highest Rating (AAA) | 95% |
| Very High Quality (AA) | 90% |
| High Quality (A) | 80% |
* as rated internally by Saxo Markets
Example: 80% of the market value of a bond position with an A rating can be used as collateral (instead of cash) to trade margin products such as Forex, CFDs or Futures and Options.
Saxo supports 3,600 bonds offline, so there is a good chance that it can be traded offline from our bond desk. Please contact Saxo to enquire about the possibility of trading the specific bond offline. If so, it will be manually traded, but will still appear in the account summary of your account just like any other position.
Bonds have different minimum trading sizes which can be as high as 50k, 100k or 200k in the relevant currency. You can see the minimum trading sizes and increment on each bond under account > Trading conditions as well as on the trade ticket. However, there are bonds which trade in lower sizes, which may also be available (a minimum limit of 10k in € or $ on all online bonds).
Bonds can be traded online 24/5 if the relevant underlying bond market is open. Trading hours will be limited to the daylight hours where liquidity in the relevant underlying bond market is best (i.e. European government bonds are open for trading in European hours).
A wide range of the most active and liquid government and corporate bonds in Europe, US, Asia, the Middle East and Africa, as well as a limited number of Latin American bonds - in total more than 4,200 bonds - are available for online bond trading.
24-hour expert service
24-hour expert service
Whether you're a high- or low-volume trader, you'll receive first-class support tailored to your needs.
Integrated digital support
Access our self-service support centre, email helpdesk and a range of educational courses.
24-hour customer service
Get support for technical matters and account queries whenever markets are open.
Relationship managers and sales traders
Active traders benefit from a dedicated point of contact and access to our world-class trading experts.
Exclusive VIP services
Receive our very best prices, priority support and exclusive event invitations.
Trusted for more than 25 years
Trusted for more than 25 years
Fully regulated
Saxo Markets adheres to the strictest regulatory standards and are authorised and regulated by the Financial Conduct Authority in the UK.
Financial strength
Saxo Group are a financially stable company with a robust balance sheet. We serve clients in 170 countries, hold 80 bn USD in AUM and process 1m transactions daily.
Multi-award winner
We've been consistently recognised by our industry and have won the highest accolades for our products, platform and service.