Trade ETFs on an award-winning platform
Access more than 5,500 exchange traded funds (ETFs) from 30+ exchanges around the world.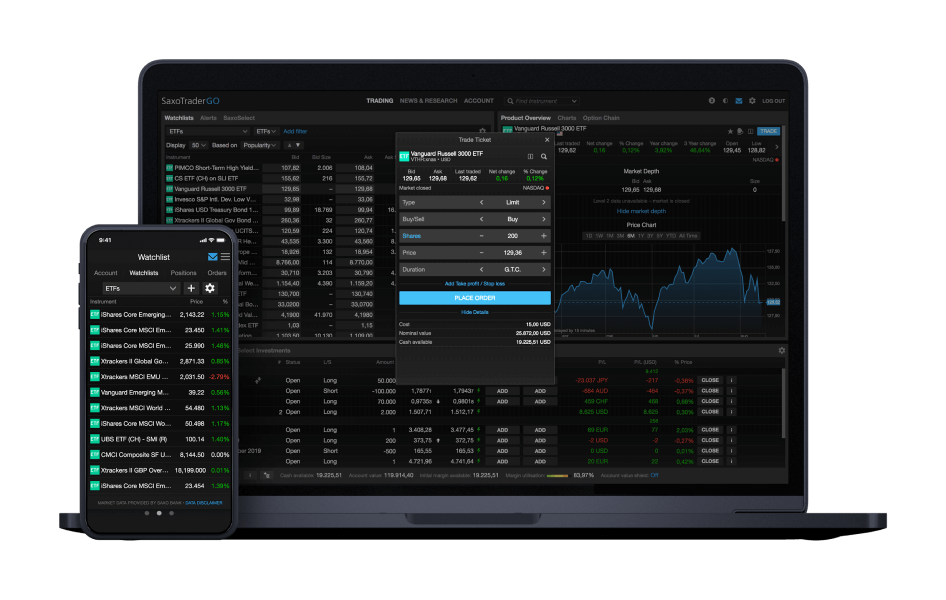 Why trade ETFs with Saxo Bank
Ultra-competitive pricing

See how Saxo's prices allow you to trade ETFs at very competitive levels.

Access 5,500+ ETFs

Access more than

5,500

ETFs from

30

+ exchanges around the world.

Award-winning platform

Trade a wide range of exchange traded products on an award-winning platform.

Expert service, trusted for 25 years

With 810,000+ satisfied customers,

Saxo Bank

offers world-class service around the clock.
Ultra-competitive ETF commissions
We offer three levels of pricing depending on your account tier.
| Exchange | Classic | Platinum | VIP | |
| --- | --- | --- | --- | --- |
| | | | | |
| NYSE MKT (American Stock Exchange) | | | | |
| | | | | |
| | | | | |
| | | | | |
| Australian Securities Exchange | | | | |
| | | | | |
| | | | | |
| | | | | |
| | | | | |
| | | | | |
| | | | | |
| | | | | |
| | | | | |
An error occured
Please contact us if the problem persists
Access 60+ exchanges worldwide
Trade more than 30,000 stocks and 5,500 ETFs* from leading global exchanges.
Start trading with Saxo today
Open a Saxo account in just a few steps and gain access to all asset classes
Trade ETFs on SaxoTraderGO today

Trade ETFs on SaxoTraderGO today

SaxoTraderGO is our powerful yet easy-to-use platform. Trade from PC, Mac, tablet or smartphone.
A platform designed for the task in hand
Place trades, manage orders and work from charts in fewer clicks than ever, with streamlined navigation across a user-friendly workspace.
Access 40,000+ instruments
Access 40,000+ instruments. Trade stocks, bonds, ETFs, futures, listed options and other leveraged products from a single cross-margin, multi-currency account.


Exchange traded funds (ETFs)

Gain exposure to a range of asset classes with access to 5,500+ ETFs on 30+ exchanges worldwide.

Exchange traded notes (ETNs)

Track traditional and alternative assets, including bitcoin and ethereum, with our range of ETNs.

Exchange traded commodities (ETCs)

Invest in the performance of individual commodities or baskets of related securities with our ETCs.
We execute stock orders using smart order routing (SOR) technology, which sources liquidity from multiple venues, including regulated exchanges and MTFs, to optimise execution rates and fill ratios.
You can use a percentage of your stocks' value as margin collateral to increase your market exposure when trading leveraged products. To see a complete list of available stocks and ETFs, along with their collateral values, click here.
24-hour expert service
24-hour expert service
Whether you're a high- or low-volume trader, you'll receive first-class support tailored to your needs.
Integrated digital support
Access our self-service support centre, email helpdesk and a range of educational courses.
24-hour customer service
Get support for technical matters and account queries whenever markets are open.
Relationship managers and sales traders
Active traders benefit from a dedicated point of contact and access to our world-class trading experts.
Exclusive VIP services
Receive our very best prices, priority support and exclusive event invitations.
Trusted for more than 25 years
Trusted for more than 25 years
Fully regulated
We adhere to the strictest regulatory standards, and are fully licensed and regulated in 15 jurisdictions across Europe, the Middle East and Asia.
Financial strength
We're a financially stable company with a robust balance sheet. We serve clients in 170 countries, hold 95+ bn USD in AUM and process 1m transactions daily.
Multi-award winner
We've been consistently recognised by our industry and have won the highest accolades for our products, platform and service.
Ready to get started?
Open a Saxo account in just a few steps and gain access to all asset classes
ETFs risk warning
ETFs are categorised as yellow or red products depending on the individual instrument.
Danish banks are required to categorise investment products offered to retail clients depending on the product's complexity and risk as: green, yellow or red. For further information click here