Automatic Exchange of Information
What is the Automatic Exchange of Information?
The Organization for Economic Cooperation and Development (OECD) has defined and published a new global standard for the so-called "Automatic Exchange Of Information" (AEOI) which shall help to prevent tax evasion (for further information click here).
The AEOI provides for the exchange of information regarding financial accounts of non-resident account holders with the tax authorities in the account holders' country of residence. Participating jurisdictions that implement the AEOI will send and receive pre-agreed information automatically each year, without having to send a specific request. To date, almost 100 countries, including all major financial centers and Switzerland, have declared their intention to adopt the AEOI.
What about the AEOI in Switzerland?
In Switzerland the AEOI entered into force on 1 January 2017. Therefore, Saxo Bank (Switzerland) Ltd. (thereafter "the Bank") along with other Swiss banks and financial institutions must report data on all clients resident in an AEOI partner jurisdiction to the client's country of residence for the first time in the year 2018 regarding the year 2017. A constantly updated list of Switzerland's AEOI partner jurisdictions is available at https://www.sif.admin.ch/.
The following diagram illustrates how the AEOI works.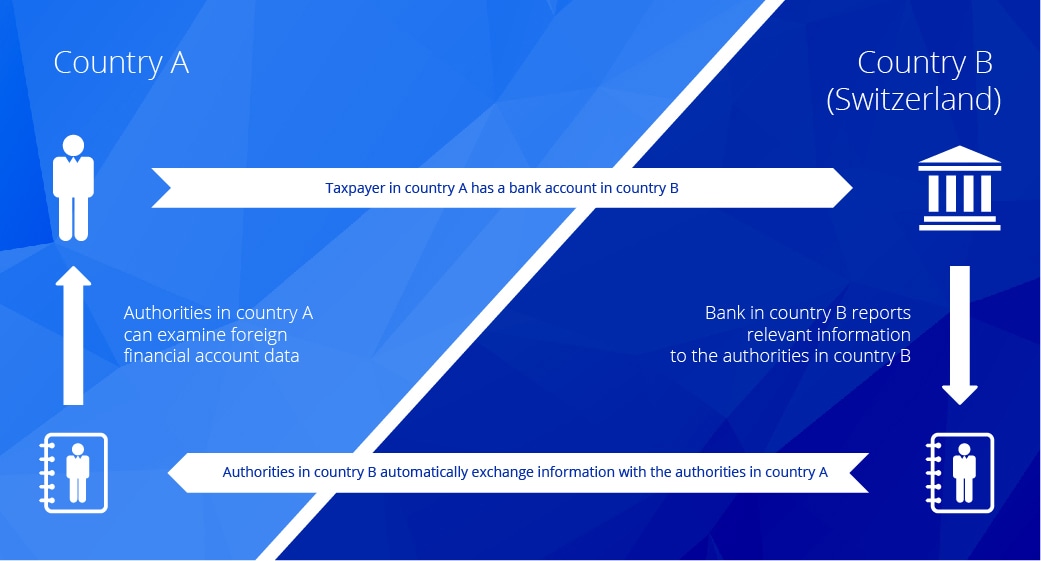 Which information will be reported?
The following information is to be reported by financial institutions to the tax authorities in their country of domicile and will be exchanged with the tax authorities in the client's country of tax residence:
Identification information (e.g. name of the natural person or entity holding a reportable account, address, date of birth, country of residence for tax purposes, taxpayer identification number (TIN));
Account information (e.g. name of the reporting financial institution and account number); and
Financial information (e.g. account balance, dividends, other income, gross proceeds)
What are the implications?
The AEOI standard requires banks to extend their current client identification and documentation procedures for both new and existing clients. These requirements are pertinent to both individual clients and entities. Based on those enhanced procedures, clients are required to provide banks with specific information and documentation establishing their status for the purposes of the AEOI, e.g. TIN, tax residence, AEOI status of entities. While new clients will have to provide such information in the account opening process, existing clients will be approached in due time.
Please be aware that the Bank is not in a position to provide any legal or tax advice as regards to the AEOI.
For more information please consult the Factsheet