Trade FX options on an award-winning platform
Access 40 FX vanilla options with maturities from one day to 12 months.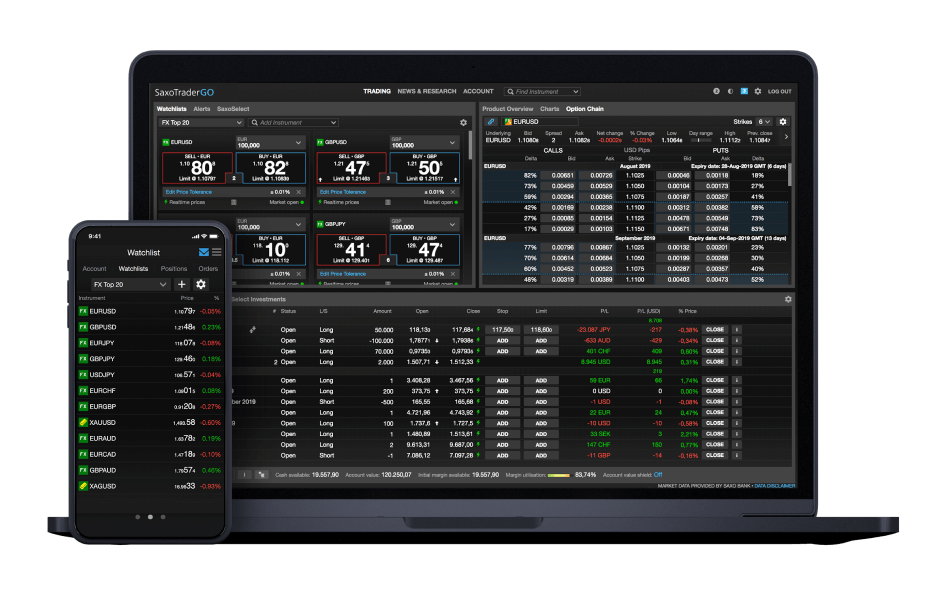 Why trade FX options with Saxo Bank Switzerland
Ultra-competitive pricing

Trade EUR USD from 3 pips and USD JPY from 5 pips.

Access 40 FX options

Trade FX options across major pairs with maturities from one day to 12 months.

Advanced FX Option tools

Take advantage of extensive option chain tools, option analytics and innovative risk-management tools.

Expert service, trusted for 30 years

With 850,000+ satisfied customers,

Saxo Bank Switzerland

offers world-class service around the clock.
Tight, all-inclusive FX option spreads
We offer three levels of pricing depending on your initial funding and trading volume.
Swipe left or right for more
| 30 day at-the-money spreads* | Classic | Platinum | VIP |
| --- | --- | --- | --- |
| EUR USD | 5.0 | 4.0 | 3.0 |
| USD JPY | 6.0 | 5.0 | 4.0 |
| GBP USD | 8.0 | 7.0 | 5.0 |
| AUD USD | 5.0 | 4.0 | 3.0 |
| EUR JPY | 9.0 | 8.0 | 6.0 |
| EUR CHF | 8.0 | 7.0 | 6.0 |
| XAU USD | 180.0 | 160.0 | 140.0 |
| XAG USD | 9.5 | 8.8 | 6.5 |
Receive lower prices as you trade more with our Platinum and VIP account tiers. Learn more
Wide range of maturities

With maturities from one day to 12 months, traders can choose the expiration and strike price that best suits their strategy and market view.

Better risk-management

In addition to traditional stop-loss orders, FX options offer more alternatives to controlling risk. They can be used to hedge current FX positions, or express a view on future volatility.

Client-centric approach

We fully disclose our dealing practices and our commitment to transparency shows that our interests are fully aligned with yours.
Trade FX options with advanced tools
Trade FX options with advanced tools
SaxoTraderGO is our powerful yet easy-to-use platform. Trade from your PC, Mac, tablet or smartphone.

Robust option chain functionality
Benefit from extensive charting with 50+ technical indicators, integrated Trade Signals and innovative risk management tools.
High-quality analytics
Our professional-grade suite of real-time reports provide detailed analysis of FX spot and options positions, across multiple pairs.


24-hour expert service
24-hour expert service
Whether you're a high- or low-volume trader, you'll receive first-class support tailored to your needs.
Integrated digital support
Access our self-service support centre, email helpdesk and a range of educational courses.
24-hour customer service
Get support for technical matters and account queries whenever markets are open.
Relationship managers and sales traders
Active traders benefit from a dedicated point of contact and access to our world-class trading experts.
Exclusive VIP services
Receive our very best prices, priority support and exclusive event invitations.
Trusted for more than 25 years
Trusted for more than 25 years
Fully regulated
We adhere to the strictest regulatory standards, and are fully licensed and regulated in 15 jurisdictions across Europe, the Middle East and Asia.
Financial strength
We're a financially stable company with a robust balance sheet. We serve clients in 170 countries, hold 85+ bn EUR in AUM and process 1m transactions daily.
Multi-award winner
We've been consistently recognised by our industry and have won the highest accolades for our products, platform and service.
Forex Options risk warning
You should be aware that in purchasing Foreign Exchange Options, your potential loss will be the amount of the premium paid for the option, plus any fees or transaction charges that are applicable, should the option not achieve its strike price on the expiry date

Certain options markets operate on a margined basis, under which buyers do not pay the full premium on their option at the time they purchase it. In this situation you may subsequently be called upon to pay margin on the option up to the level of your premium. If you fail to do so as required, your position may be closed or liquidated.

If you write an option, the risk involved is considerably higher than buying an option. You may be liable for margin to maintain your position and a loss may be sustained well in excess of the premium received.

By writing an option, you accept a legal obligation to purchase or sell the underlying asset if the option is exercised against you; however far the market price has moved away from the strike. If you already own the underlying asset that you have contracted to sell, your risk will be limited.

If you do not own the underlying asset the risk can be unlimited. Only experienced persons should contemplate writing uncovered options, then only after securing full detail of the applicable conditions and potential risk exposure.