President Donald Trump's decision to slap tariffs on $60 billion worth of Chinese imports and that country's retaliation with levies of its own has slammed into financial market sentiment, pummeling equities lower and sparking concern about this trade war's impact on economic growth.

The nervous mood has been further exacerbated by news of yet another White House dismissal which saw Trump replacing his national security adviser, HR McMaster, with John Bolton – who is, says Saxo head of forex strategy John J Hardy, "a noted hawk who made very strong statements about Iran just two days ago".

But for all that, forex markets are remarkably quiet, Hardy says, with the only noteworthy move being a slight advance by the Japanese yen, the usual beneficiary of risk-off flows. On the other hand, Saxo's Global Risk Index reflects the these latest Trump shocks very graphically [chart below] and is heading back lower, Hardy says.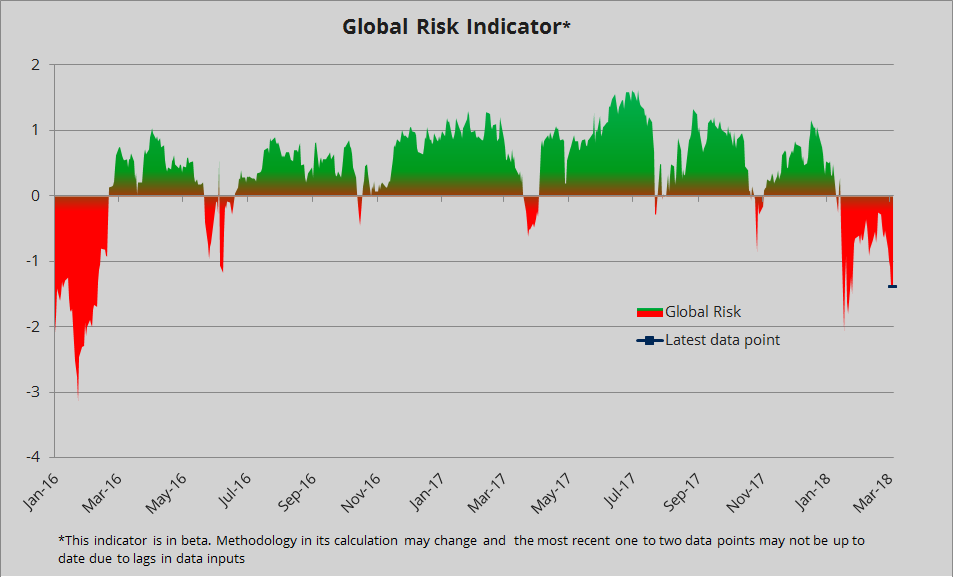 But equities are taking the brunt of the hit with Asia suffering very steep falls overnight and the rot now spreading to the European open. "We're now down at levels in the S&P 500 where it's getting uncomfortable and if we break below 2,600 then potentially we have a completely new scenario," says Peter Garnry, Saxo's head of equity strategy. "Our stance is to remain cautious and defensive – be careful out there and keep stops tight," he adds.

The trade war is also having an impact on commodities, says Ole Hansen, Saxo's head of commodity strategy: "Commodities depend on primarily one thing and that's global growth because this is what sparks demand." Fears about a fallback in economic growth are most immediately felt in industrial metals while precious metals benefit from their safe-haven status.

Oil is another beneficiary as the possibility of new US sanctions on Iran has sent crude bolting into a technical breakout rally. "Rising global trade tensions risks are impacting global growth and demand but for now the expected renewal of US sanctions against Iran is the main theme influencing the market," Hansen says.
You can access both of our platforms from a single Saxo account.