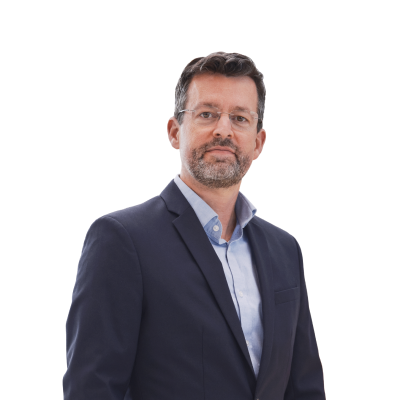 John Hardy
Head of FX Strategy
The Federal Open Market Committee meeting encouraged a fairly strong initial reaction in rates markets as the higher forecasts for GDP (this year and next) and PCI core (to 2.1% for 2019 and 2020), as well as a slight rise in the median dot plot forecasts for all but the terminal policy rate, pushed rate hike expectations to strong new highs for the cycle.

But as Fed chair Jay Powell's press conference wore on, he spoke frankly about the dot plot forecasts just being that – forecasts – and not something that the Fed will necessarily be tied to. This goes to my point that I expected this chair to be less interested, at this point in the cycle, in having Fed guidance seen as a guarantee for market participants, leaving them little leeway for a change of tack.

As a Bloomberg article pointed out as well, Powell's discussion on the unemployment rate and wages shows that he won't be tied to economic theories (Philips curve, etc.) unless they show signs of actually being relevant.

Finally on the FOMC, it was interesting to note Powell's general avoidance of expressing any strong opinion on risks to the economy from trade tariffs or any judgmental language. He did, however, mention that some business leaders in contact with the Fed had expressed concern on the issue. This is a very loud signal that the Powell Fed does not want to risk political backlash, as the trade tariff/protectionism issue is actually likely seen as a huge risk, but the Fed also doesn't want to speak with too loud a voice on the issue, given that Powell does not yet have a vice-chair and a number of governor positions remain unoccupied.

Too much noise and a Trump backlash might be inevitable, with trade hawks gaining appointment to the Fed. The Fed's sway over the situation, in short, is vastly reduced.

As soon as today, the White House has expressed intent to essentially declare the start of a trade war with China. "Tomorrow the president will announce the actions he has decided to take based on USTR's 301 investigation into China's state-led, market-distorting efforts to force, pressure, and steal US technologies and intellectual property," White House official Raj Shah said in an emailed statement on Wednesday.

This is serious stuff and will be met with a stern Chinese response. It is spectacular that global risk appetite has held together as well as it has thus far on this issue – but stay tuned, volatility could rise across markets. As we have expressed before, the reaction function in FX is not particularly straightforward.

Chart: GBPUSD

Cable is pulling higher on hawkish Bank of England expectations, which must be met today to sustain the rally, and on an FOMC that left the USD weaker. The next test for sterling is the 1.4300+ top resistance (note, however, that the highest daily close was barely above 1.4250), followed by 1.4500.

In EURGBP, focus on the sub-0.8700 lows that have defined the range for months now.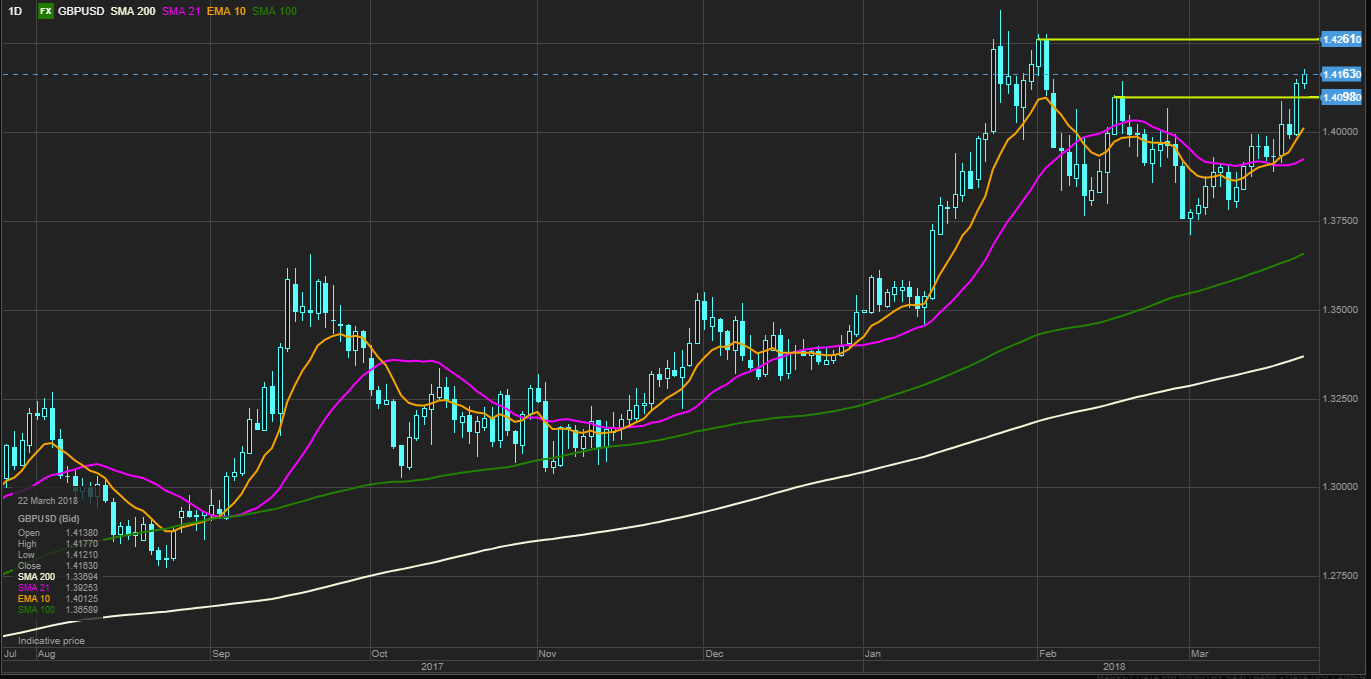 The G-10 rundown

USD – the USD weaker post-FOMC, a reaction that feels like a squaring of recent longs more than strong new conviction. Weak risk appetite from here linked to a trade showdown between US and China could see general deleveraging of USD shorts and a preference for the liquidity of the USD.

EUR – the euro is rebounding, but we have been gyrating pointlessly mid-range and lack the euro-positive catalysts to send EURUSD over the top again until proven otherwise.

JPY – the yen naturally strengthening post-FOMC on the combination of Fed uncertainty (yields failing to sustain higher), trade confrontation risk and weak risk appetite. Watching USDJPY lows for the cycle and risk/JPY crosses for more.

GBP – a big day for sterling, which will need to see the BoE maintain the hawkish tone from the prior meeting and further confirmation that May is the time for the next hike. EURGBP is running out of downside range after a persistent sell-off and could open up new territory below 0.8690 on positive developments. Note the retail sales data just before.

CHF – the franc has put us to sleep, though it has maintained a remarkably tight range since the rally in EURCHF, normally a bullish sign.

AUD – Australia rates jumping to new high for the cycle, as Feb payrolls missed very slightly but were strong for full-time positions. As well, the participation rate nudged higher. AUDUSD has rejected another break lower, but not yet fully enough to make a statement.

CAD – a tremendous reversal of fortune as most factors have swung in CAD's favour, from a steep rally in crude prices to positive NAFTA developments and a weaker US dollar. The first support zone is already coming into view below 1.3000 near 1.2800 and the support for the cycle looks like 1.2650 – the former resistance zone and the 200-day moving average.

NZD – the Reserve Bank of New Zealand's Spencer speaking very quietly on the currency, which he sees at fair value and only worth mentioning when there is a problem. A handoff next week to the unknown quantity of Adrian Orr. NZDUSD avoided a downside break that threatened ahead of the FOMC, keeping the range intact for now.

SEK – a bounce off support as the downside pivot in EURSEK is well defined now in the 10.05-00 area.

NOK – increasing caution for NOK bulls as the big oil rally has failed to see follow-on momentum lower in EURNOK after the recent break. Trade worries a significant concern for smaller less liquid currencies and longer-term oil price outlook (fairly strong backwardation in prices at present)

Upcoming Economic Calendar Highlights (all times GMT)

• 0800-0900 – Eurozone Flash Mar. PMI Surveys
• 0900 – Germany Mar. IFO Survey
• 0900 – ECB's Nuoy to speak
• 0930 – UK Feb. Retail Sales
• 1200 – Bank of England Rate Announcement
• 1230 – US Weekly Initial Jobless Claims
• 1615 – Norges Bank's Olsen speaks
• 1700 – BoE's Ramsden Speaks
• 1845 – Bank of Canada's Wilkins to speak