A smarter way to trade crypto
Whether you're looking to speculate on short-term price action or playing the long game, trading crypto with Saxo is the secure, flexible and hassle-free way to invest in cryptocurrencies like bitcoin and ethereum.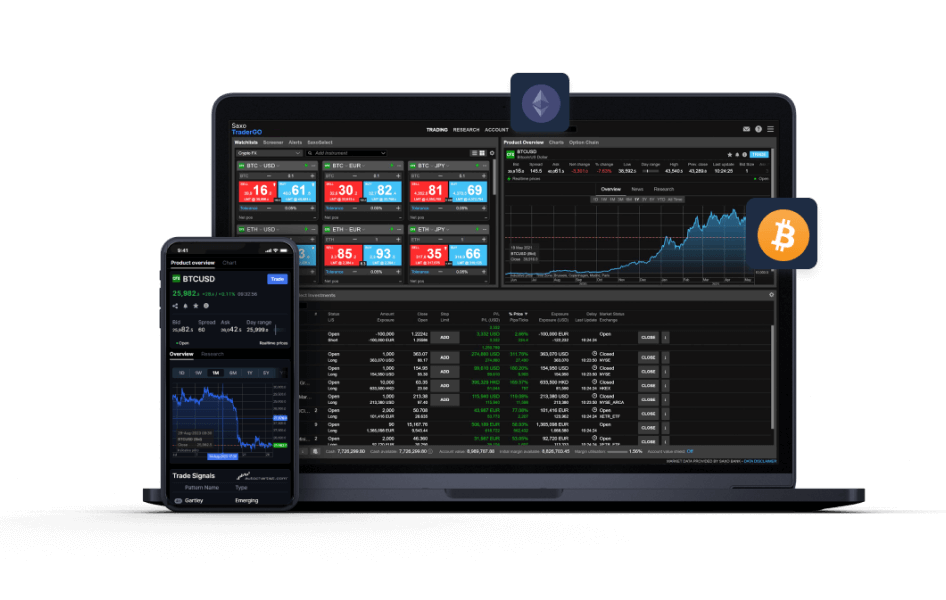 Why trade crypto with Saxo?
Hassle-free

Manage your crypto trading on an easy-to-use platform and don't worry about crypto wallets, cold storage or recovery seeds.

Flexible

Go long or short with leverage to capitalise on rapid price movements, or invest long-term in crypto on mobile or desktop.

Secure

Keep your focus on price movement. You don't own or store the coins, so you don't need to worry about crypto exchange hacks or losing access.

Trusted

Trade with a licensed and regulated broker that protects your funds, on a reliable platform fine-tuned over 30 years.
Risk transparency
Cryptocurrencies have become known for their extreme fluctuations in prices. While there is potential for significant gains, please understand the risks before investing. See our Risk Warning.
Security

With crypto markets still largely unregulated, they can be prone to market manipulation. Hackers have also gained unauthorised access to digital wallets and crypto exchanges in the past.

Liquidity

Most bitcoins are held by a small number of investors, and many platforms and exchanges trade on their own books. In a sales rush, liquidity issues could leave investors sidelined with rapidly falling prices.

Boom or bust

The parabolic price increases of cryptocurrencies are largely driven by speculation rather than intrinsic value. The first crypto bubble burst spectacularly in 2018, suggesting history could repeat itself.

High volatility

In 2017 bitcoin's value soared by more than 1,000%, before losing 80% of its value in early 2018. Since the start of 2019, it has climbed more than 800% as of January 1st 2021, spurred on by large corporations' entry into the crypto space.
Ways to trade crypto with Saxo
Choose a product that suits your strategy and risk appetite
Crypto FX
Take advantage of short-term volatility with leverage
Wide choice of crypto crosses
Trade bitcoin and ethereum against the major fiat currencies. Trading Crypto FX pairs means you don't have to exchange between currencies when it's time to cash out. We offer BTC and ETH against USD, EUR or JPY.
Take advantage of rising and falling markets
Don't limit yourself to bull markets. Go long or short and trade the market in either direction.
Increase your buying power
Trade Crypto FX pairs with leverage to increase your purchasing power and maximise your exposure to potential gains. Please note that leverage also amplifies potential losses as well as gains.
Crypto ETFs and ETNs
Take a long-term view with unleveraged exchange traded products, such as ETFs and ETNs
The simple way to diversify your portfolio with crypto
Invest over the long-term with crypto ETFs and ETNs. Buy and hold just like you would with stocks. We offer ETNs and ETFs on bitcoin, ethereum, ripple, tezos and others.
A more cost-efficient way to buy and hold
Avoid interest and roll-over fees with ETFs and ETNs, if you want to make cryptocurrencies a long-term component of your portfolio.
Manage your risk
Crypto markets can be notoriously volatile. ETFs and ETNs aren't traded with leverage, so you can't lose more than you invest, even in the event of a drop in crypto prices.
Competitive and transparent prices
See our competitive fees upfront, so you can keep more of your returns without any surprises.
Swipe left or right for more
Swipe left or right for more
| Instrument | Currency | Bronze | Silver | Gold | Platinum | Diamond |
| --- | --- | --- | --- | --- | --- | --- |
| Bitcoin Tracker EUR XBT Provider - ETN | EUR | 0.10% (min. SEK 65) | 0.10% (min. SEK 65) | 0.10% (min. SEK 65) | 0.07% (min. SEK 50) | 0.05% (min. SEK 50) |
| Bitcoin Tracker One XBT Provider - ETN | SEK | 0.10% (min. SEK 65) | 0.10% (min. SEK 65) | 0.10% (min. SEK 65) | 0.07% (min. SEK 50) | 0.05% (min. SEK 50) |
| Ethereum Tracker EUR XBT Provider - ETN | EUR | 0.10% (min. SEK 65) | 0.10% (min. SEK 65) | 0.10% (min. SEK 65) | 0.07% (min. SEK 50) | 0.05% (min. SEK 50) |
| Ethereum Tracker One XBT Provider - ETN | SEK | 0.10% (min. SEK 65) | 0.10% (min. SEK 65) | 0.10% (min. SEK 65) | 0.07% (min. SEK 50) | 0.05% (min. SEK 50) |
| 21Shares Crypto Basket Index ETP | USD | 0.10% (min. CHF 18) | 0.10% (min. CHF 18) | 0.10% (min. CHF 18) | 0.08% (min. CHF 15) | 0.06% (min. CHF 10) |
Learn more about trading crypto with Saxo
Start trading with Saxo today
Open an account in minutes using your Singpass via Myinfo
Trade crypto on our award- winning platform
Trade crypto on our award- winning platform
Trade cryptocurrencies like bitcoin, ethereum and ripple on an easy-to-use platform that puts powerful tools in your hands. Track your coin's trends with advanced analytics and put robust risk-management solutions in place.
Frequently Asked Questions
Saxo offers access to crypto through exchange traded products (ETPs) and a variety of Crypto FX pairs e.g. BTCUSD and ETHJPY.
A crypto wallet is not required because you do not own the underlying coins when trading ETPs or Crypto FX pairs. This also means that there is no need for cold storage solutions or recovery seeds.
Saxo does not allow funding or withdrawal in cryptocurrencies.
Crypto FX pairs are available on the SaxoTraderGO and SaxoTraderPRO platforms.
Crypto FX pairs support fractional trading which allows you to trade in fractions of a crypto.
This provides the possibility to scale your position with greater precision and does not limit you to trading crypto in full integer amounts.
Swipe left or right for more
| | Minimum trade size |
| --- | --- |
| BTC | 0.01 BTC |
| ETH | 0.1 ETH |
Crypto FX pairs are not subject to a minimum commission.
You can short crypto using Crypto FX pairs, allowing you to benefit from falling prices.
Trading hours for FX Crypto crosses adhere to the trading hours of Crypto Futures offered on the CME exchange.

Trading Hours for BTCUSD, BTCEUR, BTCJPY, ETHUSD, ETHEUR, and ETHJPY are:
| | |
| --- | --- |
| Monday | 17:00 – 15:55 CT (18:00-16:55 EST) |
| Tuesday | 17:00 – 15:55 CT (18:00-16:55 EST) |
| Wednesday | 17:00 – 15:55 CT (18:00-16:55 EST) |
| Thursday | 17:00 – 15:55 CT (18:00-16:55 EST) |
| Friday | 17:00 – 15:55 CT (18:00-16:55 EST) |
Please note that the underlying crypto market remains open on weekends and any Crypto FX exposure should be managed and adjusted before the FX trading session closes on Friday evening.

Saxo Crypto FX Trading hours follow the CME Group holiday calendar which is available on the CME Group public website, as well as under the Holiday Overview.
The trading profit/loss will always be settled in the second currency in the Crypto FX pair which is always the fiat currency e.g. BTCUSD will be settled in USD and converted to your account currency.
Crypto FX positions do not settle into physical crypto. Instead, open positions held at the end of a trading day (17:00 Eastern Standard Time) are rolled forward to the next available business day.
You can find more information on the rollover procedure along with Historic swap points here.
Crypto FX pairs are leveraged instruments which allow you to open positions in greater size than you available collateral. Please note that leveraged instruments amplify both trading gains and losses. You can find the relevant margin requirements for Crypto FX pairs here.
For BTC & ETH Pairs, Saxo will apply an Exposure limit of USD 500,000 per coin for Retail clients and USD 500,000 per coin for Accredited Investors.
Cryptocurrencies are not regulated by the Monetary Authority of Singapore (MAS) as they are not legal tender or securities and the trading of derivatives on Cryptocurrencies are currently not covered under any regulatory regime in Singapore. Investors should be aware that they do not have any legislative protection, including the Securities and Futures Act (Cap. 289), when they deal with cryptocurrencies and related investment products. Consequently, if you choose to invest in unregulated products, you will not be protected under MAS regulations. Please ensure that you are fully aware of the risks involving cryptocurrencies and if in doubt, you should consult an independent financial adviser. To find out more about cryptocurrencies and risks, you may wish to visit the MoneySense website here.
Please see below for the margin requirements.
Retail clients
Swipe left or right for more
| | Initial Margin / Maintenance Margin | Exposure limit |
| --- | --- | --- |
| BTC | 50%/40% | USD 500,000 |
| ETH | 60%/50% | USD 500,000 |
Accredited Investors
Swipe left or right for more
| | Initial Margin / Maintenance Margin | Exposure limit |
| --- | --- | --- |
| BTC | 40%/30% | USD 500,000 |
| ETH | 50%/40% | USD 500,000 |