Trade Hong Kong's biggest IPOs
with 0% interest
Subscribe for shares in HKEX public offerings with up to 10x leverage and
a 0% financing rate.
Why trade IPOs with Saxo Markets?
0% interest rate

Increase your buying power with up to 10x leverage and 0% interest during the allocation period.

Low subscription fee

Get a better deal on your IPO subscription – pay a low fee of just HKD$40 for cash subscription or HKD$90 for leverage subscription to apply.

Simple online process

Connect to HKEX IPOs quickly and easily through our user-friendly mobile platform.

Expert service

Benefit from in-depth market analysis and tailored support from our trading experts.
Swipe left or right for more
| Company | Listing date | Application start date | Saxo application cut-off time |
| --- | --- | --- | --- |
| Wuhan YZY Biopharma Co., Ltd. | Sep 25 | Sep 12 | Sep 14 (23:59 HKT) |
| LC Logistics, Inc. | Sep 25 | Sep 12 | Sep 14 (23:59 HKT) |
Why invest in Hong Kong IPOs?

High potential returns

In 2019 over 160 companies went public on HKEX, raising more than 300bn HKD. Elevated public interest continues into 2020 keeping Hong Kong IPOs attractive to early investors looking for potential returns.

Unlimited intra-day trading

You can make as many trades as you want on day one after the IPO, giving you more opportunities to take advantage of potential price moves.

Regulated and transparent

International standards and strict disclosure guidelines ensure you'll have timely and transparent access to relevant information on upcoming IPOs and listed companies.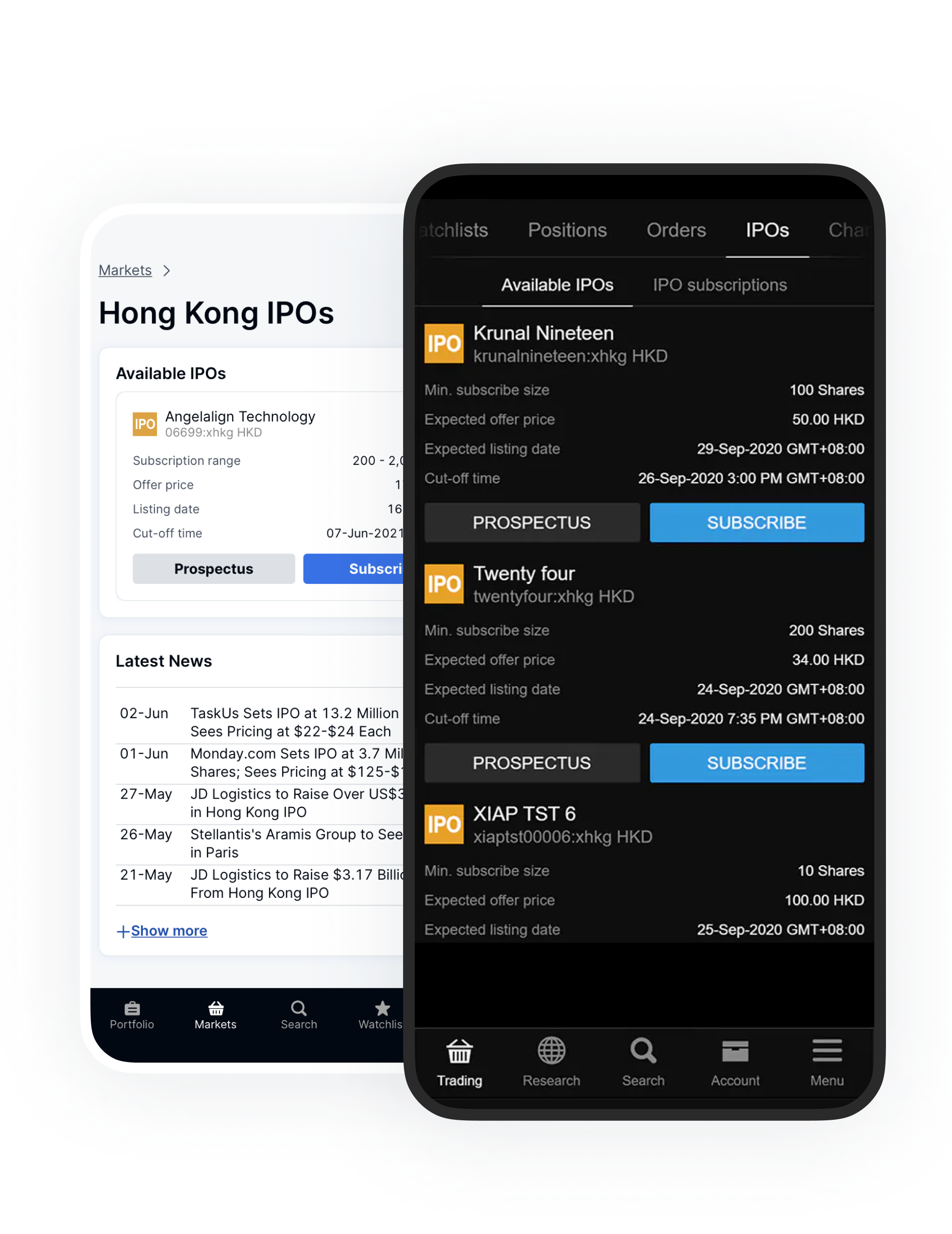 How to subscribe for IPOs
Subscribe quickly and easily on our user-friendly platforms. Just follow these simple steps:
Click the 'IPOs' section to see upcoming IPOs you can subscribe to. Review the Prospectus for more company information.
Enter the number of shares you'd like to buy, review the details of your order, then click 'place order'.
Under the 'IPO subscriptions' section, you can see your IPO order history and modify or cancel any open orders.
If your order is successful, we will book your allotted shares to your account on the IPO announcement day. You will see these in your open positions.
Frequently asked questions
What is an IPO?
An initial public offering (IPO) is the first time a company issues shares to public investors and is listed on a stock exchange (such as the Hong Kong Stock Exchange) for trading. Investors can subscribe for the shares issued during the IPO. If an application is successful, the shares can be purchased at the final issue price on the day of listing. This is called an IPO subscription, which is commonly referred to as a new share subscription.
Official introduction to the Hong Kong Stock Exchange
How do I subscribe for an IPO through Saxo Markets?
The process is very simple. You first need to open your account with Saxo Markets, then just log in to our use-friendly trading platform, fund your account, click on the IPO option and subscribe for shares.
What is the IPO subscription financing rate?
During the IPO subscription period, Saxo provides up to 10 times leverage and 0% financing rate to help you increase your purchasing power.
Please be aware that there are certain risks with every investment. Please read and fully understand the prospectus and other IPO documents prior to applying for an IPO financing subscription with Saxo.
How do I open an account?
Opening a Saxo account is quick and easy, just fill out a simple online application form and verify your ID. (Click here for more details)
What do I need to do after completing an application for opening an account?
Once your account has been approved, you will receive an email from Saxo informing you of the relevant deposit methods. You will not be able to use your Saxo account until you have deposited funds. You can also make a deposit immediately after submitted an application to expedite the official activation of the account.
Do I need to deposit funds immediately after opening an account?
Yes, the account will be activated only after you have made the minimum deposit of HK$10,000 or equivalent currency (usually in 1 to 2 business days). Please indicate your Saxo account number in the bank transfer.
What are the deposit methods supported by Saxo?
At present, Saxo only accepts FPS and deposits from Hong Kong bank accounts. The first deposit must be at least HK$10,000 or equivalent currency.
Do I need to inform Saxo after completing the deposit?
No, please wait for the transaction to be processed. In urgent cases, please email info@saxomarkets.com.hk from the email address registered to your account.
What currency is set by default when opening an account?
The default option is Hong Kong dollars, but you can also select a different currency when opening the account.
Can I hold multiple currencies in a Saxo account?
You can fund and deposit your Saxo account with 18 different currencies. Once your account has been opened, you can apply for sub-accounts and make transfers between accounts. Transfers between accounts will incur corresponding currency conversion charges. Contact our specialistsfor more information.
Where can I subscribe for new shares?
You can make new share subscriptions on the SaxoTraderGO/SaxoInvestor App and web trading platform.
What are the ways to subscribe for an IPO?
Saxo Markets' IPO subscription currently only provides financing subscription model for Hong Kong shares and does not support cash subscription. When you make a financing subscription, you will need to check the corresponding margin for each IPO. Saxo provides up to 10 times leverage and 0% financing rate, and also supports one-lot financing.
How long is the IPO subscription period? When will I be notified of my new share allocation?
Saxo Markets' IPO subscription period s will be announced on Saxo's trading platform.
The allocation result will be announced at the date listed in prospectus or on Hong Kong Exchange website.
When using leveraged financing to subscribe for an IPO, when do I need to make up the remaining financed amount?
You have to make up your account with the equivalent amount of the allotted shares before 4p.m of the day HKEX announced the allocation results. If you do not make up the amount in time, Saxo Markets will sale or dispose the allotted shares of newly issued securities at any time on or after the First Listing Day.
How do I find prospectuses?
You can search for prospectuses on the official website of the Hong Kong Stock Exchange
The prospectuses on Saxo Markets' Trading Platform are for clients' reference only. In the event of discrepancies between two versions, Hong Kong Exchange version shall prevail.
Does Saxo support grey market trading or Pool A and Pool B shares? What is the maximum fundable lot size?
We currently do not support grey market trading and only Pool A allocations are supported. For popular new shares, Saxo Markets has a maximum financing multiple of 10, and can usually raise 10-15 lots at 0% financing rate, with the specifics depending on the target.
If the Hong Kong shares held in a position are sold on the day of subscription, can the funds be used to directly support new share subscriptions? Also, does Saxo accept securities margin financing for IPO?
You can directly subscribe for new shares once the funds arrive in your account. Saxo does not accept securities margin financing for IPO.
When using leveraged financing to subscribe for an IPO, if the allocated amount is lower than the amount used of a customer's own capital, when will the excess be refunded? Can it be used immediately for other new share subscriptions on the day refunded?
Saxo will immediately refund the excess amount, thus enabling customers to immediately use it for other IPO subscriptions.
| | |
| --- | --- |
| CHARGE TYPE | DESCRIPTION |
| SFC transaction fees | The transaction levy is 0.0027% of the total transaction value (rounded to the nearest cent) |
| Hong Kong Stock Exchange transaction fees | The transaction fee is 0.005% of the total transaction value |
| Brokerage commission1 | Brokerage commission is 1% of the total allocated amount |
| Subscription fees | Submitted applications are subjected to a non-refundable HKD$40 for cash subscription or HKD$90 for leverage subscription processing charge. You will be charged regardless of the outcome of your application. |
| Other fees | The offer of 0% financing rate does not include the 1% brokerage commission, SFC transaction levy, exchange transaction levy and other service fees for local securities services. |
Shares allotted can be sold on the first day of listing.
Financing amount can be 90% of your subscription amount or below (varies among IPO stocks).
Interest rate on financing will be subject to current market environment and varies among IPO stocks
The financing period starts from the day of IPO application deadline up to the refund day (excluding the refund day). The actual IPO financing period will be subject to change, according to the date of IPO application deadline and refund date announced by the issuer of the relevant IPO stock.
IPO Client Agreement, please click here.
Create an account
Submit your application in just five minutes
Deposit funds
Add funds quickly and securely via debit card or bank transfer
Subscribe to IPOs
Easily subscribe for shares in Hong Kong's biggest listings