Goldilocks or a game of chicken?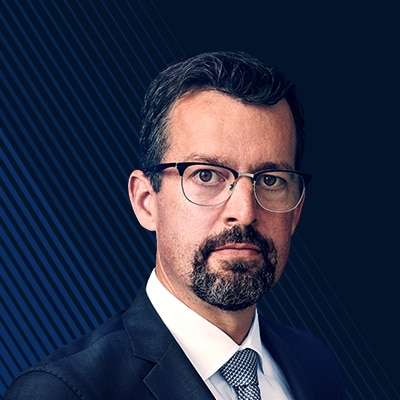 John Hardy
Head of FX Strategy
Friday's US jobs data were "just right" for risk appetite, showing pronounced ongoing strength in job creation and a large drop in the participation rate (from the household survey). This kept the unemployment rate unchanged as the household survey, admittedly a data series with a volatile history, suggests people are returning to the workforce.
Most importantly, the easing of the average hourly earnings data and downward revision of January's cycle high earnings growth has eased the immediate fears that wages will drive a spike in inflation and set the Federal Reserve down a rate hike warpath. The backdrop globally is also risk-appetite supportive as the European Central Bank guidance, though dropping the potential for a further easing, was nonetheless read as fairly dovish.
As well, the Bank of Japan will keep its foot mashed on the gas until it sees the whites of 2% inflation's eyes.
Ultimately, however, I have to imagine that this attempt to reinvigorate the Goldilocks trade will have a rather short expiry date – perhaps until the Federal Open Market Committee meeting of March 21? This Fed may be quicker to signal more rate hikes than are currently priced in if it is seeing reckless behaviour in asset markets again, happy to normalise rates as quickly as possible to have something in storage to cut for the next recession. Another key test for market sentiment could be here already today and tomorrow as the US is treasury is set for large auctions of 10-year Treasuries today and 30-year T-bonds tomorrow. A hot CPI release tomorrow from the US could also shake things up a bit. The 3% level in the US 10-year yield benchmark has psychological and technical implications if it falls.
The scandal that has plagued Japanese prime minister Shinzo Abe over the last year or so refuses to die down and has been revived in recent days, also embroiling finance minister Aso, who is considered a strong proponent of a weaker JPY. Hard to quantify the potential for this to become a larger political threat – it was a well known issue before the most recent election and didn't cause much damage for Abe, but a forced Aso resignation could threaten a bit of JPY volatility.
Chart: AUDUSD
The watering down of Trump's trade tariff measures and a strong revival of global risk appetite has the more risk-correlated currencies showing strength again. AUDUSD, despite an RBA rather unwilling to signal much interest in hiking rates any time soon, has managed to avoid further weakness despite Australia's bond yields dipping below their US counterparts all the way out to 10 years. We're long-term skeptics on the potential for further upside here, but the bears don't have much of a case at present, and bullish outlook picks up if the pair can manage to arch above 0.8000 again.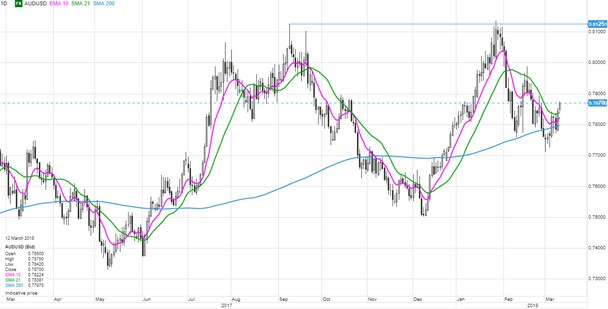 Source: Saxo Bank
The G-10 rundown
USD
– an interesting couple of days ahead that provide a test of the attempt to revive the Goldilocks theme as we have the two Treasury auctions today and tomorrow, as well as the latest US CPI data (for February) up tomorrow. Market odds still refuse to price in a full four hikes this year from the Fed.
EUR
– ECB keeping forward expectations more or less on ice, euro could underperform risky currencies here (note EURAUD) and as we watch Italy's attempt to form a new government, the latest FT column from Wolfgang Munchau says it all: "Italy storing up long term trouble for Eurozone". Firmly agree on that point.
JPY
– the yen is set to do poorly if this revival of global risk appetite has legs and bond yields head higher. The wait for BoJ normalisation may prove to be a case of waiting for Godot – isn't it more likely we hit the next recession first?
GBP
– as if Brexit woes aren't enough, we could see a new dramatic diplomatic spat between the UK and Russia over the assassination of former spy Sergei Skripal. Sterling has done well to avoid new lows versus the Euro lately.
CHF
– EURCHF up into the last bits of resistance ahead of the cycle top and this macro backdrop looks encouraging – will SNB sight deposits resume their fall again now that we are post the Italian election?
AUD
– strong risk appetite and the Trump trade tariff exception "carveouts" encouraging the notion that Trump's protectionism is more bark than bite. But let's be wary of a new round of tariff measures focuses more squarely on China.
CAD
– the softening of Trump's tariff threats has USDCAD in steep retreat after testing toward 1.3000 last week. The first support zone is 1.2700-50 for the bulls and a blast back below 1.2650 or so puts the chartists back in range trading limbo.
NZD
– the AUDNZD downside has fully fizzled and it is there we watch for relative strength in the kiwi, which we suggest is long term overvalued but missing a short term catalyst.
SEK
– Riksbank stuck in a rut on the latest signs that inflation not grabbing hold despite the strong Swedish economy and weak currency. Still, enough may be enough for the moment in EURSEK if the macro backdrop shows a positive mood.
NOK
– the strong CPI data on Friday keeping the pressure on rate expectations from Norges Bank, which is set to meet this Thursday. EURNOK looking interesting for bearish potential below 9.52 if the Norges Bank cooperates with hawkish expectations.
You can access both of our platforms from a single Saxo account.