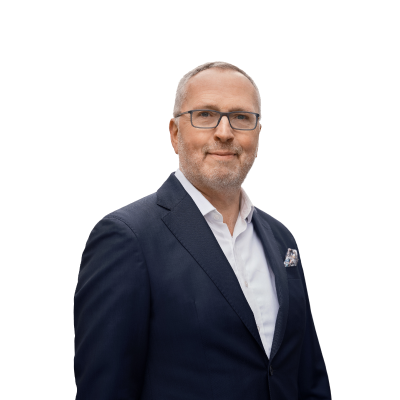 Ole Hansen
Head of Commodity Strategy
Crude oil has pared back some of the overnight gains that was attributed to another failed missile strike on Saudi Arabia from Houthi forces within Yemen. The price of both WTI and Brent crude oil almost reached the January peaks with a rejection leaving many fresh longs at risk. A break, however, could see WTI target a minimum of $70/barrel.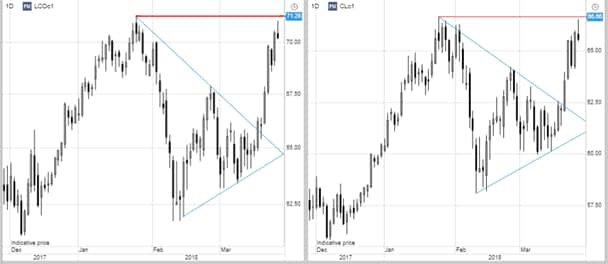 Source: Saxo Bank

Last week's surge was driven by a combination of the technical breakout of the triangle formation and renewed worries that Iranian production and exports could be negatively impacted should Trump decides to reinstate sanctions after May 12.

Against these developments we saw global trade tensions tear into global stocks. This helped create a major and potentially unsustainable dislocation between the two. Additional stock weakness driven by the risk of an escalating trade war could reduce global growth and ultimately this would translate into a lowering of global demand growth for oil.

Iran and trade tension focus helped trigger a major divergence between global stocks and oil prices last week.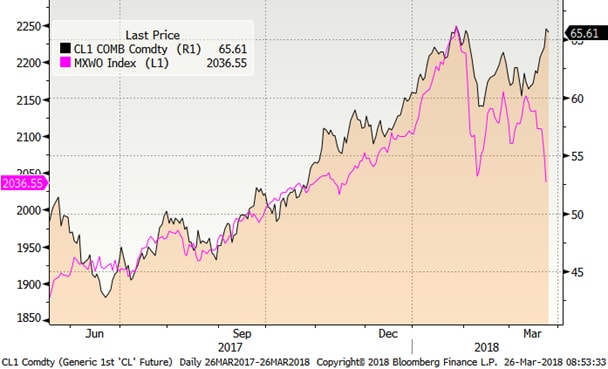 For now the risk of lower supply combined with robust demand and a high level of Opec compliance to the agreed production cut deal have triggered another round of speculative buying with hedge funds increasing the combined net-long in WTI and Brent crude oil by 61,000 lots to 1.06 million lots in the week to March 20. The overwhelmingly bullish sentiment can also be seen through the long/short ratio which last week stood at 12.5 to 1, the second highest on record.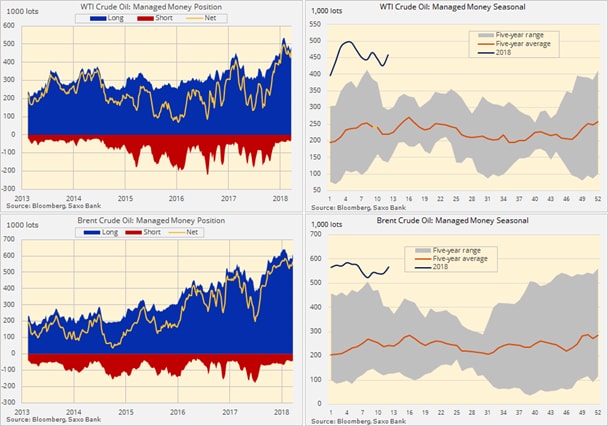 You can access both of our platforms from a single Saxo account.