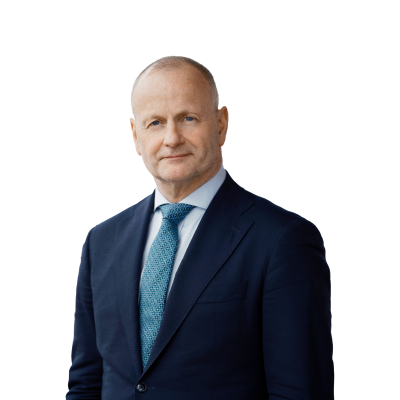 Steen Jakobsen
Chief Economist & CIO
"Some people think football is a matter of life and death. I assure you, it's much more serious than that" – Bill Shankly
I am not one to argue with one of the best, if not the best, football managers ever. This is our attempt to connect the all-important world of football to the comparatively boring one of economics. Like any boy who has played football, I fancy myself as something of a connoisseur, so here is my official call for the 2018 FIFA World Cup 2018: Belgium will be the champion.
Odds-on favourites Brazil and Germany have both lost momentum, and besides, these are the consensus calls. Instead, I will go with a country small in size, but big in terms of its players' abilities.

(The irony of pointing to Belgium and hence Brussels is not lost on me at a time where Europe is about to face a potential existential crisis!)
Here at Saxo Bank, we are both followers of the FIFA World Cup as well as active participants in the financial and economic spheres; as such, we are running a series of pieces containing our thoughts on the contests and championships taking place in these areas.

Saxo Bank Head of Equity Strategy Peter Garnry has already announced the "winner" in terms of the stock markets: Colombia!

For the World Cup in economics we have constructed a matrix of factors which will predict the group stages and the ultimate winner based on the following metrics:

• Misery index: This good old index combines a country's inflation with its unemployment (the lower, the better and its 12-month trailing stock market performance (the stock market is perceived to be a gauge for the overall performance of a country, and higher is of course better).

• CDS spreads: The "insurance premium" of hedging the downside of an economy measured as a basis-point premium (the higher, the worse).

• Gini-coefficient: This metric measures inequality and the overall equality of a country secures long-term growth. There is also an increasing understanding that education and access to education creates a more productive society (lower is better).

These four parameters are equally weighted and then ranked from one to 30: number-one performers thus win their categories, and the overall lowest combined score wins.

So what does our podium look like in the 2018 Economics World Cup?

World champion: Iceland – 6.0
Second place. Denmark – 8.0
Third place: Japan – 7.5

In fourth place we find Germany with a score of 9.5. In fact, South Korea actually ranks higher than Germany with 8.3 , but they lost in the quarter-finals to Japan with 7.5, while Japan then – despite a higher score than Denmark – failed to win the semi-final versus Iceland, hence the result above.

In economics as in football, every match matters!
Economic commentary

So: Iceland wins by having the best Gini coeffient plus a low Misery Index score, while Denmark failed to score enough goals (stock market performance over the last 12 months) to beat its Scandinavian kid brothers.
Rest assured that this is no "reverse engineering" process employed to make our native Denmark outperform! We simply ex ante decided which four components make up not only a strong economy, but also one with forward momentum.

What I find interesting is that the actual favourites of the 2018 FIFA World Cup all rank extremely low in economic terms. Is this the story of football often being the only road away from no hope, no future, and no education? Or is it more that it is the culture of football that prevails?

Probably a little bit of both, but as for our chosen economic measurements, I suggest you think like a football manager:

The stock market is the attack. Flashy, headline-grabbing, but often a function of self-confidence and momentum more than actual long-term strength. There will be period of goal drought for even the best frontline players. The table of the strongest stock markets over the last 12 months is quite surprising:
| | | | |
| --- | --- | --- | --- |
| Iran | CO1 Comdty | 60.1 | 1 |
| Tunisia | MXTN | 51.5 | 2 |
| Peru | MXPE | 38.2 | 3 |
Note: Iran is represented by the Brent crude oil contract as access to the Tehran Stock Exchange is disabled by sanctions, but note the performance of Tunisia and Peru: +51.5% and 38.2%. Great flair, clearly!

The Gini coefficient is the midfield. Any economy needs equality as a fuel to drive growth higher. We perceive equal access to education to be the number one differentiator of productive versus non-productive societies. If you rank the world according to GDP per capita, the "richest countries" really only have one thing in common: a universal broad educational system that is often free and accessible to all of society.

The top three Gini coefficent countries are:
| | | |
| --- | --- | --- |
| Country | Gini index | Rank |
| Iceland | 25.6 | 1 |
| Belgium | 27.7 | 2 |
| Denmark | 28.2 | 3 |
Classic Northern Europe-ish countries win the day while Latin America and the Middle East come up very short.

Credit default spreads represent the goalkeeper: protection against mistakes and the ability to pull off a difficult save and still play offensive football.

The strongest goalie is perceived by many as the one key differentiator at the very top level. There are many defenders, many midfield players, and few attack players... but there are extremely few good goalkeepers.

We see great goalkeeping from:
| | | |
| --- | --- | --- |
| Country | CDS | Rank |
| Switzerland | 1 | 1 |
| Sweden | 2 | 2 |
| Germany | 3 | 3 |
The Misery Index represents defence. Defence is about making the least of amount of mistakes, and closing down space for the opposition. Any economy with a balanced mix of unemployment and low inflation is off to a good start. Pricing power is visible and stable and the burden of unused resources is minimised. It's not enough to drive the game forward, or set up a goal, but it's an excellent start.
| | | |
| --- | --- | --- |
| Country | Misery Index | Rank |
| Japan | 1 | 1 |
| Switzerland | 2 | 2 |
| Iceland | 3 | 3 |
Here is the breakdown by group and then the knock-out stages (number one is the winner; four is the loser:
Bill Shankly was right: the fact that all banks, including Saxo Bank, need to engage with the 2018 FIFA World Cup not only shows how important it is, it also demonstrates its impact on everything from a country's confidence to its economic performance.

There are probably many links/correlations which can be discovered by Artificial Intelligence, but having been on the losing team one too many times, I can tell you: there is no bigger pain than losing in football – not even in trading!

(Mind you, as an economist you are always losing!)

Football remains the world's biggest sport for a reason. It is a game everyone can play without any economic resources required: you can play in the streets, in your apartment, with a ball, with a sock, or with an orange!

On the field you are only measured by your contribution, not by your social status or your job; if anything, the higher your ranking in these areas, the more you need to give to the team. Football, or the football team, is the precise model on which societies should be built.

There are fundamental rules that need to be understood. The team is always bigger than the man (yes, even Ronaldo). There is room for a star, but only if he delivers. Should he fail, he's gone (out). The winningest teams in the world win because they are teams, not 11 individual players.

As the world greatest goalkeeper (CDS!) once said:

"In football, you win as a group, you lose as a group; you divide the credit and the blame" – Gianluigi Buffon

First and foremost, you need to accept, like, work with, and subordinate yourself to the team in order to win. This is something that popular contemporary concepts and buzzwords – social media, AI, robots, nationalism, individualism – neither contain nor reflect.

Maybe that's the overall lesson: as the world moves to dehumanize work and private life more and more, the thirst for being part of something like a team increases – there is nothing like the camaraderie, the post-game beer, and the self-congratulation with people you have played with for 10, 20, or in my case 30 years.

I wish everyone an amazing 2018 FIFA World Cup and again, congratulations to Iceland on winning the World Cup in economics: a truly phoenix-like recovery on the part of our Nordic brother.

Best wishes,

Steen "Beckenbauer" Jakobsen
Chief Investment Officer, Saxo Bank