SaxoSelect Balanced Portfolios
Have your money invested professionally for long-term growth
We invest your money for you
Targets stable returns through diversification for your investments and savings
Investment decisions supported by BlackRock insights
Performance enhanced via low cost ETFs (Exchange Traded Funds)
No Lock-in period or entry/exit cost
A Portfolio built by Experts
When you invest into a SaxoSelect Balanced Portfolio, you avoid the many time-consuming challenges of building and managing a portfolio. Instead, you can rest assured that your money is being looked after professionally. Your portfolio is reviewed periodically to make sure you are best positioned for upcoming markets - meaning we optimise the allocation to target the best return given the risk you are willing to take.
Which risk level is right for you?
SaxoSelect Balanced Portfolios offer a powerful partnership between Saxo and one of the world's largest asset managers, BlackRock. Our Balanced Portfolios are managed by Saxo based on data and investment insight provided by BlackRock.

They are built with BlackRock's iShares ETFs which offer diversification and optimisation across a vast range of asset classes and markets: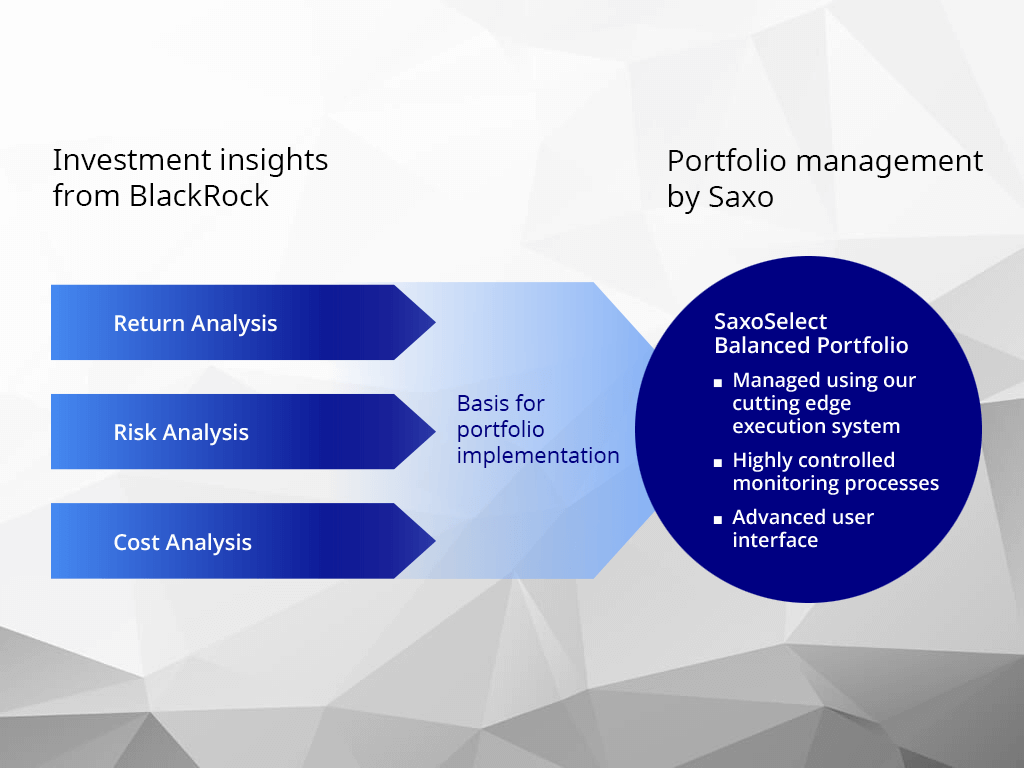 Generate more value from lower costs
Reducing costs has a positive impact on the value of your portfolio. Compound returns are powerful for growing the value of investments, but compound costs work against returns. As an example, using an annual return figure of 5%, a 1% per year reduction in costs could increase returns by 22% over a 20-year period. (Note: the purpose of this hypothetical illustration is to show the effect of costs through time. It does not represent past performance nor indicate future performance of, or the costs associated with, the Balanced portfolios).
Simple, transparent and cost effective
| | |
| --- | --- |
| Service Fee | 0,9% per annum |
| Trading Comissions | X |
| Entry Fees | X |
| Exit Fees | X |
| Custody Fees | X |
| Other SaxoSelect Fees | X |
Explore all Managed Portfolios
Didn't find what you are looking for?

Learn more about SaxoSelect Balanced Portfolios and what they can offer you, by speaking with a sales representative. Share your details and we will give you a call.