Macro Strike: Afghanistan Airport blast kills over 70 people, including 12 US Service Members, Biden on the tape...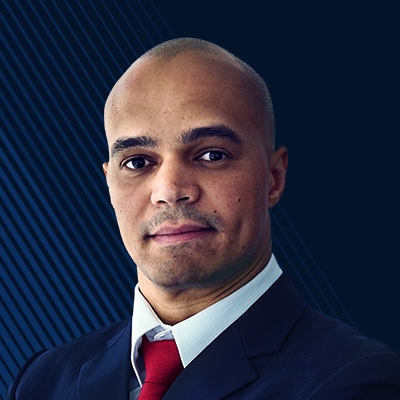 Kay Van-Petersen
Global Macro Strategist, Saxo Bank Group
Summary: Macro Strike - We check-in on the breaking news of the blasts in Afghanistan's Kabul airport, which has left over 70 dead including at least 12 US military personnel. The pentagon & Biden have flagged the attacks come from ISIS-K, an Afghanistan faction of the Islamic Terrorist group, who are also enemies of the Taliban. With 5days to the US's Aug 31 exit, this may be a one-off attack or the start of escalating attacks aimed at sparking chaos & conflict between the US & the Taliban. Not Wed Sep 1, will see us host GeoPolitical webinar around the return of the Taliban to Afghanistan, as well as the consequences of this to US foreign policy.
---
(These are solely the views & opinions of KVP, & do not constitute any trade or investment recommendations. By the time you synthesize this, things may have changed.)
Macro Strike: Afghanistan Airport blast kills over 70 people, including 12 US Service Members, Biden on the tape...

Strike…
So super fluid Asia Friday morning start, so story & overview still in progress, but we may be off to a risk-off start to the day…

which would leave the Macro Dragon looking for a potential lower USDJPY 110.08…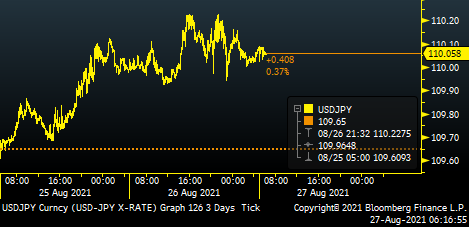 … as well as the likes of AUDJPY 79.70 from their current levels. Its also worth noting that whilst USDJPY was basically flat overnight at +6bp, AUDJPY came off by 45bp.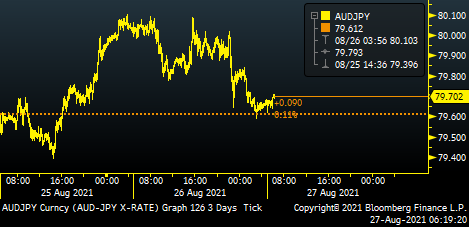 Its worth noting that S&P Futures are up +0.12% at 4471.75 in the very early Asia session (0622 SGT/HKT). Whilst Asia Equity futures are looking a little soft pre-market, so by no means screaming risk-off. Likely the real test (of this potential risk-off Asia start skew) will come with the Tokyo & Hong Kong respective opens over the next 1hrs & 3hrs

The thorn in the Biden administration side that will not go away, just got pushed in deeper, with a blast talking place in Kabul Airport hours ago. In addition to dozens being injured, there are over 70 dead, 12 of whom are US Service Members. The attack seems to have been carried out by ISIS-K, an Afghan faction of the Islamic State terrorist group.

We've already seen Biden on TV post the event (34min in), sticking with the 31 of Aug exit day & dropping a few other things:
"To those who carried out this attack, as well as anyone who wishes America harm, know this: We will not forgive. We will not forget. We will hunt you down and make you pay,"

Naturally the US is still in exodus mode with thousands of US citizens & Afghan Allies (over 100K taken out in last 2wks), still on the ground.

So an outright harsh response is almost off the cards, as the potential collateral damage of turning a botched & poorly executed exit strategy, could go from Quasimodo to ground zero

Its also worth noting there is nothing to suggest Taliban involvement, there are a lot of different factions in Afghanistan – if not a lot of fragmented factions within the Taliban Umbrella itself. Yet ISIS views the Taliban as an enemy & vice versa.

It's a very smart strategy of ISIS if their goal is to incite conflict & a kick-off between the Taliban & the remaining US forces, citizens & Afghan Allies.

Now this could simply be a one-off incident & things calm back down, or it could on the other extreme be the start of a string of more & escalating attacks to coincide with the 5 days left that the US has set to get the hell out of dodge.

Naturally security & control will be ratcheted up to 11, by both the Taliban & the US forces, yet you don't need suicide bombers to cause havoc, just a few rocket launchers in a country filled with weapons of war, could easily force airplanes to stay grounded – thereby challenging the Aug 31 exit (which is also my understanding a hard deadline from the Taliban)

From a longer term horizon, there are likely no long-term effects on cross-assets prices, yet where there is likely huge implications is in regards to US foreign policy in the future, i.e. the probability of American military involvement on foreign shores is likely structurally lower for administrations to come. At the very least, it is going to be very controversial & divisive.

Wed, Sep 1 - Please join us next week when we set up a one of a kind webinar on Afghanistan: Return of the Taliban with Former US Ambassador to Afghanistan, Mr. Hugo Llorens, alongside our CIO & Chief Strategist Steen Jakobsen, who will be hosted by the always interesting Lester Chan, Greater China Head of Wealth Management.
And all this on the cusp of Jackson Hole – which we'll do a separate Macro Dragon piece on. In case you missed our in-house Economist Dembik take, he expects it to be boring: If you don't expect much, you won't be disappointed!
-


Start<>End = Gratitude + Integrity + Vision + Tenacity | Process > Outcome | Sizing > Position.
This is The Way
Namaste,
KVP
Access both platforms from your single Saxo account.
Disclaimer
The Saxo Bank Group entities each provide execution-only service and access to Analysis permitting a person to view and/or use content available on or via the website. This content is not intended to and does not change or expand on the execution-only service. Such access and use are at all times subject to (i) The Terms of Use; (ii) Full Disclaimer; (iii) The Risk Warning; (iv) the Rules of Engagement and (v) Notices applying to Saxo News & Research and/or its content in addition (where relevant) to the terms governing the use of hyperlinks on the website of a member of the Saxo Bank Group by which access to Saxo News & Research is gained. Such content is therefore provided as no more than information. In particular no advice is intended to be provided or to be relied on as provided nor endorsed by any Saxo Bank Group entity; nor is it to be construed as solicitation or an incentive provided to subscribe for or sell or purchase any financial instrument. All trading or investments you make must be pursuant to your own unprompted and informed self-directed decision. As such no Saxo Bank Group entity will have or be liable for any losses that you may sustain as a result of any investment decision made in reliance on information which is available on Saxo News & Research or as a result of the use of the Saxo News & Research. Orders given and trades effected are deemed intended to be given or effected for the account of the customer with the Saxo Bank Group entity operating in the jurisdiction in which the customer resides and/or with whom the customer opened and maintains his/her trading account. Saxo News & Research does not contain (and should not be construed as containing) financial, investment, tax or trading advice or advice of any sort offered, recommended or endorsed by Saxo Bank Group and should not be construed as a record of our trading prices, or as an offer, incentive or solicitation for the subscription, sale or purchase in any financial instrument. To the extent that any content is construed as investment research, you must note and accept that the content was not intended to and has not been prepared in accordance with legal requirements designed to promote the independence of investment research and as such, would be considered as a marketing communication under relevant laws.
Please read our disclaimers:
- Notification on Non-Independent Investment Research (https://www.home.saxo/legal/niird/notification)
- Full disclaimer (https://www.home.saxo/en-gb/legal/disclaimer/saxo-disclaimer)