Trade with Saxo
directly through TradingView

Get the best of both worlds – TradingView charts and trading tools as well as Saxo's real-time data, execution and market-leading prices.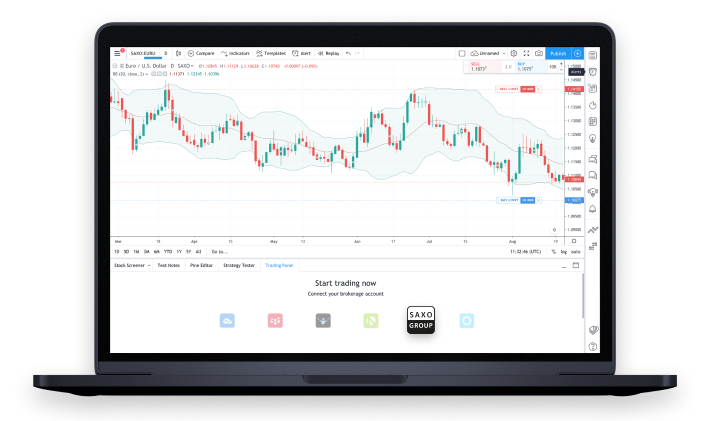 Fully integrated platform
Trade FX, CFDs and Stocks with Saxo while utilizing TradingView's order, risk management and charting tools.
Expert service
Get professional support whenever markets are open, including technical assistance, market analysis and access to personal sales traders.
Trusted for 25 years
Saxo Group is a fully licensed and regulated broker with more than 850,000+ satisfied customers.
Trade at ultra-competitive prices
On TradingView you can trade FX, CFDs and Stocks. Click on the relevant icon below to see full pricing information and trading conditions.
Software licence price
We don't charge to connect to third-party platforms. You can see the TradingView pricing structure here
Use your Saxo Account on TradingView
Use your Saxo Account on TradingView
With a single account, Saxo's clients can now access TradingView as well as any of our award-winning proprietary platforms at no additional cost.
Utilise TradingView's wide range of features in their leading charting tools
Control your Saxo account directly from TradingView without ever leaving the platform
Frequently asked questions
Connecting to Saxo is free, and you trade against the same conditions as on our own platforms. Navigate to the "Broker Panel" in the TradingView chart, select "Saxo Group", and log in with your credentials. Read more here.
You can trade the most popular names on New York Stock Exchange, NASDAQ, Hong Kong Exchanges, London Stock Exchange, NASDAQ OMX Copenhagen, Singapore Exchanges, Tokyo Stock Exchange, Deutsche Börse (XETRA), AMEX and ARCA – both as stock and CFD.
Yes. With Saxo, you use a single account for all our supported platforms. Your login will work on TradingView and all Saxo platforms.
Using the integration is free for Saxo clients. TradingView offers a free basic account, which includes access to Saxo connectivity.
24-hour expert service
24-hour expert service
Whether you're a high- or low-volume trader, you'll receive first-class support tailored to your needs.
Integrated digital support
Access our self-service support centre, email helpdesk and a range of educational courses.
24-hour customer service
Get support for technical matters and account queries whenever markets are open.
Relationship managers and sales traders
Active traders benefit from a dedicated point of contact and access to our world-class trading experts.
Exclusive VIP services
Receive our very best prices, priority support and exclusive event invitations.
Trusted for more than 30 years
Trusted for more than 30 years
Fully regulated
Saxo Markets adheres to the strictest regulatory standards and are authorised and regulated by the Financial Conduct Authority in the UK.
Financial strength
Saxo Group are a financially stable company with a robust balance sheet. We serve clients in 170 countries, hold 70+ bn GBP in AUM and process 1m transactions daily.
Multi-award winner
We've been consistently recognised by our industry and have won the highest accolades for our products, platform and service.