Change the way you trade equities
Access over 19,000 equities and ETFs across the world's major exchanges
Trade on SaxoTraderGO – our stable, intuitive cross-device trading platform
Unlock our most competitive rates with UK equities with commissions from just 0.035% per trade if you are an active trader*
Use a percentage of your stock value as margin collateral against Forex, CFD or futures positions.
Free stock transfers into your Saxo trading account*, giving you the flexibility to move an existing portfolio
Financial news feeds, economic data and market analysis streamed directly into the platform
Powerful stock screening and analysis tools allow you to analyse new investment opportunities
Invest in an ISA or SIPP and enjoy the same competitive share dealing rates
Remember, the value of your investments can go down as well as up and you could get back less than you invested. Ensure you understand the risks.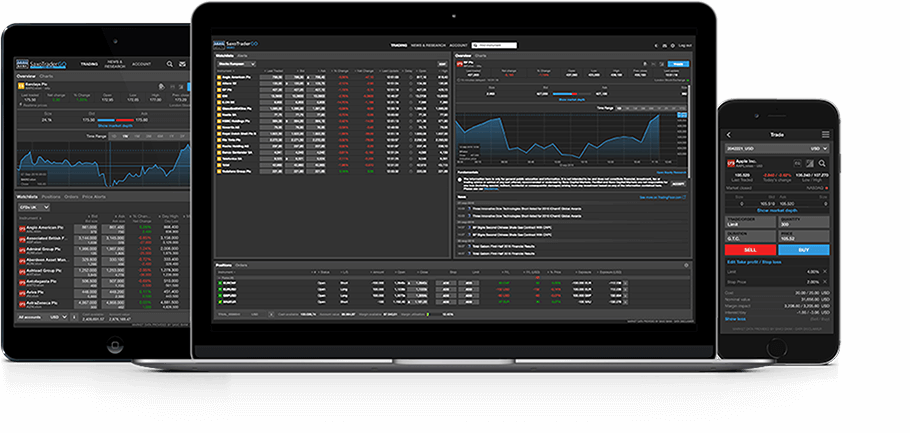 Lower rates for active traders
Execute 100 trades or more per calendar month on stocks, ETFs and single stock CFDs and you could qualify for our equity active pricing plan. Enjoy competitive rates on all tradeable instruments including UK equities from just £5 per trade. Please click here to find out more about our Active Trader pricing, including terms and conditions.
Smart Order Routing
We execute stock orders via SORs (Smart Order Routers), which are sophisticated algorithms placing orders across multiple venues in order to achieve the best results. To minimise market impact and improve quality of execution, SORs execute across regulated markets (Exchanges), MTFs and other liquidity venues.
Algorithmic orders
Algorithmic orders are especially useful for larger or more advanced stock orders. They use algorithmic equations to independently execute order transactions most efficiently, according to your chosen strategy. They can also break down an order into smaller parts to avoid showing the full size of the order.
Stocks as margin collateral
If you also trade Forex, CFDs or futures, you can use a percentage of your stocks value as margin collateral and increase your market exposure and ability to act on potential market opportunities.