Is it really all about the Fed?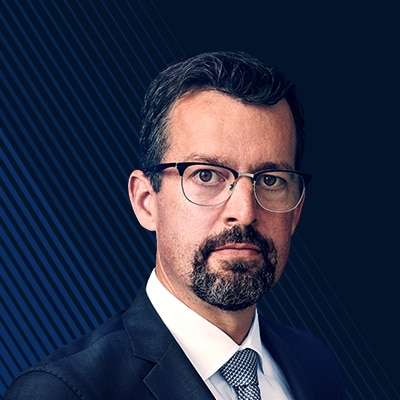 John Hardy
Head of FX Strategy
A story emerged overnight that the US has dropped demands requiring that cars imported into the US from Mexico and Canada contain 50% or more US parts, giving the beleaguered CAD and less-beleaguered MXN a solid boost overnight. On the other hand, the drumbeat on impending China-aimed US measures continues. On that front, Trump is supposedly readying significant measures to be announced as soon as Friday, March 23. So the trick from here may be in discerning where the policy risks are greatest rather than assuming a kind of "umbrella" concern on protectionism and the immediate effects on the economies most immediately dependent on US demand (Mexico and Canada).

Normally, we would like to walk through the Federal Open Market Committee scenarios very carefully and consider the likely outcomes, but it doesn't feel like this is a meeting likely to produce any significant surprises. On the "dot plot", the most we can expect might be more dispersion in forecasts and there is nothing, Atlanta Fed GDP forecasts aside, to suggest that the Fed will lower its growth projections for the near term. So I expect no resolution to the "three or four?" question and certainly no surprises that will unseat the expectation that the Fed's terminal policy rate remains anchored around 3.00%.

That FOMC outcome, therefore, could risk being slightly dovish on no clear signal on rates, as Fed rate expectations are near the high for the cycle. But I'm not sure that the market is trading on Fed rate expectations to begin with at the moment, so we should be especially wary of the market's initial reaction to whatever unfolds this evening. More interesting would be a Powell that wants to shake things up by promising a press conference at every meeting to encourage transparency and to make the path of Fed hikes less predictable (only at one of the four press conference meetings, etc.).

The G20 meeting of finance ministers/officials released a very bland statement on the need for "further dialogue and actions" on trade as the US Secretary of the Treasury stuck with Trump's "free and fair, reciprocal" trade stance. It isn't a major surprise in the era of a Trump presidency, but in the bigger perspective, it's perhaps unprecedented to see a US Treasury Secretary say what Mnuchin said at a post-G20 press conference: "There's a risk of a trade war, the president has said we're not afraid of getting into a trade war, given the size of our market, the size of our economy, and the fact that we have a big trade deficit."

Chart: EURUSD

EURUSD is precisely mid-range now after having dithered for two months since posting the 1.2500+ highs for the cycle. Often a period of long consolidation in a larger trend needs a washout before it can gather new energy for a surge higher – regardless, the tactical uncertainty is great here until one of these local pivots – 1.2150 or 1.2450 – is taken out.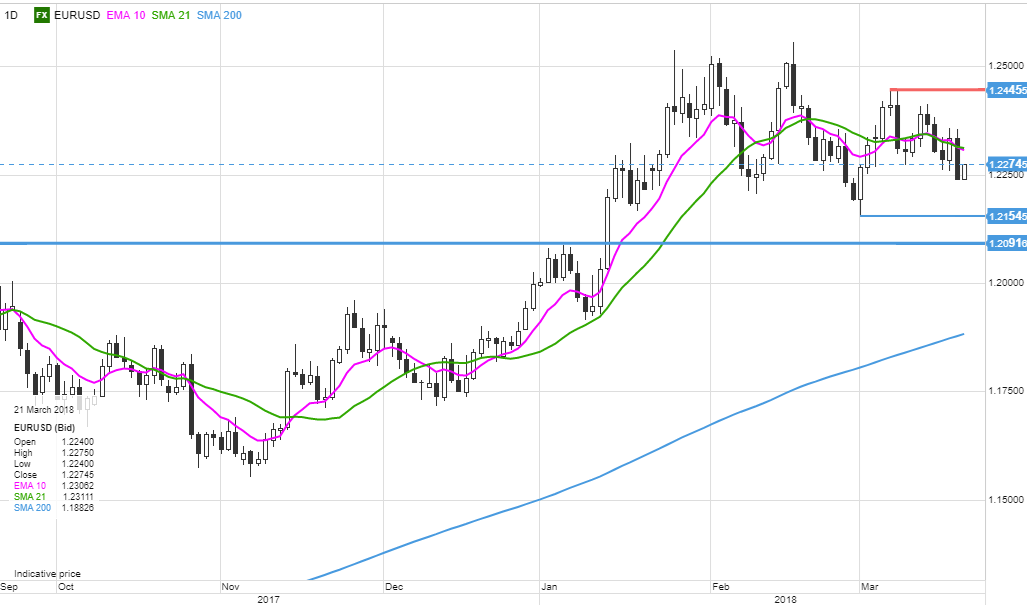 The G-10 rundown

USD – again, wondering whether the FOMC meeting is likely to produce anything surprising and if the USD does move today or soon, it could be for other reasons – driven perhaps by risk appetite or Trump trade policy or even the Libor-OIS spread, the latter considered a very important sign of a desperate shortage of USD liquidity by some, and by others as a mere technical issue.

EUR – the euro looking somewhat weak here versus the JPY again after the late sharp rally was turned yesterday and as EURGBP pokes lower into the last bits of its longstanding range. Not sure we have any near-term catalysts outside of technical breaks in the major EUR crosses.

JPY – the yen is not getting much further support from bond markets or risky assets, as the latter staged a partial recovery in US trading late yesterday and the former are showing US yields crawling back higher ahead of the FOMC meeting. Most supportive for the USDJPY bear case would be a dovish surprise from Powell.

GBP – sterling managing to pull back above 1.4000 versus the USD, but the more pure signal is in EURGBP as we await earnings data today (thanks MV for flagging the NHS pay raise story from the BBC pointing to forward risk of rising earnings shifting the inflation picture as over a million NHS workers could see immediate pay rises). The Bank of England risks generally point hawkish as well.

CHF – EURCHF rally hesitant after trying to break higher recently, while USDCHF closed yesterday at a new highs since January.

AUD – the tease of the 0.7750-00 area should end shortly after the FOMC meeting one way or another. Very weak iron ore prices are a distinct risk for the Aussie in broad terms.

CAD – bounced back overnight on the fresh surge in oil prices and positive NAFTA news noted above. 1.3000 is the key sticking point/pivot to the downside.

NZD – a test for NZD bulls ahead of a lame duck RBNZ meeting (new governor Adrian Orr to take charge next week). Expect a bland statement. The AUDNZD tested support before a sharp rally and NZDUSD is toying with the 200-day moving average and big pivot zone below 0.7200 ahead of the FOMC meeting and RBNZ meetings tonight.

SEK – EURSEK support so far at 38.2% of latest rally wave just above 10.05. Another Riksbank speaker out jawboning today – why do they bother?

NOK – EURNOK has sustained the break lower, but we need follow up action soon or the move will stale fast and risks of a reversal increase.

Upcoming Economic Calendar Highlights (all times GMT)

• 0930 – UK Feb. Jobless Claims Change
• 0930 – UK Jan. Average Weekly Earnings / Unemployment Rate
• 1230 – US Q4 Current Account Balance
• 1400 – US Feb. Existing Home Sales
• 1430 – US Weekly Crude Oil and Product Inventories
• 1630 – Sweden Riksban's Floden to Seak
• 1800 – US FOMC Rate Decision / Statement Release
• 1830 – US Fed Chairman Powell Press Conference
• 2000 – New Zealand RBNZ Official Cash Rate
You can access both of our platforms from a single Saxo account.