EM FX – strength against the odds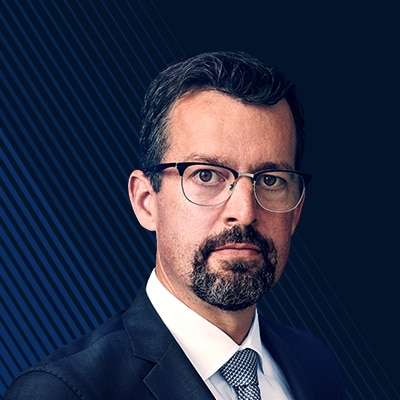 John Hardy
Head of FX Strategy
EM currencies continue to fail to act as a monolithic block of assets subject to day-to-day swings in risk appetite. This is fairly normal in a positive global market environment, but highly unusual given the market volatility and risk aversion evident in global markets over the last couple of months. While this is a positive development for those with exposure to EM assets and the underlying currencies, we still prefer to await either a more notable washout/deleveraging in global risk or a broader improvement in risk conditions before looking for EM opportunities.

The weekly wrap: Dispersion with both weak and strong performers

Performance in EM currencies has been a bit chaotic over the two-plus weeks since the last edition of this publication prior to the Easter holiday. On the one hand, as we discuss below, the backdrop has looked distinctly unfriendly, with the major global equity indices suffering a renewed backdraft and testing of support. Further weakness was strongly in evidence as we are writing these words after China's retaliatory trade tariff announcements made after the Trump administration announced its measures this week. It is hard to imagine anything more negative for global growth than a pointed trade war, but emerging markets are somehow taking this in stride. As well, two factors are perhaps largely responsible for helping provide some stability for EM over the recent period: first, US Fed expectations and especially US long treasury yields have eased back lower, easing worries that the Fed will overreact to economic strength and rising inflation measures and tighten global liquidity as aggressively as previously anticipated. As well, China maintains a strong yuan policy, as the yuan has headed stronger against the CFETS designated basket and against most other currencies and providing perhaps a center of gravity for exporters into the Chinese economy in particular.

Chart: Global Risk Index – still tilting in the wrong direction

Assessing the broader conditions for risk is a difficult task for the EM trader here, as the market backdrop looks rather unfriendly, while EM-specific measures of risk are suggesting little concern, only some normalization from extremely "risk on" levels at the beginning of the year. Our Global Risk indicator, shown below, remains embedded deeply in red as equity markets gyrate and some credit spreads remain elevated. Indices of EM credit spreads, on the other hand, have been flat to slightly lower recently as market volatility has picked up elsewhere, perhaps leading some to hope that this episode of weak risk appetite will play out without a major upset in EM. We remain cautious, as explained below.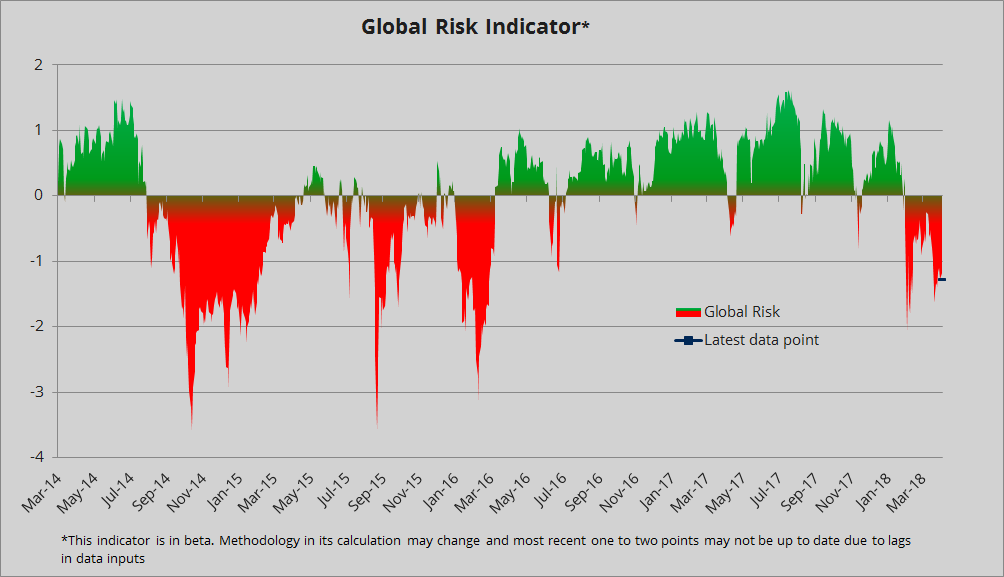 Source: Saxo Bank

Chart: Indexing our Global Risk Indicator vs. Sample EM Carry Basket

For the below chart, we initialised our global risk indicator with a value of 100 in December of 2013 and added every subsequent daily reading as a way to measure the indicator versus the returns on a basket of the 10 highest (at present) yielding currencies in our EM universe versus the US dollar. The carry basket data was generated using Bloomberg's FX Strategy Workbench. A couple of things stand out. First, the global risk indicator can look like a merely coincident indicator, but consider that, for example, it continued to stay low and head lower at times when the EM FX tried to consolidate and stage a rally. Likewise, in other periods, the risk indicator continued to steam higher during a phase when there was a significant hitch in EM currency returns around the US election. Finally, there have really only been a small few major direction changes in the index and one of those coincided nearly perfectly with the start of this publication in early February, one of the reasons we have maintained a cautious stance on EM exposure.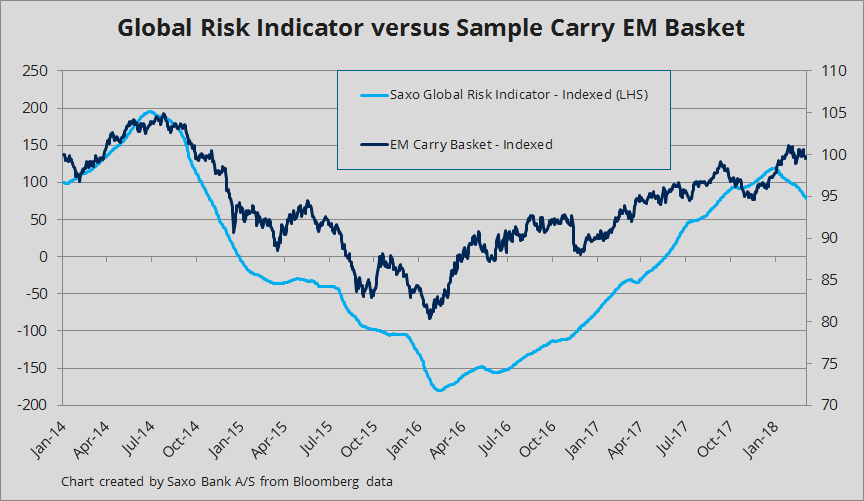 Source: Saxo Bank

EM currency outlook: sitting on our hands, still watchful for contagion risks

The March FOMC meeting came and went with a brief extra spike in Fed rate expectations that marked the peak for the cycle, before renewed risk aversion and smooth sailing at a series of enormous US treasury auctions to finance the US growing fiscal shortfalls saw US yields pushing back lower. This development is welcome for EM, but could head back the wrong way if this week's March US jobs report (earnings growth garnering the most focus) raises fresh inflation worries. Q1 GDP has been seasonally weak since the global financial crisis and it will take some convincing for the market to believe that the US economy is slowing. Only "Goldilocks" data – strong activity with no inflation worries – would seem to be directly EM supportive in coming months.

Meanwhile, there is the risk of a China-US trade showdown to contend with, and on that note, we're curious if China will persist in maintaining an overvalued yuan from here, a policy it has pursued since late last summer, as the CFETS RMB basket has appreciated some 5% since then, not adjusted for carry. Many have argued that a CNY devaluation is one rout to help ease the pain of the necessary deleveraging of China's credit bubble, while others argue that China wants to maintain a strong RMB to prevent capital flight and perhaps encourage a shift by global central bank managers to investing in yuan-denominated assets and support increasing trade volumes denominated in yuan. On that note, the launch last week of the yuan-denominated oil future in Shanghai could mark a new phase of lowering the status of the US dollar in global trade. For EM's, ongoing CNY strength could prove a support, obviously most for those economies with the most significant exposure to China (the usual Asian exporting powers and especially Brazil elsewhere), provided China doesn't come in for a hard economic landing.

EM currency performance: Recent and longer term, carry adjusted
Chart: the weekly spot and 1-month carry-adjusted EM FX returns vs. USD

The most novel aspect of this week's chart of short-term performance is the notable dispersion of returns in our universe of EM currencies, especially in the one-month perspective. The Turkish lira was in for a drubbing on geopolitical concerns linked to incursions in Syria as well as in slow reaction to Moody's March 7th downgrade of its debt as it cited concerns of Erdogan pursuing a growth-at-all-costs agenda that could continue to stoke inflation and suppress real yields, keeping much needed capital inflows on hold. At the other end of the spectrum are the currencies most at risk of US accusations of manipulation, including the South Korean won and Thai baht. These are in turn strong exporters into China, which has maintained a strong yuan policy through all of the recent market volatility and even signs of a China's economy coming in for a landing. The Colombian peso is likely a strong performer as polls point to a strong result for the pro-business candidate Duque at the May/June presidential election.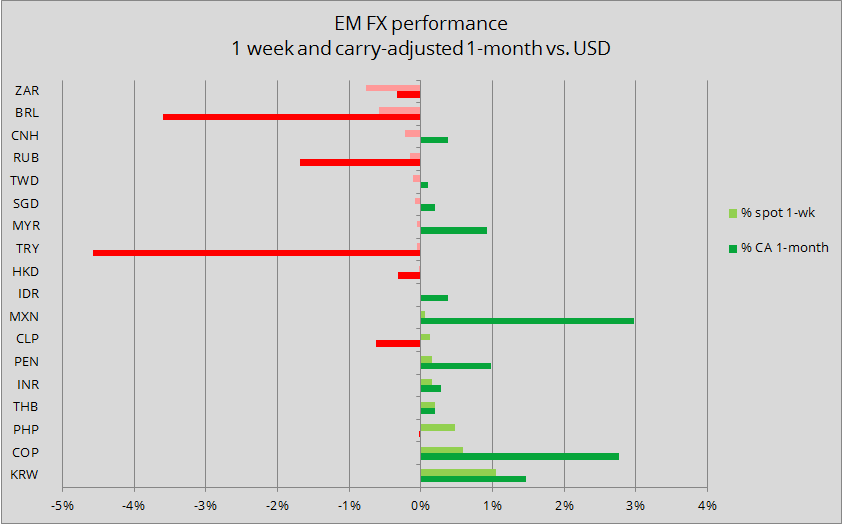 Source: Saxo Bank

Chart: 3-month and 12-month carry-adjusted EM FX returns vs. USD

For the first time since we started issuing this publication back in mid-February, the South African rand (ZAR) has been knocked off the top spot of the 3-month performance list (its most notable surge unfolded in mid-December, so the December ZAR rally has faded from the 3-month view). It has been replaced by the Mexican peso, which has rallied for virtually all of 2018 as each iteration of Trump tariff threats has failed to sustain pressure on the cheaply valued peso, amid talk of carveouts for US policy and a more intense protectionist focus from Trump on China. Still, much of the peso's strong performance is down to an advantageously weak starting point at the beginning of the year and the USDMXN exchange rate is unchanged from its late September last year, so the performance thus far in 2018 is more of a relief rally. Besides Trump's protectionist effrontery, another shadow that continues to hang over MXN is the July election and whether the most popular candidate Obrador, or AMLO, will prevail. The worry warts focus on the degree to which he is a watered down version of Venezuela's Chavez while optimists hope that he will prove more akin to the 2002 version of Brazil's Lula. We would argue that neither comparison will likely prove fair and that we're in a very different cycle this time around than either of those two comparisons. Regardless, MXN is still cheap. On the weak side of the performance table, we note that of the five weakest currencies, four have appeared on our "spotlight currency" feature in recent weeks.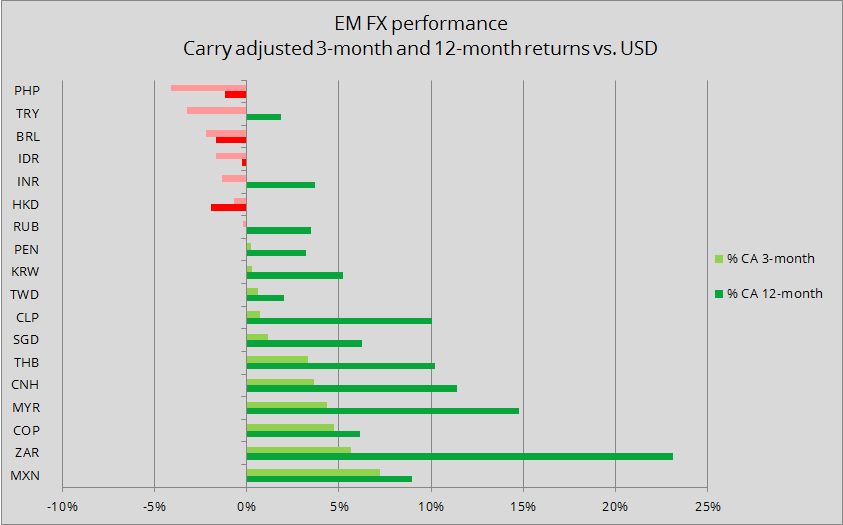 Source: Saxo Bank
You can access both of our platforms from a single Saxo account.