What is Trump's next move on Iran?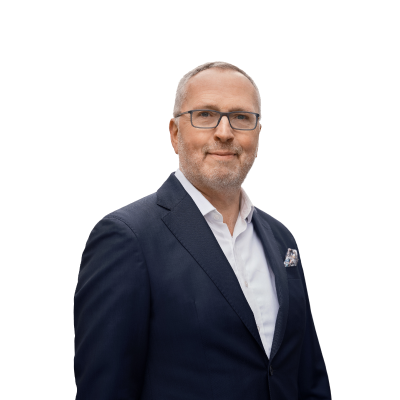 Ole Hansen
Head of Commodity Strategy
US president Donald Trump has until May 12 to make a call on Iran. At stake is the June 14, 2015 deal between Tehran and six world powers (the US, UK, Russia, France, China, and Germany) that lifted sanctions against the Islamic Republic in exchange for limits on the Iranian nuclear programme. It is a decision that places aspects of his domestic and international agendas at cross-purposes, and its unresolved status is adding a premium, as well as volatility, to crude oil markets.

If Trump abandons the deal, he risks a spike in global oil prices that could end up being counterproductive given the impact on global growth and inflation. While the other members of the deal remain in favour of its continuation, the reintroduction of US sanctions would hurt Iran's ability to transact in dollars.

Even though Iran does not export any oil to the US, it could on that basis reduce or potentially completely remove European demand for Iranian barrels – just like we witnessed between 2012 and 2015, when Iran was sanctioned.

The US, Israel, and Saudi Arabia view the deal as flawed as it allows Iran to build nuclear weapons following a 10-year moratorium while at the same time giving Tehran the economic power to fund terrorist organisations in Syria, Lebanon and Yemen.

This troika of nations appears to comprise the core of Washington's Middle Eastern strategy, where the US is currently backing a Saudi-led coalition against Houthi rebels in Yemen while attempting to maintain a presence in Syria so as to prevent Iranian or Iranian-backed activity near its allies' borders.

The lifting of sanctions at the beginning of 2016 helped trigger a 1 million barrel/day increase in Iranian oil production to 3.8 million b/d. This is the level that Iran agreed to as part of the Opec+ group agreement in 2016 to keep production capped in order to remove the global overhang of supply.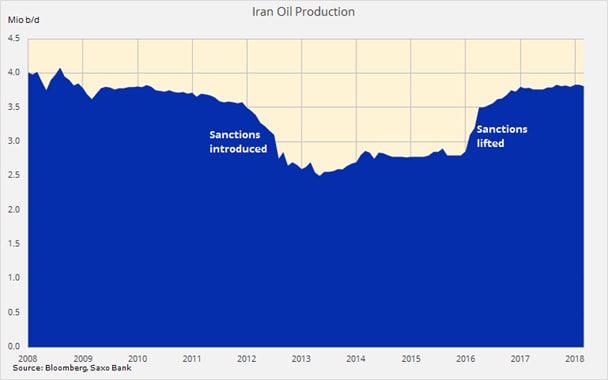 In a recent tweet, Trump briefly rattled the oil market by accusing Opec of keeping oil prices artificially high. Some commentators saw this as a precursor for sanctions being announced against Iran with Trump's remarks representing an attempt to blame potentially higher oil prices on Opec and Russia.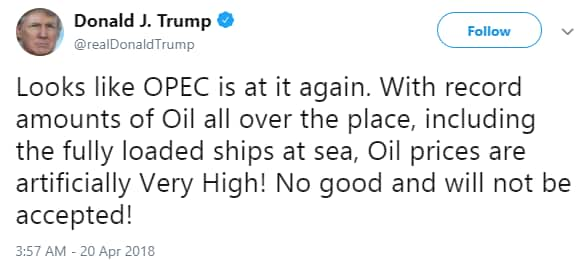 This would speak to Trump's domestic agenda, which would be hampered by a rise in domestic gas prices ahead of the mid-term elections in November.

The national average US gasoline price at the pumps already trades at the highest for this time of year since 2014. Seasonal higher prices are expected during the coming months when the annual summer driving season boosts demand. A sanctions-related spike in oil prices could therefore add further pressure on US motorists, and middle-class voters as a whole, a development that would undercut Trump's populist appeal.

French president Emmanuel Macron has used his state visit to Washington to try to persuade Trump not to abandon the deal. Instead, he has proposed a new deal which could further delay Iran's permission to build nuclear weapons. The oil market sold off on this news but the limited reaction seen so far shows the market's hesitancy in deflating the current geopolitical risk premium... particularly considering Trump's recent appointments of Iran hawks like national security adviser John Bolton and Secretary of State Mike Pompeo.

Brent crude, the global benchmark, has benefited greatly from ongoing geopolitical risks, with US versus Iran as well as Venezuela attracting most of the attention. On top of this, we have Opec and Russia's continued discipline in keeping production capped while talking up the price towards $80/b.

Global demand was strong during the first quarter and this combined with record buying appetite from hedge funds has helped increased the positive roll yield from holding a long futures position (backwardation). The net-long in the market is by historical standards now very stretched, not least in Brent crude where only one short exists per 20 longs.

Geopolitical risk spikes can be vicious but tend to lack longevity. Unless supply is threatened, such spikes could add extra non-Opec barrels while potentially raising growth and demand risk.

The outcome of the Iranian decision could very well trigger an additional move to the upside as the market would tighten even faster. A decision to keep the current deal would however deflate the built-up risk premium. Considering the mentioned one-sided positions currently seen, the downside risk could potentially be somewhere between $5 and $10/b.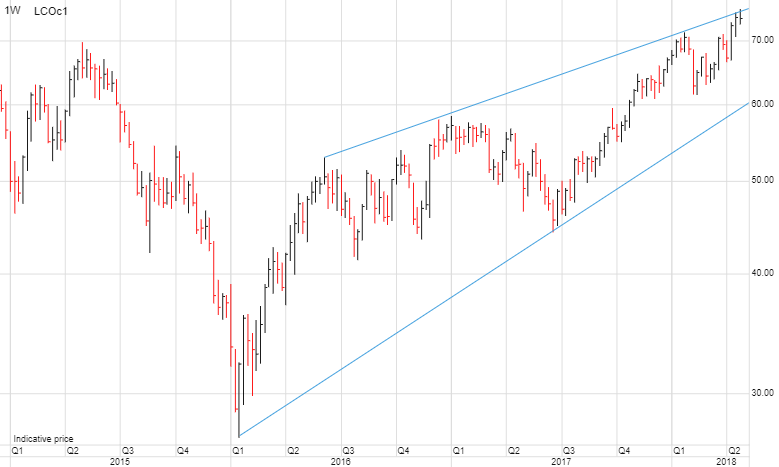 You can access both of our platforms from a single Saxo account.