Running technology as a business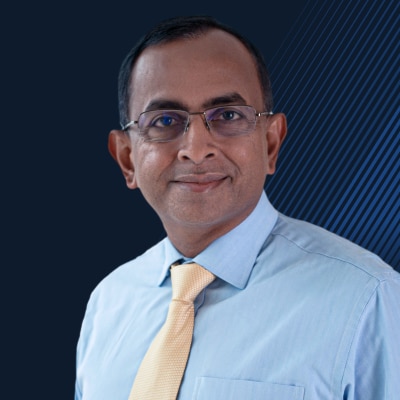 Ashok Kalyanswamy
Chief Information Officer
Last year, Saxo Bank celebrated its 25th anniversary and this year marks 20 years since we launched our first trading platform. Both these anniversaries were a big milestone for a firm such as ours whose origins are so closely tied to the early internet phenomenon and for whom technology has been an integral part of our development from the very outset. Our platform and technology have evolved and both revolutionised and democratised the way we approach investing and trading.

We launched our first electronic trading platform in 1998, and our passion and commitment to facilitate multi-asset investment and trading remain as strong as ever. We continue to do so by providing unparalleled access to global financial markets through cutting-edge technologies and industry-leading expertise. Today our clients range from direct clients such as retail investors and professional traders, to other banks and brokers who use our fully scalable technology platform to better service their own clients. This business model places us squarely at the very intersection of technology and finance.
At Saxo, we use technology to transform our business.
The emphasis on technology is not a coincidence. There are two key aspects which make our approach unique. First, despite having a banking license, Saxo was the first bank to realise that it is fundamentally a technology business. Second, despite being 25 years old, Saxo has never stopped thinking like a start-up, and is exceptionally agile in how it reacts to new developments.

This philosophy has meant that we continuously invest in our platform to stay at the forefront of technology, and push technology to the limits of what it can achieve. At Saxo, we are not mere consumers of technology – instead we use technology to transform our business.

Our mission in technology: digitising the value chain for multi-asset trading and investing with an eye on innovation

Saxo is making major investments in IT with the aim of digitising the whole value chain and stay at the forefront of technology. Our key IT priorities are user experience, client engagement, data, high performing trading systems and efficient post trade solutions.

In parallel to making these investments, we are migrating to cloud so that we can spend more time thinking about and designing software which will improve our clients' experience rather than on running software or data centres. A rich set of services with an Open API running in the cloud will further enable us to build an Amazon-like marketplace to offer our clients fully customisable solutions.

Not only are we the forefront of technology, but that we are also exploring new technologies such as machine learning and artificial intelligence in all aspects of our stack which will drive more intelligent decision making. We are also migrating to a DevOps model to create a more efficient software development life cycle.

Hiring the best talent

To deliver on our IT mission, attracting and retaining top talent is key. For technologists with interest in financial markets there are four key aspects which make the Saxo opportunity unique in this marketplace.

First, IT as a function has a seat at the executive table and is instrumental to the success of the bank – there is a strong link between IT and the rest of the organisation. Second, Saxo is exceptionally nimble – this doesn't mean that it compromises on governance and process, but that it combines those with an ability to make decisions quickly. Third, we offer our employees experience across the whole capital markets value chain – allowing them to develop knowledge and transferrable skills across the whole trade lifecycle. Finally, unlike other banks, we do not offer services which are not directly linked to technology – what we do is offer a technology platform which is fully digital and electronic.

Leading new frontiers: Big data and artificial intelligence

In today's information-driven world, data is the lifeblood of a digital organisation. We are continuously exploring new ways of integrating technology to drive intelligent decision making. We are investing heavily in data analytics and artificial intelligence to turn data into actionable information for the benefit of our clients and employees.

If we understand AI as the ability of machines to convert data into useful information, then AI has been around for a long time. However, because of the vast amounts of data available, and the speed of available compute resources, our perception of what AI can achieve has changed.

Our AI and data strategy is to leverage insights from our own data, vendor data and publically available data and do it better than anyone else. We make the data insights available to our sales traders who provide them to our clients so that they can make informed trading and investment decisions. Our aim is to use data intelligently, by turning big data into insights, not bigger data.

Technology was crucial to our business when it was first founded 25 years ago. We are entering a new exciting phase where the opportunity provided by technology to facilitate trading and investing is significant. The fact that we have always invested in and stayed ahead of technology means we are exceptionally well placed to capture these opportunities. Our aim is to continue to be the financial technology firm of the future.
You can access both of our platforms from a single Saxo account.