Denmark's C20 index in sharp reversal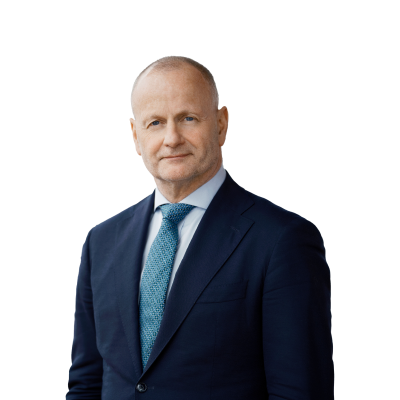 Steen Jakobsen
Chief Investment Officer
It's been a very bad day for the Danish stock market, with the index of leading blue-chip companies, the OMX Copenhagen 20 (OMXC20, formerly the KFX), taking a severe beating and violating a longer-term uptrend. And with market heavyweights including TDC, Novo Nordisk and Coloplast among the day's heaviest losers, investors would be wise to be on alert for further developments. (See a note by Saxo's Peter Garnry at the end of this piece for further insight into these three companies.)

Our model has neutralised a buy signal dating back to 03/2017:
Saxo monthly timing model


Support is now at 980.00

KFX, or OMXC20, is now down 320 bps for the year despite extreme bullishness and overseas market performance (the pan-European STOXX 600 index is up 120 bps).
Saxo short-term timing model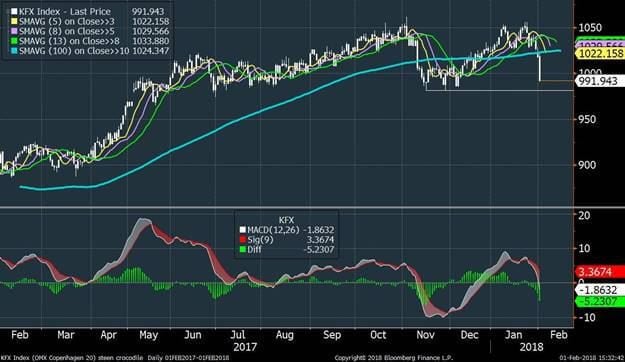 Here again a clean break with support only at 980.00.
Finally, our momentum model (which dictates the actual signal) is only selling below 980.00.
Saxo Donchian model


Note that the KFX index has -2 Z-scor, which would indicate some "value" here, but momentum overall is strong at present, so we recommend a wait-and-see mode combined with protecting the downside or simply increasing cash through taking profit on the excellent run since 2008.

Peter Garnry, Saxo's head of equity strategy, adds:


TDC's takeover of Swedish MTG is in my view a long-term risky move TDC had to take. Stand-alone telecommunication companies are dying due to technology and price pressure. Short-term here the market is not rewarding TDC for their bold move into content. Investors are sending the shares down 9%. Compared to peers in our quant model TDC is valued around average. The shareholder yield on the other hand is very attractive but is likely going to go down to pay for the acquisition and integration of MTG. While the price move is big for TDC the index point impact is around 2.3 pts. so nothing major.

Novo Nordisk missed 2018 estimates today and investors are worried over the weak USD despite the majority of the impact is hedged by their Treasury. Shares are down 7% which is 11.4 index pts. weighing down on OMXC25 Index. Novo Nordisk also recently lost the bid for Belgium Ablynx is another growing concern for investors because Novo Nordisk need some diversification in the pipeline. Novo Nordisk is in our top 40 list in our quant model driven by recent strong momentum and the industry's best quality (return on capital). Even with today's disappointment we have to remember that Novo Nordisk actually increased their EBITDA margin in 2017 to highest levels ever at 46.7%. The biggest risk here is dramatic changes to the pricing structure on US drug prices with yesterday's announced partnership between Amazon, Berkshire and JPMorgan to change health care as evidence of change to come in the US. Novo Nordisk is only valued 15% above the global equity market on EV/EBITDA but has significantly higher business moat and return on capital. The company guides with 2-5% revenue growth in local currencies. A big concern is the massive slowdown in growth in their China business.

Coloplast shares are down 5% or 3.2 index pts. as FY18 Q1 disappointed. We are much more worried about Coloplast because the valuation is extremely elevated (57% premium) and there is little scope for further EBITDA margin expansion which will be drag on profit growth going forward as top line growth is expected to slow down over time .
Conclusion: For me the Danish underperformance YTD is a reflection of events hitting a small segment of a very local market and not an indication of something wider. US and Chinese equity markets remain the key focus for any indication of a correction.


You can access both of our platforms from a single Saxo account.