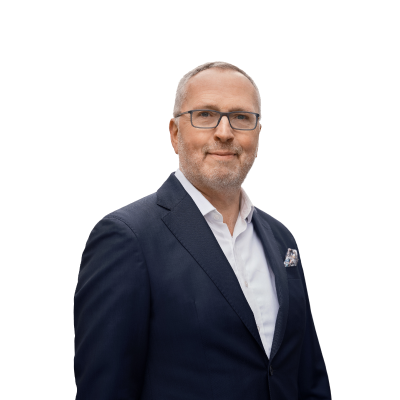 Ole Hansen
Head of Commodity Strategy
Gold has once again returned to the $20 band between $1355/oz and $1375/oz that has provided resistance on numerous occasions during the past two years. Multiple drivers have supported the latest breakout attempt. Heightened geopolitical risks and increased stock market volatility continue to attract safe haven and diversification demand, while a dovish FOMC rate hike last week and not least a weaker dollar have also provided support.

The current rally may help silver attract some attention given its relative cheapness to gold and the fact that hedge funds on March 20 held a record net-short of 35,000 lots, well below the five-year average.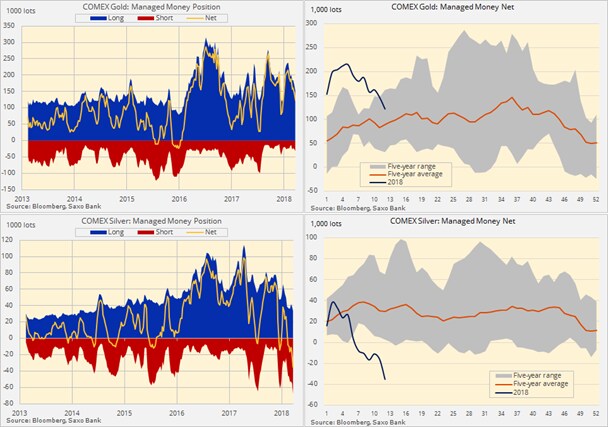 The gold/silver ratio, currently at 80.80, reflects the cost of one ounce of gold measured in ounces of silver and has only traded above 80 four times during the past 20 years. In early 2016 it reached 83.8 due to worries about a Chinese economic slowdown and prior to that 84.50 in October 2008 during the great financial crisis.

At the current price it is trading 12% above the five-year average and should gold manage to break the above mentioned area of resistance the fact that hedge funds are holding a record position pointing in the wrong direction could help attract some relative performance back to silver.




The risk to this assumption are the warning signs currently being signaled by industrial metals, which despite all the talk about synchronised global growth have been struggling, not least due to the deleveraging currently taking hold in China. Industrial metal use accounts for more than 50% of demand for silver and with that in mind the ratio is often viewed as a gauge to investors thinking about the outlook global growth and demand.

At the end of 2017, the consensus embraced the "synchronised global growth/reflation" narrative. Three months later, analysts are struggling to find reasons for higher inflation and are starting to realise that synchronised global growth isn't happening. In his latest update, Christopher Dembik, our head of macro analysis, highlights the reasons behind this changed view.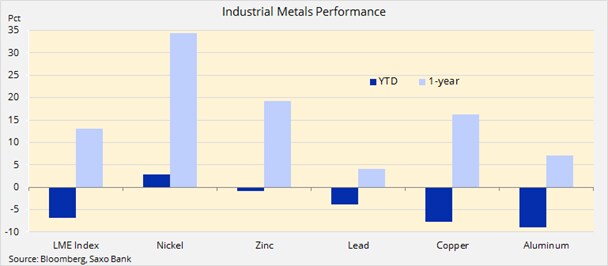 While we have witnessed the usual pump and dump of futures positions held by hedge funds, as they reacted to changes in the price, the total holdings in exchange-traded products backed by gold has continued to climb and at 2266 tons it is close to a five-year high.

This in our belief highlights the underlying demand for gold which has been ongoing for the past year, coincidentally since President Trump took office at the beginning of 2017. Geopolitical risk indicators have increased during this time. Driven by the risk of a major diplomatic crisis and his tweeting habits, which are, at best, controversial.

Silver's lack of relative and absolute performance has dented demand from investors with total holdings having stayed within a 500 tonnes range for the past six months.




Despite no clear sell signal emerging on the chart during the past month, hedge funds have nevertheless been accumulating a record short position.



Source: Saxo Bank

With no clear support from industrial metals the direction of silver is currently in the hands of gold with a break higher creating enough demand through short-covering to see the gold-ratio trade lower. On that basis, given the risk of another rejection, selling the gold-silver ratio (ticker XAUXAG) could be another and less volatile way to express a bullish view on precious metals.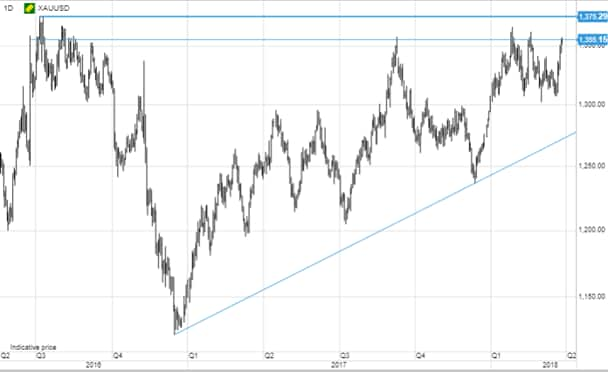 Source: Saxo Bank

Another reason to be cautious and the reason why gold's upside attempt may get rejected again is the recent accumulation of dollar short positions. EURUSD is getting close to challenge €1.25 which represents a very long-term trend-line resistance from the 2008 top at €1.30. EURUSD has, according to John Hardy in his latest FX Update, a long tradition of magnetism around big round levels. Another rejection combined with the recent run up in dollar shorts could support a surprise comeback for the greenback.

In the week to March 20 the speculative dollar short against nine IMM currency futures jumped by 50% to $26.1 billion, the highest since August 2011. Profit taking reduced the near record EUR long by 9% while speculators added significant length to GBP, AUD and NZD. The biggest change, however, was driven by a collapse in the JPY net-short by 72% to a 16-month low.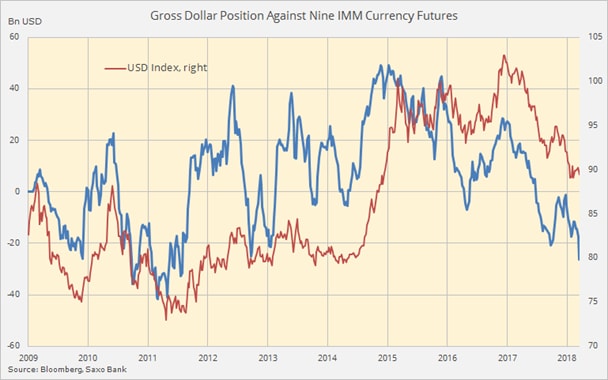 You can access both of our platforms from a single Saxo account.