SaxoWealthCare
Redefining the robo-advisor, focused on your goals, with personalised portfolios. Invest with SaxoWealthCare, and get an iPad Air.*
Your portfolio, tailored to your goals.
Amanda would like to draw a recurring income in her retirement years until 2065.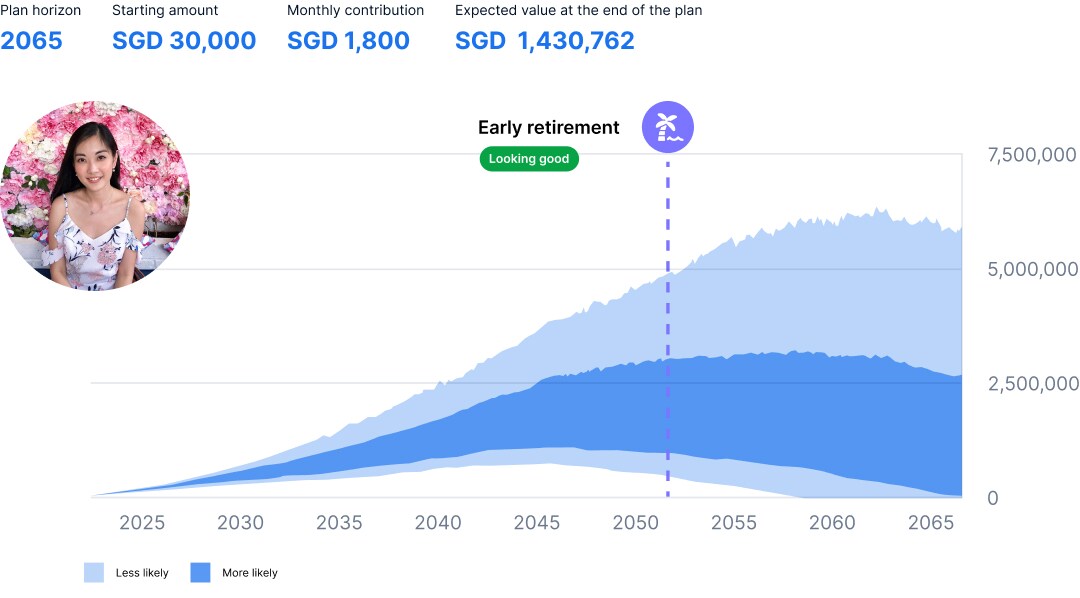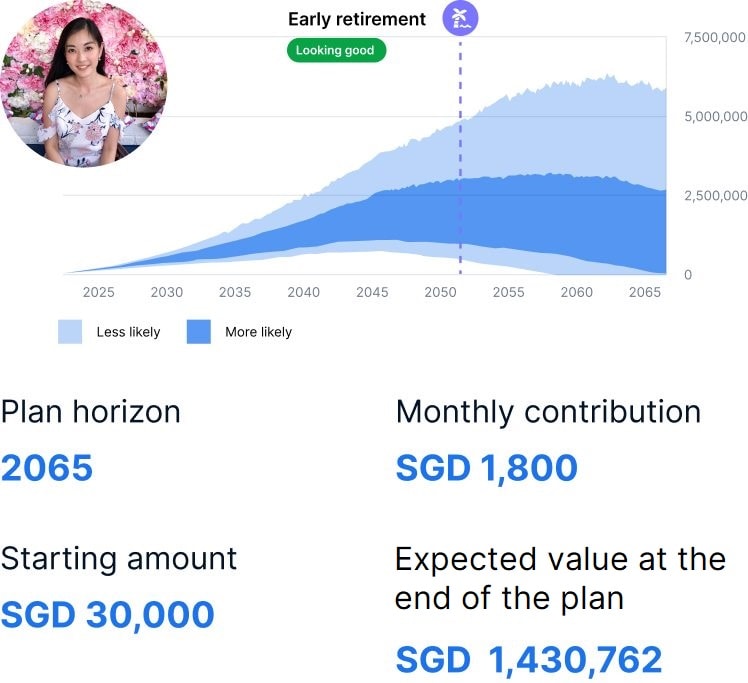 Jared plans to make a downpayment for a new property in 2028 and start the renovation two years later.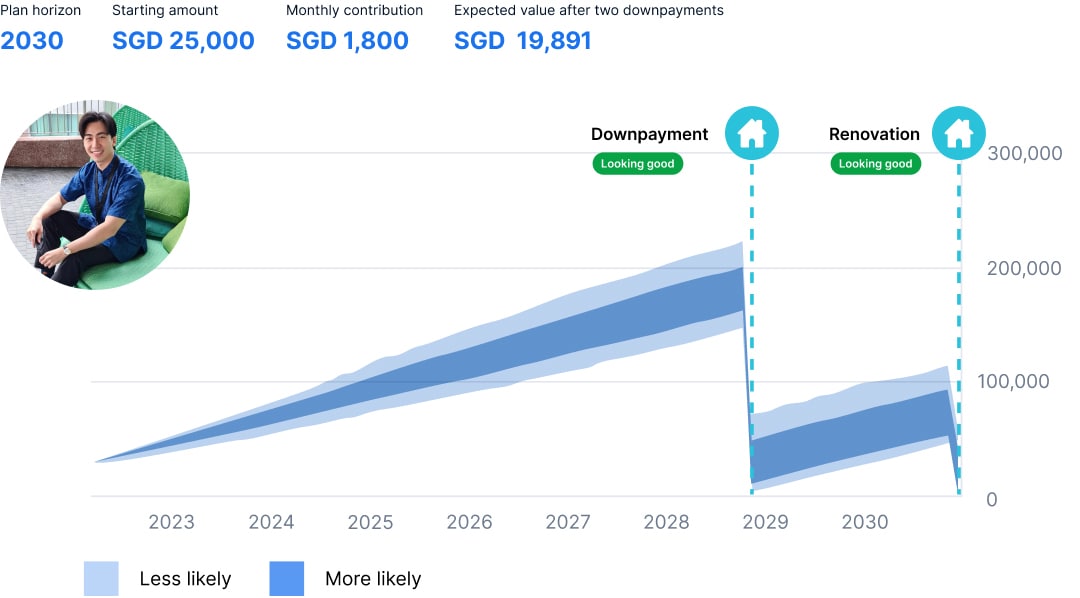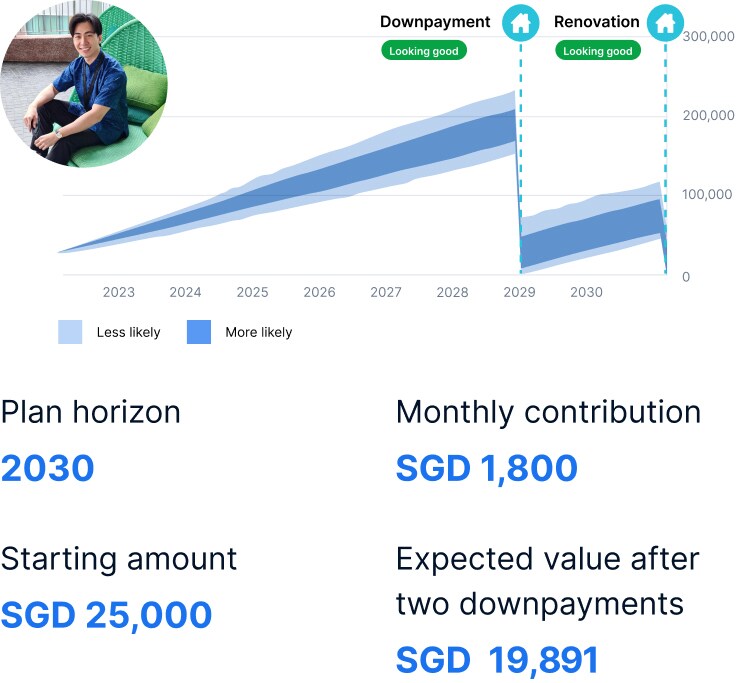 Evelyn is saving up for her kids' future and a healthy inheritance for the family.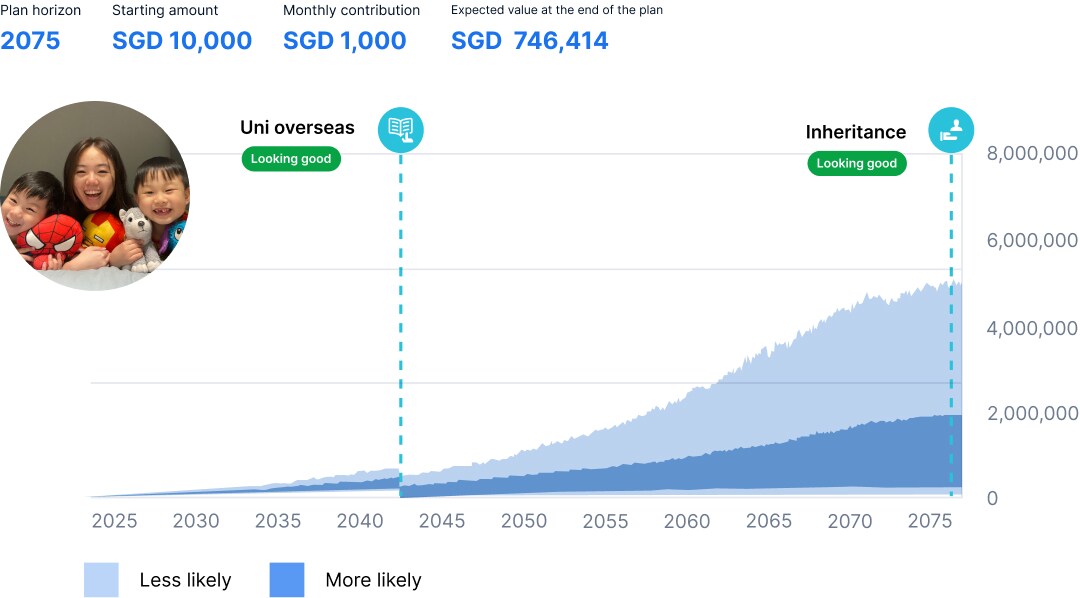 Justin's goal is to take his family for two trips before the end of 2028.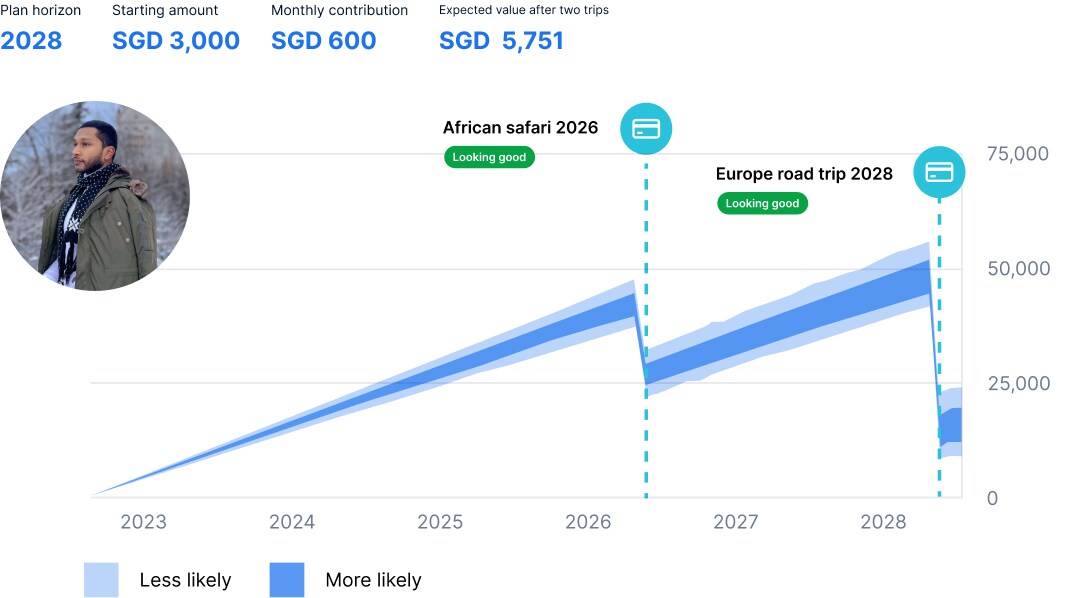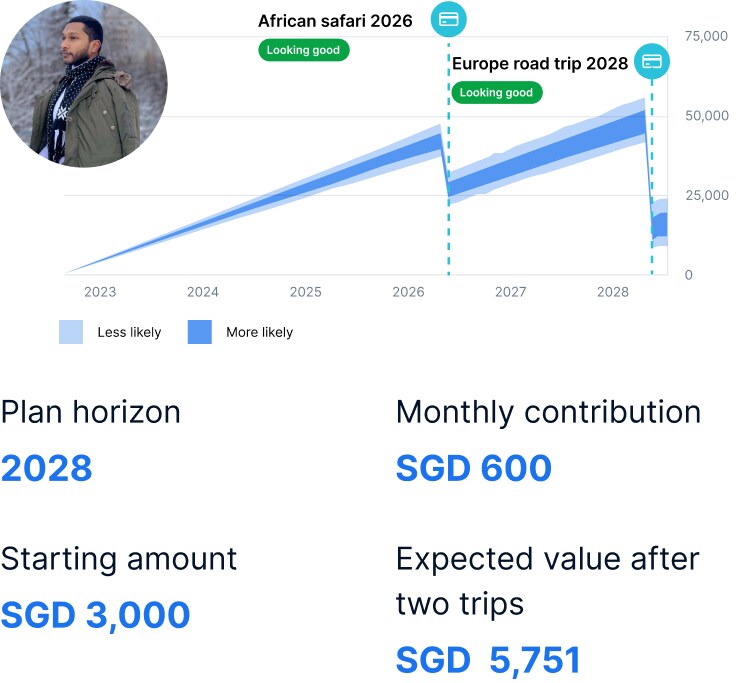 For Faye, growing her capital is as important as investing in sustainable companies.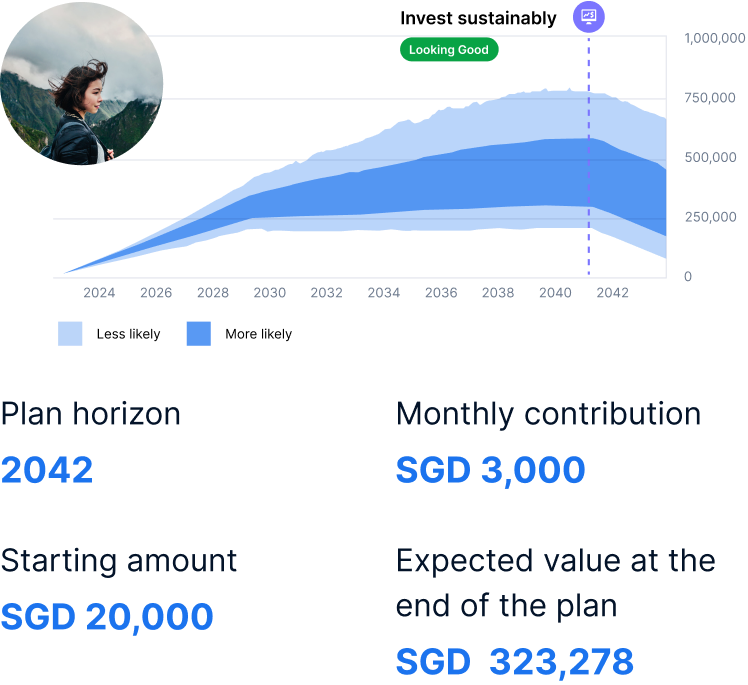 Why choose SaxoWealthCare?
Do you want to retire early, buy a house, or both?
Do you want to retire early, buy a house, or both?
With SaxoWealthCare you get guided investing and automated portfolio management tailored to your needs and financial goals, whatever they are.

Minimum initial investment amount: SGD 3,000
Your money, invested and protected
Your money, invested and protected
Simply answer a few questions about your financial situation and objectives, your investment preferences and your risk appetite. Based on your answers, we create an investment plan and a portfolio that's unique to you. Then, as markets move or your goals change, your portfolio gets optimised automatically.

Want to set multiple goals? Done. Don't want to risk too much? You can add an extra layer of protection to guard part of your money. And if your needs change, you can update your plan anytime.
Keep your costs under control
You get personalised wealth management at a fraction of the price of traditional banks and wealth managers, competitive with robo-advisors.
*Assumes an investment of SGD 2,000,000
Get help from our team of experts whenever you need it
Get help from our team of experts whenever you need it
If you're not sure whether SaxoWealthCare is right for you, request a call back and a member of our team will get back to you soon.
More reasons to choose SaxoWealthCare
Responsible investing
The portfolios have a higher ESG (environmental, social and governance) rating than the stock market average.
Extra protection options
Activate your Portfolio Protector feature to safeguard part of your investment in periods of market volatility.
No experience needed
Simply tell us your goals, then we use smart investment automation and the expertise of leading asset managers to do the rest.
No lock-in period
We know even the best plans can change. That's why you can withdraw funds or update your goals anytime, for free.
Sign up online
Apply in minutes, using your Singpass via Myinfo
Build your investment plan
Set your goals, investment preferences and risk profile, then fund your account
Sit back and relax
Let us take care of your portfolio. Just check in when you want and update if needed.
Robo-advisors typically don't account for your goals or tailor a portfolio to achieve them. Instead they simply direct your money into one of a few standard portfolios, based on your risk profile and investment timeframe. If they consider your investing goal - for example, your intention to buy a property - that goal may only feature as a drawdown in the plan but has no impact on how you are invested or how you should manage risk when markets are bumpy.

With SaxoWealthCare, by contrast, we create a unique portfolio just for you, which optimises the likelihood of achieving your investment goals, regardless what they are, or how many you have. You are able to prioritise your goals – from critical to aspirational – and to update your plan over time whenever and however you wish, and SaxoWealthCare will update your portfolio automatically, always optimising toward achieving your goals. SaxoWealthCare will also tell you whether your goals look feasible, or whether you need to take action.

SaxoWealthCare is different from older style robo-advisers in how your portfolio is managed, from allocation and management to monitoring and protection. Your customised SaxoWealthCare portfolio is monitored, reviewed and rebalanced, daily if necessary, and at least monthly or quarterly, based on trade signals from some of the world's largest portfolio managers.

Saxo is also the only robo-advisor to offer you Portfolio Protector, a feature that offers active protection by reallocating from riskier to more stable assets when markets are volatile. This is done automatically on your behalf and Portfolio Protector has no additional cost and can be switched on and off at any time – no lock in.

This type of tailored service has only previously been available through private banking and professional wealth management services, which typically involve high costs and long-term lock-in periods, and they still do not monitor or rebalance your portfolio daily. SaxoWealthCare is the first digital wealth management service to provide this level of service online, allowing clients to turn their plans into their reality.
This is the plan we create based on your input about financial goals (buying a house in five years, retiring two years early etc.), how much money you want to invest, what type of 'equity style' you'd like to invest in, and how much risk you're willing to take. We turn all these variables into a plan proposal we make for you. If you approve it, we build the corresponding investment portfolio mix and start investing your money.
The fees you pay for SaxoWealthCare depend on your investment amount and the product mix in your portfolio. Here's a detailed breakdown of the costs (exclusive of GST) included:
Swipe left or right for more
| Management fee | Annual fee | |
| --- | --- | --- |
| Investment amount | | |
| First SGD 50,000 | 0.75% | |
| Next SGD 50,000 | 0.70% | |
| Next SGD 100,000 | 0.60% | |
| Next SGD 800,000 | 0.55% | |
| Above SGD 1,000,000 | 0.45% | |
A product fee (est. 0.17% - 0.45% per year), levied by the fund managers, is already included in the market price of the ETFs which make up your portfolio.
The minimum investment amount is SGD 3,000.

There is no minimum investment period; you can withdraw your money or delete your account anytime, for free. However, we create all investment plans with at least a three-year horizon and recommend this as a minimum period for your investment to pay off.
You can adjust your investment plan whenever you want, from your account dashboard. Once you submit your changes you will receive an updated investment proposal for approval. Within three working days of your approval, we will update your portfolio accordingly (if needed).
Your SaxoWealthCare portfolio is unique to you, based on a dynamic asset allocation that is built on your personal financial goals, time horizon, risk tolerance, and investment preferences. SaxoWealthCare portfolios are managed and rebalanced to maximise the likelihood of reaching your life goals, hence no two plans are the same, as we all have different goals. SaxoSelect managed portfolios, on the other hand, are based on a selection of fixed asset allocation portfolios built on an investment idea or theme. SaxoSelect is about turning investment ideas into strong long-term returns.

With SaxoWealthCare we partner with asset managers to construct the portfolios for you. What is unique to SaxoWealthCare is that your customised portfolio is monitored, reviewed and – if needed – even rebalanced daily. SaxoSelect portfolios are also constructed with input from some of the world's best asset managers, but they are usually rebalanced once a quarter to adapt to market conditions, based on the asset manager's research. Unlike SaxoWealthCare, SaxoSelect portfolios don't take into account your life goals, such as specific dates of life events when you plan to make withdrawals.
We use exchange traded funds (ETFs) as investment instruments. In collaboration with reputable asset managers, we have compiled a collection of stocks and bonds ETFs that we can mix and match to suit your investment plan and risk profile.
Because your portfolio is unique, so are your potential returns. When we build your investment plan we use a prognosis tool to show expected returns for various scenarios. Based on these expectations you can approve or decline the investment plan we built for you.
If needed, we can automatically update or rebalance your portfolio every working day. We do this if there are market movements or goal changes that the portfolio needs to be adapted to.
Saxo Capital Markets manages the portfolio allocation (the division between stocks and bonds ETFs), which is updated automatically on your behalf based on your investment preferences and market movements. The underlying ETFs that your portfolio is made up of are managed by industry leading asset managers.
Yes. In the signup stage you choose which type of account you want to use. The investment process is the same regardless of your account type.
You can set up recurrent deposits through the bank account you want to transfer from, which will then be invested in accordance with your investment plan once your funds have been received and booked to your account.
Saxo Capital Markets is regulated by the Monetary Authority of Singapore. As such all client funds are protected and kept in a segregated client funds account, separate from the company's own money and assets.
No, you don't need to open a new account to start an investment plan in SaxoWealthCare. Simply log in to the platform and click 'Portfolio' to get started with SaxoWealthCare.
Trade on your own with our support
Trade on your own with our support
With Saxo you can have a self-managed account alongside your managed portfolio. Choose from a huge range of instruments across the global markets and put your investment ideas into action with the help of our tools, insights and expertise.
85+ bn
USD assets under management
20+ bn
USD daily trade volume