SaxoWealthCare, the first 5th-generation digital wealth manager with a strong focus on active investing for everyone, launches in Singapore
With a smart investment engine powering the digital wealth management service, coupled with expertise from leading asset managers, SaxoWealthCare prioritises customisation to a high degree – it is for everyone who has an income and who has goals in life and wants to achieve them
Everything is active – from allocation and management to monitoring and protection, investors get a living, breathing portfolio built to achieve their goals at a low cost, instead of cookie-cutter solutions
As part of the launch of SaxoWealthCare, one lucky investor will win SGD 50,000 toward the fulfilment of their life goals
SINGAPORE, 25 APRIL 2022
-
Saxo Markets
has launched SaxoWealthCare, the first 5th-generation digital wealth manager that helps people achieve their life goals, by reducing time stress, knowledge gap, and increasing adaptability and flexibility over time.
"SaxoWealthCare is designed to reinvent the digital wealth management experience for everyone, and we are very excited to launch this in Singapore. Possibly the most important innovation in the personal finance industry in the last 30 years, since the launch of ETFs, making it a 5th-generation digital wealth manager that builds on modern portfolio theory to deliver an investment plan that is unique and personalised to each individual,"
Adam Reynolds, APAC CEO, Saxo Markets
said.
The latest addition to Saxo's wide-ranging suite of products and offerings, SaxoWealthCare lets investors decide what their life goals are, and their portfolios are built to achieve those life goals, based on their investment perspective, risk appetite and the impact they want to make through their investments. One SaxoWealthCare plan lets investors work towards multiple life goals, at the same time.
Saxo has launched a
lucky draw
where one lucky investor gets to win SGD 50,0000 invested into a SaxoWealthCare portfolio to help them get closer to achieving their life goals, whatever they may be. Investors can also win monthly prizes of SGD 8,888 and weekly prizes of SGD 888, which will be credited to their Saxo account if they win.
Currently, wealth management services typically come from five sources: Banks, insurance companies, independent financial advisors, external asset managers, and robo advisors. The most common pain points for investors in terms of what they are offered by these providers generally relate to issues of conflicts of interest, high fees, and ultimately the fact that products and services that investors are getting are not built with the investors' interests in mind.
"Through the smart investment engine that powers this, SaxoWealthCare can understand what investors' goals are, take away the stress of managing their money, allowing them to live their lives. Based on investors' goals and preferences, Saxo will take care of the rest for them, from planning to execution – that is the ethos behind SaxoWealthCare. We believe this offering of personal wealth management delivered digitally at a fraction of the cost of traditional wealth management offerings will resonate with savvy Singaporean investors as they look to confidently fund their goals with customised portfolios through a quality partner,"
Reynolds
said.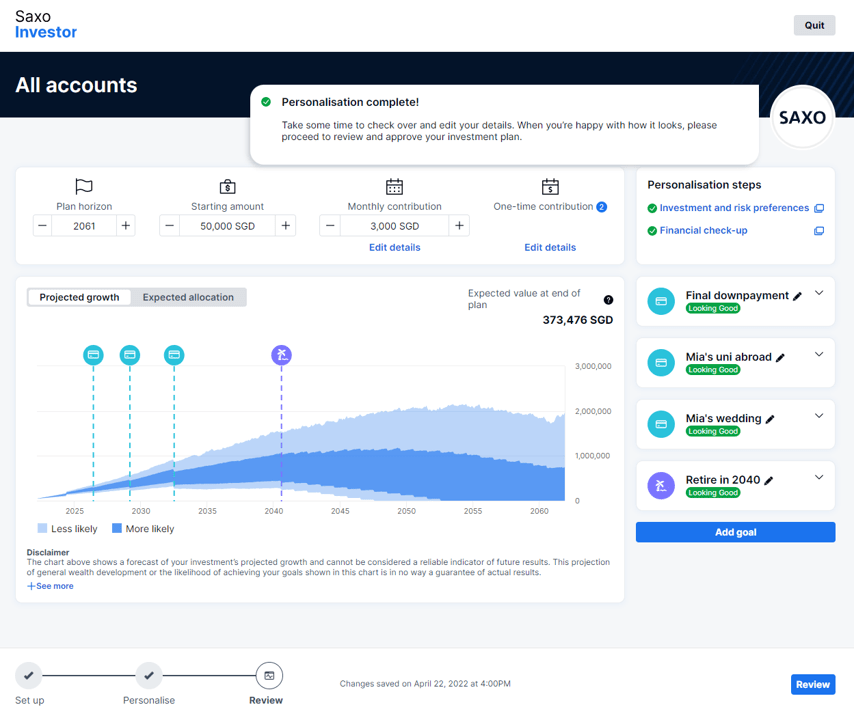 Investors can build a personalised and prioritised goals plan
From research, many investors are looking for customised investments, in the shape of professionally managed portfolios that are built to help them maximise the chances of achieving multiple life goals. These investors are currently under-served in Singapore as existing robo-advisors offer largely simple digital solutions with a relatively low degree of customisation, while at the same time they may be priced out of private banking and professional wealth management services.
"SaxoWealthCare is here to fill that gap – with its galaxy of starting points and active approach in investing, it builds an active, quality portfolio at a fair price based on your own goals and your life ambitions. Everything is active – from allocation and management to monitoring and protection, investors get a living, breathing portfolio aligned with their goals. Active portfolio management is not common amongst players out here. Robos at the moment don't offer active, daily monitoring and management of clients' portfolios focused on their goals,"
Manish Prasad, APAC Head of Asset Management, Saxo Markets
, said.
"With SaxoWealthCare, investors create a unique portfolio – these unique portfolios are monitored, reviewed daily, rebalanced daily if necessary on a per investor level and at least monthly or quarterly, based on the trade signals coming from the external portfolio managers,"
Prasad
added.
How it works
Using an intuitive and engaging process, SaxoWealthCare will determine an individual's investment preferences and goals. Built on smart technology and in partnership with leading asset managers, SaxoWealthCare tailors a suitable portfolio for that individual, investing their money in a customised mix of stocks and bonds to keep their portfolio on track towards their goals and timescale. Underlying portfolios are built mainly with a combination of stock and bond ETFs, and they come in three trading styles:
Global Growth
Ideal for growth investing with an international focus. The Global Growth equity style benefits from analysis of market megatrends and themes, while ensuring you take advantage of opportunities across global markets.


Asian Growth
Ideal for investing with a clear focus on Asian equities. The Asian Growth equity style provides an easy way to invest in growing companies around the world, with a higher percentage than usual drawn from Asian markets.


Sustainable Growth
Ideal for growth, while letting you make an impact with your investing. The Sustainable Growth equity style keeps your investments focused on the future by investing only in companies with the highest sustainability ratings.
Investors can start their wealth management journey with a minimum funding of SGD3,000. Saxo takes care of the maintenance and balancing, so all investors need to do is to watch their portfolio develop.
As part of the launch promotion, an early bird offer rate of 0.45% management fee regardless of investment amount is available for the first three months after launch. After the early bird period ends, this fee will subsequently only be available for deposits over SGD 1 million. Management fees range from 0.45% to only 0.75% dependent on the sum invested.
Visit goto.saxo/saxowealthcare-sg for more information on SaxoWealthCare.
Saxo Markets is a licensed subsidiary of Saxo Bank, a leading Fintech specialist that connects people to investment opportunities in global capital markets. Saxo Markets has operated in Singapore since 2006 and serves as the APAC headquarters. As a provider of multi-asset trading and investment, Saxo Bank's vision is to enable people to fulfil their financial aspirations and make an impact. Saxo's user-friendly and personalised platform experience gives investors exactly what they need, when they need it, no matter if they want to actively trade global markets or invest into their future.
Founded in 1992, Saxo Bank was one of the first financial institutions to develop an online trading platform that provided private investors with the same tools and market access as professional traders, large institutions, and fund managers. Saxo combines an agile fintech mindset with close to 30 years of experience and track record in global capital markets to deliver a state-of-the-art experience to clients. The Saxo Bank Group holds four banking licenses and is well regulated globally. Saxo offers clients around the world broad access to global capital markets across asset classes, where they can trade more than 72,000 instruments in over 26 languages from one single margin account. The Saxo Bank Group also powers more than 200 financial institutions as partners by boosting the investment experience they can offer their clients via its open banking technology.
Headquartered in Copenhagen, Saxo Bank's client assets total more than 83,4 billion USD and the company has more than 2,500 financial and technology professionals in financial centers around the world including London, Singapore, Amsterdam, Shanghai, Hong Kong, Paris, Zurich, Dubai and Tokyo.
For more information, please visit: www.home.saxo/en-sg/.