Saxo welcomes more female clients across all offices as globally, more women continue to invest in higher numbers
For Saxo in Singapore, 30 percent of investors and 24 percent of trader clients are female, a much higher percentage than the industry average

70 percent of new clients in Singapore are between the age 21-40, in line with the global trend that more young people are investing than ever before

In conjunction with International Women's Day, Saxo Markets will be hosting, with 100 Women in Finance, a roundtable discussion named 'Her Money Magic', which will take place at Saxo's new office at CapitaSpring and streamed live via a webinar
SINGAPORE, 8 March 2022 - Saxo Markets, the online trading and investment specialist, has experienced a very positive trend of not only more investors entering the capital markets generally, but particularly more female clients embarking on the investment journey than ever before.
In 2020, Saxo Singapore saw a 6.5-fold increase in new women investors, compared to 5.3-fold for men, which is very encouraging. The positive trend continued into 2021. In Saxo in Singapore, 30 percent of investors and 24 percent of trader clients are female, a much higher percentage than the industry average. The influx of new female clients are also generally younger, as the client base evolves to be more diverse, as 70 percent of new clients in Singapore are between the age 21-40.
"At Saxo, we believe that everyone should have the opportunity to fulfil their financial aspirations and make an impact, and investing is one of the ways to make an impact, for themselves and for the world and communities around them.
This International Women's Day, we are encouraged to see more women choosing to put their trust in Saxo to be their partner as they trade and invest into their future. While we are still far from equal representation, the trend is currently picking up in the right direction. Saxo is committed to continue to close the gender gap in investing and support women in their investing journeys. Our promotions, targeting, activity, everything has always been inclusive and gender neutral.
We do this through a broad palette of initiatives for clients such as providing expert insights on investing, educational seminars, low brokerage fees, and, among many other things, referral programmes. More recently, we have made efforts to try to redress the gender imbalance, with a concerted and targeted effort to incentivise more women to trade and invest," Maria Jelen, Regional Head of Relationship Management & Sales Trading, Saxo Markets, said.
Globally and in Singapore, here are the most popular stocks with female clients in 2022 (Data collected 08/03/2022):

GLOBAL

Tesla Inc.

Meta Platforms Inc.

Novo Nordisk B A/S

Microsoft Corp.

Apple Inc.

Vestas Wind Systems A/S

ASML Holding

Shell PLC

NVidia Corp.

Sea Ltd

SINGAPORE

Tesla Inc.

Meta Platforms Inc.

Microsoft Corp.

Apple Inc.

Sea Ltd

NVidia Corp.

Palantir Technologies Inc.

Alibaba Group Holding Ltd

Alphabet Inc. - A Share

Amazon.com Inc.
In Singapore, in conjunction with International Women's Day, Saxo Markets will be hosting a roundtable discussion titled 'Her Money Magic' on 23 March with speakers from 100 Women in Finance, Sophia and StashAway. They will share their inspiring investment journeys and discuss how investing has helped them unleash their potential, build their financial self-esteem and grow as individuals. The event will take place at Saxo's brand new office at CapitaSpring, and also streamed live for viewers online.
Sign up here: https://www.home.saxo/en-sg/campaigns/webinars/2022/03/23/her-money-magic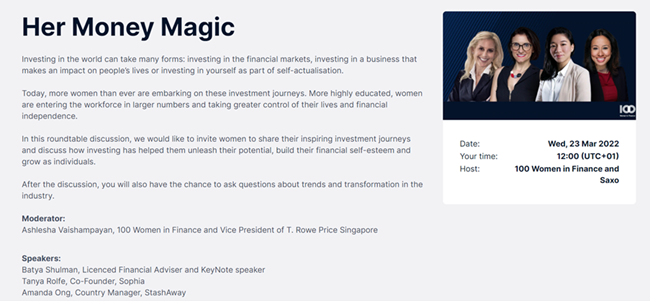 Saxo Markets is a licensed subsidiary of Saxo Bank, a leading Fintech specialist that connects people to investment opportunities in global capital markets. Saxo Markets has operated in Singapore since 2006 and serves as the APAC headquarters. As a provider of multi-asset trading and investment, Saxo Bank's vision is to enable people to fulfil their financial aspirations and make an impact. Saxo's user-friendly and personalised platform experience gives investors exactly what they need, when they need it, no matter if they want to actively trade global markets or invest into their future.
Founded in 1992, Saxo Bank was one of the first financial institutions to develop an online trading platform that provided private investors with the same tools and market access as professional traders, large institutions, and fund managers. Saxo combines an agile fintech mindset with close to 30 years of experience and track record in global capital markets to deliver a state-of-the-art experience to clients. The Saxo Bank Group holds four banking licenses and is well regulated globally. Saxo offers clients around the world broad access to global capital markets across asset classes, where they can trade more than 72,000 instruments in over 26 languages from one single margin account. The Saxo Bank Group also powers more than 200 financial institutions as partners by boosting the investment experience they can offer their clients via its open banking technology.
Headquartered in Copenhagen, Saxo Bank's client assets total more than 83.4 billion USD and the company has more than 2,500 financial and technology professionals in financial centers around the world including London, Singapore, Amsterdam, Shanghai, Hong Kong, Paris, Zurich, Dubai and Tokyo.
For more information, please visit: www.home.saxo/en-sg/.