Saxo Rewards, the most dynamic and transparent loyalty programme in multi-asset trading and investment, kickstarts Saxo's ambitious 2020 plans
Saxo is the first broker in Singapore to introduce an interactive loyalty programme powered by big data, making it the most dynamic and transparent rewards scheme in the trading and investment space today.
Singapore is also the first international market where Saxo is rolling out Saxo Rewards
With a clear tiering system, sleek interface, highly personalised programme and real-time updates for clients, the scheme opens up benefits for traders and investors from trading activities across major asset classes, while at the same time offering clients a more engaging experience
Saxo Markets, the leading Fintech specialist focused on multi-asset trading and investment, today launches Saxo Rewards, a highly personalised loyalty programme powered by big data that offers smart, real-time engagement for traders and investors trading across major asset classes such as CFDs, FX, Stocks and Bonds.
The rewards scheme, now available to all clients in Singapore, unlocks future benefits when clients reach the required level for an upgrade, making it an interactive and forward-looking programme. This makes Saxo the first online broker in Singapore with such a comprehensive and transparent loyalty programme in the trading and investment industry, going beyond the standard rewards-for-trading-style schemes currently common in the market.
"Building off a year of growth and strong support from clients in Singapore, we are very excited to introduce Saxo Rewards to traders and investors in Singapore. Investors and traders in Singapore are generally savvy and sophisticated, and Saxo Rewards is a response to evolving client preferences, as we have seen from internal and external research that they want to be rewarded for their commitment. We are filling a gap in the space for clients who are looking for a more engaging experience from their online broker through a loyalty programme that offers a seamless experience with long-term value," said Adam Reynolds, Asia Pacific CEO, Saxo Markets.
The 2019 Investment Trends Survey found that 36% of investors and 45% of leveraged traders responded that a loyalty programme could prove to be the catalyst that would cause them to consider switching provider. Yet currently, no provider in leveraged trading in Singapore offers a comprehensive and transparent loyalty programme that delivers beyond the simpler rewards-for-trading-style schemes, and which lets traders and investors take control of upgrading through reward tiers, as with an airline loyalty scheme, for example.
Singapore is the first market globally where Saxo Rewards is rolled out, and more enhancements will be rolled out in phases. With the new Saxo Rewards scheme, clients can clearly see which tier they belong to – Classic, Platinum or VIP, each determined by their current level of commitment and engagement in terms of funds, trading volume and other activities.
Capitalising on Saxo's AI and big data capabilities, the loyalty programme is able to calculate and connect, in real time, trading volume equating to points, generate automated "levelling up" to Platinum or VIP. Seamlessly integrated into Saxo's world-class trading platforms across all devices, clients can easily log in and see points accrued under Saxo Rewards, which is designed to make trading and investment rewarding, transparent and actionable for all clients.
"Saxo's world class technology and big data capabilities as well as our extensive global multi-asset offerings mean we are unique in the marketplace to come up with a loyalty programme with this level of transparency and complexity. Saxo is already one of the most competitive online brokers in Singapore but we want to do more for our clients to show that we value their loyalty and commitment beyond trading volumes to create a true win-win relationship," Reynolds added.
Saxo Rewards marks the beginning of a series of initiatives and launches that Saxo Markets has planned for Singapore and Southeast Asia in 2020, which will see the company introducing more innovative product offerings for clients and in other markets in the region.
What traders and investors can expect from Saxo Rewards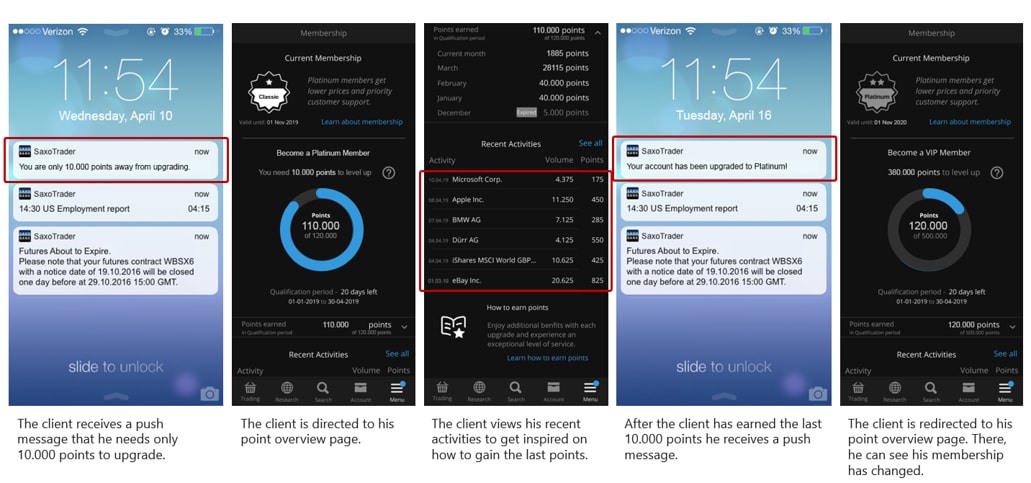 Real time, transparent and intuitive client experience on the new Saxo Rewards.
A transparent and intuitive user experience: Clients will see, as clearly as possible and in real time, which tier they are in, and what they have to do to upgrade or avoid being downgraded. This empowers traders and investors to understand and take control of securing and maintaining the lower costs and other benefits available in the best possible tier which they can reach. This is enabled by Saxo's superior technology, powered by AI and big data analysis, rendering the scheme similar to the familiar and more sophisticated airline loyalty schemes.
Consolidate trading activities for more savings and rewards: Singaporeans can secure better rewards by consolidating their trading and investment activity with Saxo, as rewards apply to all clients trading across major asset classes. Active traders and investors can also continue to enjoy very attractive pricing and earn points for different activities and trades across different asset classes. Future updates to the programme will also see new and improved ways to earn reward points and progress through the loyalty tiers.
Get tips and inspiration to move to the next tier: Clients are able to view their recent activities to get inspired on how to gain points to advance to the next tier. With the real-time tips on how to earn points, jumping to the next pricing tier could translate into attractive savings for active traders.
Enjoy value beyond trading volume: Non-trading activities such as referring friends to Saxo and attending a Saxo event will, in the future, reward clients for engaging in other value-adding activities. This holistic approach provides more impetus for clients to do more with Saxo and be rewarded even for non-trading activities. Over time, clients will enjoy a more rewarding and engaging trading and investing experience with Saxo.
For more information on Saxo Rewards, please visit: https://www.home.saxo/en-sg/accounts/saxo-rewards. Existing clients can log on to their Saxo account and start exploring under the new Saxo Rewards section.
Saxo Markets is a licensed subsidiary of Saxo Bank, a leading Fintech specialist that connects people to investment opportunities in global capital markets. Saxo Markets has operated in Singapore since 2006 and serves as the APAC headquarters. As a provider of multi-asset trading and investment, Saxo Bank's vision is to enable people to fulfil their financial aspirations and make an impact. Saxo's user-friendly and personalised platform experience gives investors exactly what they need, when they need it, no matter if they want to actively trade global markets or invest into their future.
Founded in 1992, Saxo Bank was one of the first financial institutions to develop an online trading platform that provided private investors with the same tools and market access as professional traders, large institutions, and fund managers. Saxo combines an agile fintech mindset with close to 30 years of experience and track record in global capital markets to deliver a state-of-the-art experience to clients. The Saxo Bank Group holds four banking licenses and is well regulated globally. Saxo offers clients around the world broad access to global capital markets across asset classes, where they can trade more than 72,000 instruments in over 26 languages from one single margin account. The Saxo Bank Group also powers more than 200 financial institutions as partners by boosting the investment experience they can offer their clients via its open banking technology.
Headquartered in Copenhagen, Saxo Bank's client assets total more than 83.4 billion USD and the company has more than 2,500 financial and technology professionals in financial centers around the world including London, Singapore, Amsterdam, Shanghai, Hong Kong, Paris, Zurich, Dubai and Tokyo.
For more information, please visit: www.home.saxo/en-sg/.