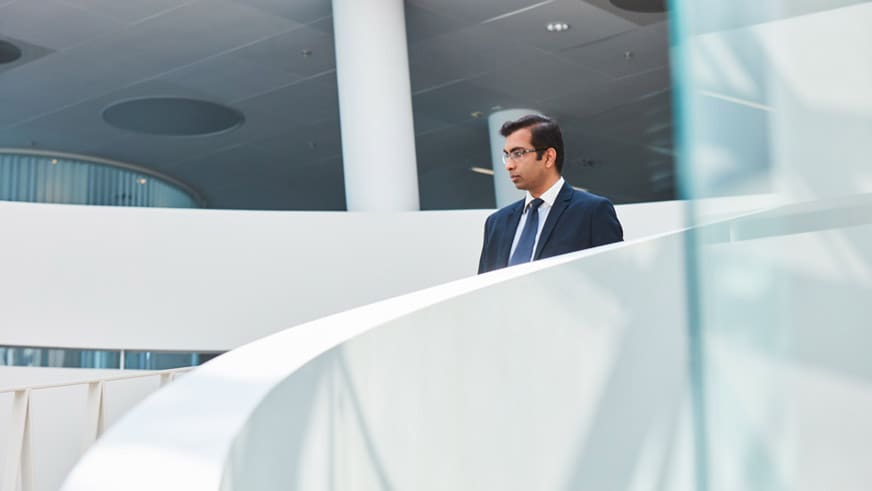 Saxo Markets and Quantifeed announce joint solution to enable financial advisers to scale quickly in a challenging environment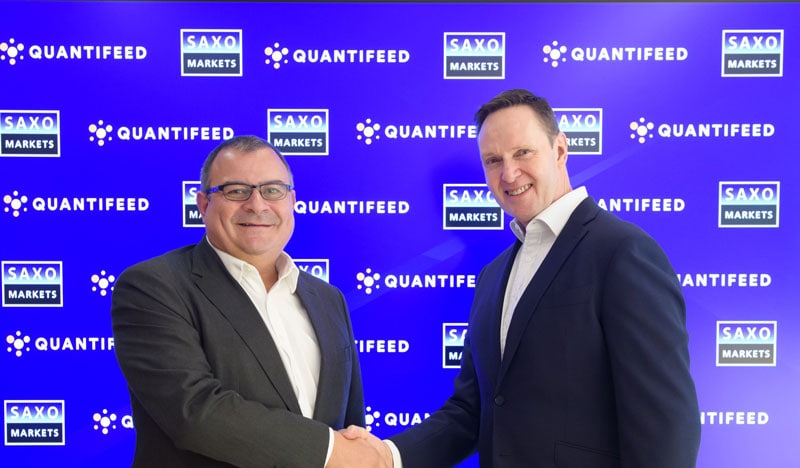 Saxo Markets and Quantifeed have signed a Memorandum of Understanding to deliver a platform-based solution that will help financial advisers provide planning and advisory services with greater efficiency, flexibility and scalability


Built on top of Saxo's OpenAPI, Quantifeed's robo-advisory technology brings a comprehensive solution that streamlines the digital wealth management experience


Available from Q1 2020, the solution will provide seamless integration of backend functions, freeing advisers from administrative work to focus on client-centric advisory activities
SINGAPORE, 13 November 2019 – Saxo Markets, a Fintech Specialist with multi-asset trading and investment platforms, and Quantifeed, Asia's leading digital wealth management solutions provider, have signed a Memorandum of Understanding (MoU) to build a joint solution that will enable advisers to reinvent their businesses and scale quickly in a challenging environment.
"From our conversations with financial advisers and wealth managers, there is a strong desire to overcome barriers to go digital and get to scale quickly, but many are bogged down by high costs and a multitude of disconnected systems. There is a real, and ever more urgent, need in the market for advisers to reinvent themselves and their business model to stay relevant. What advisory firms need is a seamless, one-stop-shop solution that can help differentiate themselves from competitors, offer an effortless way to scale and gain more clients, and continue to thrive in the face of regulatory and compliance requirements," Adam Reynolds, APAC CEO, Saxo Markets, said.
A recent study by Origo in association with financial consultancy firm the Lang Cat concluded that admin employees in financial advisory firms could be 100% more efficient if technology such as back office, document storage, platforms, investment research, financial planning tools and others were integrated. In a typical new client journey, client details were keyed in at least three times, with firms spending up to three hours per client on this process. Eliminating this drain on resources is essential to driving productivity and assets under administration upwards, freeing up more time to focus on advisory work.
Saxo and Quantifeed see an opportunity to bring a platform-based solution that is more user-friendly and dynamic to help advisers more efficiently manage and more importantly, scale their businesses. Available from Q1 2020, advisers can expect:
To reduce by up to 70% the time taken in paperwork when onboarding new clients through a fully Digital Onboarding Flow that connects to the adviser and broker simultaneously.

Access to over 4,000 ETFs and over 500 Unit Trusts worldwide.
Access to over 19,000 stocks across core and emerging markets on 36 exchanges worldwide.
Access to more than 5,000 Government and Corporate bonds.
A state-of-the-art tool for rebalancing client portfolios across large numbers of advisers and end clients.
A tenfold increase in operational efficiency by optimising and digitising operations and backend functions.
"It's a great opportunity collaborating with Saxo to bring a leading digital wealth management solution to financial advisers. Built on top of Saxo's OpenAPI, Quantifeed's award-wining robo-technology will streamline the portfolio and account management process, saving advisers time and reducing costs dramatically. It will also arm advisers with powerful tools to deliver in-depth and personalised investment advice to customers more quickly and effectively. The more efficiency gained from this technology, the more time advisers will have to build meaningful relationships with current and new clients," John Robson, Chief Commercial Officer, Quantifeed, said.
"Partnering with Quantifeed to deliver this solution is a win-win collaboration as we tap into their strengths in robo-advisory technology. Combined with our OpenAPI technology and global market access, we can now offer advisers the widest range of asset classes and geographies, which they can then translate into the ability to design optimal portfolios for their clients, while significantly improving their productivity," Reynolds added.
The platform will include three core functions: portfolio and account management, which lets advisers construct, customise and rebalance portfolios and screen investments in just a few clicks; CIO notices, which provides advisers with actionable intelligence that enables them to help customers respond nimbly to market events; and "interactive investment journey", a tool through which advisers can deliver a simple, fast, informative, transparent and personalised investment journey to customers digitally.
"We see the immense value of collaborating with ecosystem partners to accelerate the digitisation journey for financial institutions and independent advisers," Robson added. "We look forward to working together with Saxo to provide more financial advisers with best-in-class portfolio management and client engagement capabilities and support their ambitious growth plans.
Find out more about Saxo's offerings for financial advisers here: www.financialadvisers.saxo.
About Quantifeed
Quantifeed powers digital wealth management journeys for financial institutions. The company combines software engineering and quantitative finance to help transform its clients into providers of wealthcare – a customer-centric service focused on meeting everyone's wealth management needs. Quantifeed's investment journeys enable retail investors, advisers and portfolio managers to manage portfolios according to risk appetite, investment interests or life goals. Its award-winning robo-technology platform, QEngine, brings productivity, scale and efficiency to banks, brokers and insurance companies. Delivered on the cloud or on premises, QEngine supports multiple instruments, including funds, listed securities and fixed income.

Quantifeed is headquartered in Hong Kong and has offices in Sydney and Singapore. Today, Quantifeed services some of the largest banks and wealth planners to democratise wealth management in Asia and beyond. Its QEngine platform has been named Best Robo Adviser Solution by Asian Private Banker magazine in 2017 and 2018. To learn more about Quantifeed's philosophy of wealthcare, visit www.quantifeed.com
Saxo Markets is a licensed subsidiary of Saxo Bank, a leading Fintech specialist that connects people to investment opportunities in global capital markets. Saxo Markets has operated in Singapore since 2006 and serves as the APAC headquarters. As a provider of multi-asset trading and investment, Saxo Bank's vision is to enable people to fulfil their financial aspirations and make an impact. Saxo's user-friendly and personalised platform experience gives investors exactly what they need, when they need it, no matter if they want to actively trade global markets or invest into their future.
Founded in 1992, Saxo Bank was one of the first financial institutions to develop an online trading platform that provided private investors with the same tools and market access as professional traders, large institutions, and fund managers. Saxo combines an agile fintech mindset with close to 30 years of experience and track record in global capital markets to deliver a state-of-the-art experience to clients. The Saxo Bank Group holds four banking licenses and is well regulated globally. Saxo offers clients around the world broad access to global capital markets across asset classes, where they can trade more than 72,000 instruments in over 26 languages from one single margin account. The Saxo Bank Group also powers more than 200 financial institutions as partners by boosting the investment experience they can offer their clients via its open banking technology.
Headquartered in Copenhagen, Saxo Bank's client assets total more than 83.4 billion USD and the company has more than 2,500 financial and technology professionals in financial centers around the world including London, Singapore, Amsterdam, Shanghai, Hong Kong, Paris, Zurich, Dubai and Tokyo.
For more information, please visit: www.home.saxo/en-sg/.