Saxo and Guotai Junan sign strategic partnership as part of Guotai Junan's expansion into Southeast Asia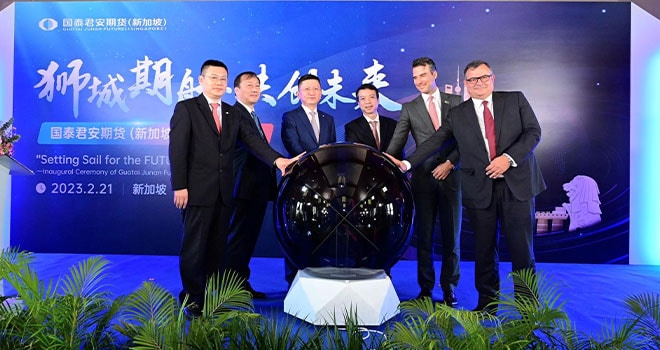 Guotai Junan Futures Singapore marks the company's further expansion into Southeast Asia as one of the largest and leading comprehensive financial service providers in China continues to expand its footprint overseas.
SINGAPORE, 22 February 2023 – Saxo Singapore, a leading Fintech specialist that connects people to investment opportunities in global capital markets, today announced a strategic partnership inked with Guotai Junan, one of the largest and leading comprehensive financial service providers in China.
The signing ceremony was attended by Adam Reynolds, APAC CEO, Saxo and Kevin Lye, APAC CFO, Saxo, He Qing, Group CEO, Guotai Junan, and Ni Taoyong, CEO, Guotai Junan Futures Singapore.
"Saxo is a leading digital trading and investment services provider. We believe our respective expertise can drive mutual innovations as we help more curious people get invested in the global financial markets. I see a lot of win-win as we strengthen our collaborations in brokerage, settlement, asset and wealth management, custody, FX, futures, employee training and information exchange and other fields, and I look forward to the great collaboration ahead," Adam Reynolds, APAC CEO, Saxo, comments.
"Saxo and Guotai Junan have a long and lasting history of cooperation in Greater China. In many fields I see potential for further cooperation. I offer my heartiest congratulations to Guotai Junan Futures Singapore as they launch, and I am excited to see the deepening of our friendship and cooperation," Malone Ma, Shanghai CEO, Saxo, comments.
At Saxo we believe that when you invest, you unlock a new curiosity for the world around you. Saxo has operated in Singapore since 2006 and serves as the APAC headquarters. As a provider of multi-asset trading and investment, Saxo's purpose is to Get Curious People Invested in the World, and we are committed to giving our clients more ways to make more of their money. We were founded in Copenhagen, Denmark in 1992 with a clear vision: we believe that access to global capital markets should not be the privilege of a select few. By 1998, we were one of the first online trading platforms in Europe, providing professional-grade tools and easy access to global financial markets for anyone who wanted to invest.
Today, we are an international award-winning investment firm for investors and traders who are serious about making more of their money. As a well-capitalised and profitable Fintech, Saxo is a fully licensed bank under the supervision of the Danish FSA and we hold broker and banking licenses in multiple jurisdictions. As one of the earliest Fintechs in the world, we continue to invest heavily into our technology. Our clients and partners enjoy broad access to global capital markets across asset classes on our industry-leading platforms. Our open banking technology also powers more than 200 financial institutions as partners by boosting the investment experience they can offer their clients. Keeping our headquarters in Copenhagen, we have expanded our reach to having more than 2,500 professionals in financial centers around the world including London, Singapore, Amsterdam, Hong Kong, Zurich, Dubai and Tokyo.
For more information, please visit: www.home.saxo/en-sg/.