Finance professional is proud winner of a Polestar 2, the latest EV in the market, in Saxo Markets Lucky Draw
SINGAPORE, 28 February 2021 – Saxo Markets, the online trading and investment specialist that connects people to investment opportunities in global capital markets, has announced the winner of its months-long lucky draw, in conjunction with Polestar, the latest entrant into the electric vehicle space in Singapore.
The lucky winner of the Polestar 2 is Mr Aishwarya Kunal, pictured below with Chris Lum, Regional Head of Digital Sales, Saxo Markets at the Wearnes Automotive (Polestar) showroom for the prize presentation. Mr Kunal, 39, is a finance professional who has been trading and investing for almost 15 years. He became a client with Saxo Markets in August 2021.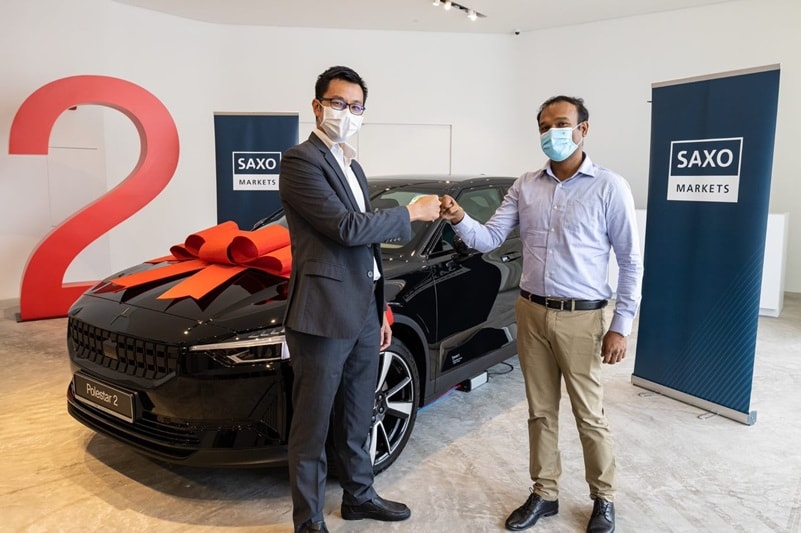 Commenting on his win, Mr Kunal said, "The Polestar 2 arrived in Singapore in December, and it's of course a highly anticipated entrant now that EVs are gaining much traction in the market. I think Saxo is a global brand that is trustworthy, and for me, trust comes first in the trading experience. I was very excited to know that the grand prize for Saxo's lucky draw, which started in October, is a Polestar 2. As an existing client of Saxo, I simply continued to trade the markets to participate in the lucky draw. It was an amazing feeling having won the Polestar 2 and I really cherish that."

The promotion ran from October until Chinese New Year, rewarding new and existing clients with entries into lucky draws for cash prizes every week (for $888) and every month ($8,888), with the grand prize being a Polestar 2 electric vehicle, which was drawn on 16 February. In total, Saxo gave away 22 cash prizes over the course of the lucky draw.
Polestar is part of the Volvo Group owned by Geely, which is Saxo's majority shareholders. The Polestar 2 was officially launched in Singapore in December 2021, and the five-door fastback is Polestar's sole offering for now in the market.
"We would like to offer our heartiest congratulations to Mr Aishwarya Kunal for winning the Polestar 2. The Polestar 2 is a great EV and to be honest, I'm slightly disappointed that I was not eligible to win it myself. Nonetheless, it was great to see it go to a good home and meet Aishwarya's family," Chris Lum, Regional Head of Digital Sales, Saxo Markets, said.
"As electric vehicles continue to be driving the future of mobility, Saxo is committed to always offer our clients sustainable investment options as well. The wide range of Investment Themes and inspirational content, the dedicated Green Investing theme to invest in future-forward companies as well as the latest Women in Leadership basket are all examples of how we offer guiderails for our clients to navigate the markets and make an impact," Lum added.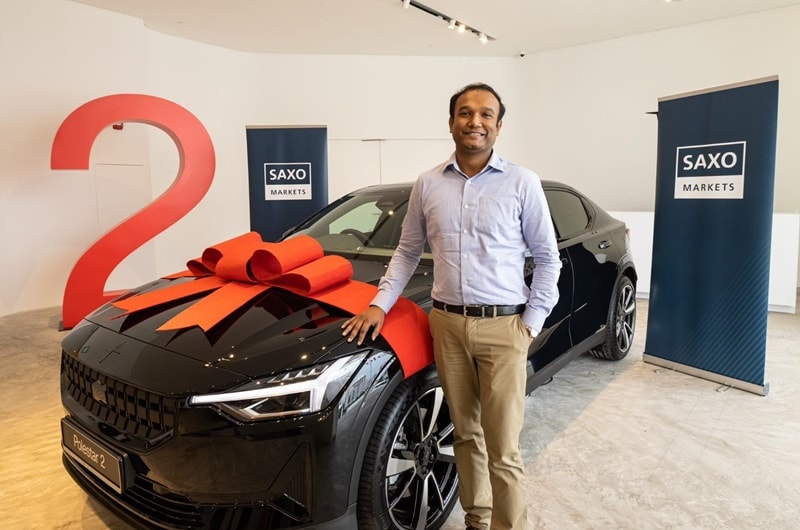 Saxo Markets is a licensed subsidiary of Saxo Bank, a leading Fintech specialist that connects people to investment opportunities in global capital markets. Saxo Markets has operated in Singapore since 2006 and serves as the APAC headquarters. As a provider of multi-asset trading and investment, Saxo Bank's vision is to enable people to fulfil their financial aspirations and make an impact. Saxo's user-friendly and personalised platform experience gives investors exactly what they need, when they need it, no matter if they want to actively trade global markets or invest into their future.
Founded in 1992, Saxo Bank was one of the first financial institutions to develop an online trading platform that provided private investors with the same tools and market access as professional traders, large institutions, and fund managers. Saxo combines an agile fintech mindset with close to 30 years of experience and track record in global capital markets to deliver a state-of-the-art experience to clients. The Saxo Bank Group holds four banking licenses and is well regulated globally. Saxo offers clients around the world broad access to global capital markets across asset classes, where they can trade more than 72,000 instruments in over 26 languages from one single margin account. The Saxo Bank Group also powers more than 200 financial institutions as partners by boosting the investment experience they can offer their clients via its open banking technology.
Headquartered in Copenhagen, Saxo Bank's client assets total more than 83.4 billion USD and the company has more than 2,500 financial and technology professionals in financial centers around the world including London, Singapore, Amsterdam, Shanghai, Hong Kong, Paris, Zurich, Dubai and Tokyo.
For more information, please visit: www.home.saxo/en-sg/.