CFD Margins
CFDs are traded on margin. This means that you are able to leverage your investment by opening positions of larger size than the funds you have to place as margin collateral. The margin is the amount reserved on your trading account to cover any potential losses from an open CFD position. It is possible that a loss may exceed the required margin. Margin requirements vary from instrument to instrument and can be changed at any time to reflect market conditions. For larger re-ratings or changing of margin requirements for very popular instruments clients will be notified in advance where possible.
Intraday margin on selected Index Tracker CFDs is available to clients on request. The intraday margin requirement is reduced compared to the normal margin requirement and is applied during intraday trading hours. For more details on intraday margin and intraday trading hours, see the section below. Margin requirements by CFD type and instrument are always listed under the CFD Trading Conditions on the trading platforms but can also be seen below.
Please note that Saxo Capital Markets reserves the right to increase margin requirements for large position sizes, including client portfolios considered to be of very high risk.
We have sorted our 8,800+ online tradable CFDs in 5 different margin groups. Which margin group a CFD falls into depends on the market capitalisation, liquidity and volatility of the underlying asset. The leverage available on Single Stock CFDs begin at 10:1 which corresponds to only 10% margin.
Instrument Name
Symbol
Margin Requirement
Leverage


METALS
Gold
GOLD
4%
25:1
Silver
SILVER
8%
12.5:1
Platinum
PLATINUM
8%
12.5:1
Palladium
PALLADIUM
8%
12.5:1
US Copper
COPPERUS
4%
25:1


ENERGY
US Crude
OILUS
5%
20:1
UK Crude
OILUK
5%
20:1
Heating Oil
HEATINGOIL
4%
25:1
Gasoline US
GASOLINEUS
8%
12.5:1
Gas Oil
GASOILUK
8%
12.5:1
US Natural Gas
NATGAS
8%
12.5:1
CO2 Emissions
EMISSIONS
8%
12.5:1


AGRICULTURE
Corn
CORN
5%
20:1
Wheat
WHEAT
5%
20:1
Soybeans
SOYBEANS
5%
20:1


SOFTS
NY Sugar No. 11
SUGARNY
5%
20:1
NY Coffee
COFFEE
5%
20:1
NY Cocoa
COCOA
5%
20:1


MEATS
Live Cattle
LIVECATTLE
5%
20:1
Leverage
Margin Requirement
Product/Instrument
100:1
1%
German Government 5 year Bobl
German Government 2 year Schatz
100:1
1%
German Government 10 year Bund
100:1
1%
French Government 10 year OAT
50:1
2%
Italian Government 10 year BTP
The leverage available for Forex CFDs is either 50:1 or 25:1 equal to 2% or 4% in margin.
Instrument Name
Symbol
Margin Requirement
Leverage
CURRENCIES
Euro / US Dollar
EURUSDEC
2%
50:1
Euro / Japanese Yen
EURJPYRY
4%
25:1
Euro / Swiss Franc
EURCHFRF
4%
25:1
Euro / British Pound
EURGBPRP
2%
50:1
British Pound / US Dollar
GBPUSDBP
2%
50:1
Australian Dollar / US Dollar
AUDUSDAD
4%
25:1
USD Index
USDINDEX
2%
50:1
See under 'Single Stock CFDs'.
Intraday margin which is available on selected CFD Index Trackers increases flexibility during the trading day. The Intraday margin is phased out in the minutes following expiry of the intraday trading hours applicable to the respective instrument.
Example of Intraday Margin for Germany 30 (GER30.I)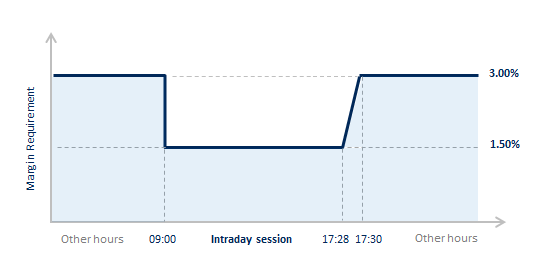 The intraday trading hours can be found in the trading conditions section in the trading platforms. Please note that the intraday trading hours are subject to change and may be affected by early close of the underlying market due to holidays etc.
Intraday Margin is available upon request. Please contact your Account Manager or Service Centre.
Margin Trading carries a high level of risk to your capital with the possibility of losing more than your initial investment and may not be suitable for all investors. Ensure you fully understand the risks involved and seek independent advice if necessary.