Dollar traders were fixed on the rate hike path during Wednesday's Federal Open Market Committee press conference and the lack of confirmation for four 2018 hikes sent USD tumbling. Fed chair Powell's statement, however, contained what Saxo Bank head of forex strategy John Hardy calls "an interesting mix" of comments relating to the short- and long-term economic outlook as well as tariffs.

"The Fed raised its dot-plot forecast for 2019 and 2020 with some new language on slowing growth in the short term, [but what was most interesting] was the mention of tariffs, where the determinedly non-political Fed may have downplayed its opposition to the move given the number of empty seats waiting to be filled at the central bank and in an attempt to avoid President Trump's ire," Hardy says.

In Saxo Bank head of equity strategy Peter Garnry's view the Fed press conference showed newly minted Fed chair Powell favouring a "less model-driven" approach to monetary policy with the apparent key focus now the impact of policy normalisation on the US economy.

"The dollar broke lower in the wake of the FOMC statement," says Saxo Bank head of commodity strategy Ole Hansen, "and this gave a boost to gold where the focus is now returning to geopolitics and tariffs".

Hansen also notes that the gold/HG copper ratio has risen to a six-month high, representing investors' turning away from Chinese growth/demand and towards protection.

"We see gold's next resistance level at $1,340/oz with silver at $16.70/oz; HG copper, meanwhile, is recovering after hitting key support at the 200-day moving average of $3.01/lb. with $2.94 and $2.89/lb. as the next key levels below".

While the FOMC outing had a limited impact on equities overall, the single-stock picture around Facebook is growing more interesting with Garnry reporting that founder and CEO Mark Zuckerberg appears to be retreating in the face of massive political pressure. At the root of this narrative are accusations that Facebook's data-handling algorithms may have had an effect on the 2016 US election, and in his statement Zuckerberg conceded that the social media giant may need regulation and promised a massive audit.

Meanwhile, Tencent shares headed 5% lower despite a strong Q4 release that saw net income come in at CNY 20.8 billion versus 16.6bn expected while revenues fell slightly short of forecasts.

"Our equity radar model remains neutral tencent," says Garnry.

On the docket today is a Bank of England policy meeting that has many sterling bulls looking for hawkish language and confirmation of a May interest rate hike. Finally, Ole Hansen reports that crude oil prices are extending their technical breakout in the wake of a bullish inventories report from the US Energy Information Administration Wednesday whose price-supportive impact is being matched by expectations of further sanctions on Iran in the wake of Saudi/US talks.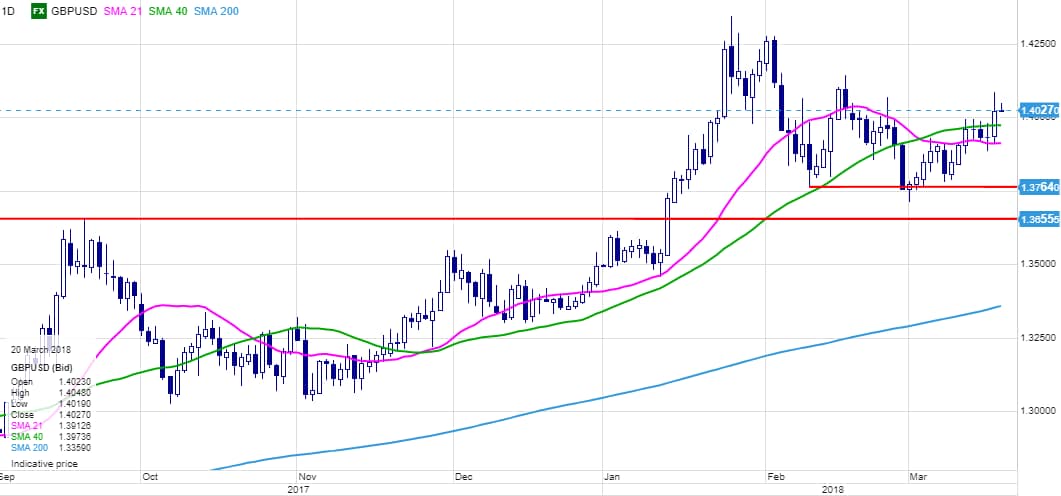 You can access both of our platforms from a single Saxo account.