Trade Forex with Saxo
We offer transparent and reliable access to trade FX spot in 100+ currency pairs and also forwards and options, allowing you to create a portfolio with the yield and protection that you want.

Why trade Forex with Saxo?
Trade FX from as low as 0.2 pips: Access a broad range of liquidity and look beyond just top of book to get great spreads at the trade sizes you want.
FX pricing
Robust order handling: Benefit from increased liquidity, transparency and control, with potential price improvements on every trade.
Order Execution Statistics
Stay in longer: We offer stop-limit or stop-market order types, and trigger your orders on the opposite side of the spread to protect you from being stopped out due to spreads widening around economic numbers or times of reduced liquidity.
Order Execution Policy
FX Options: Get full electronic access to trade vanilla and binary touch options with maturities from 1 day to 12 months, providing you with maximum flexibility to implement your trading strategies and market views.
Learn more
Responsible leverage: Benefit from our tiered margin methodology as a mechanism to manage political and economic events that may lead to the market becoming volatile and changing rapidly.
Tiered Margin Requirements
Automated trade signals: Simplify your market analysis with free technical Trade Signals integrated directly in your trading platform.
Learn more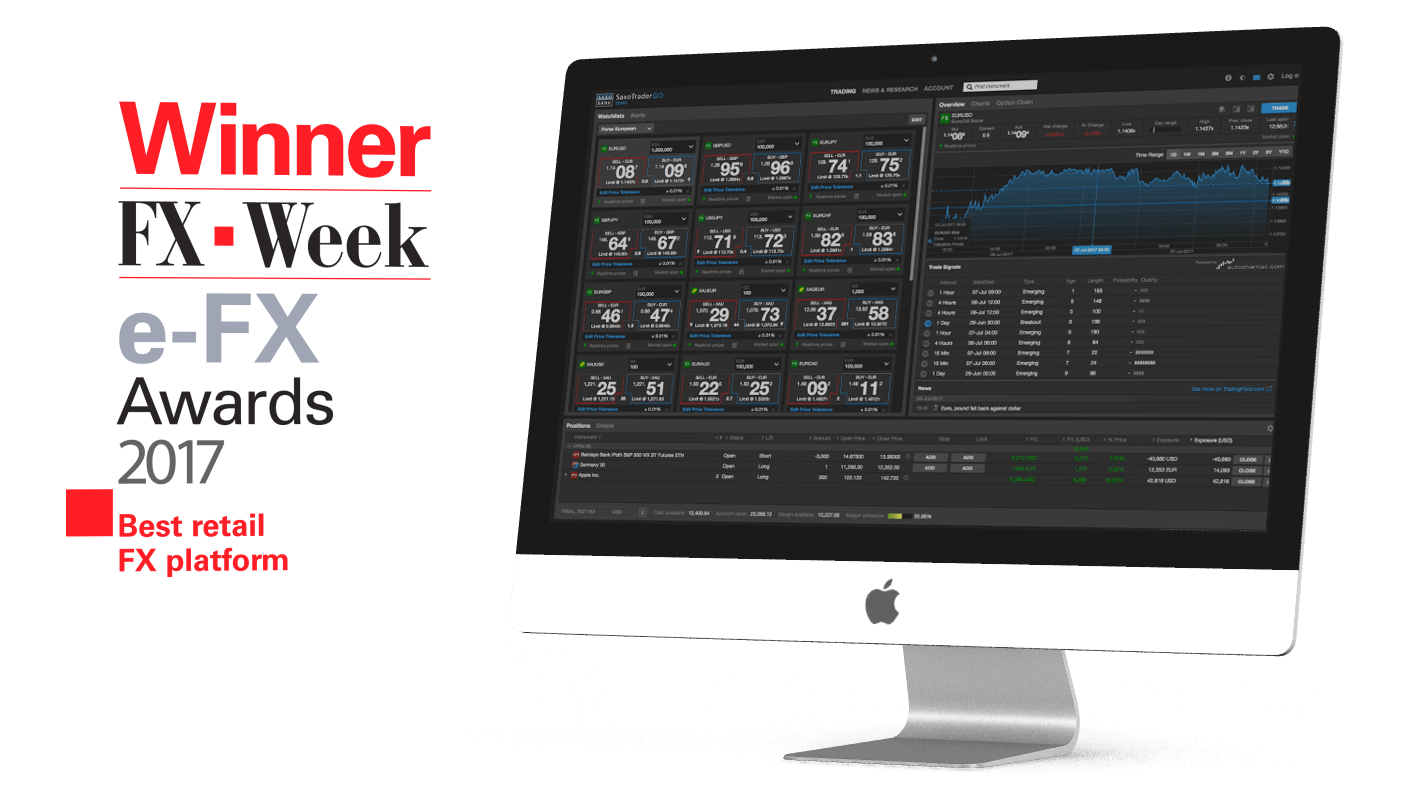 Change the way you trade with Saxo
Expertise
We share the views of our strategists on daily market-moving events, and support traders with educational webinars, research tools and financial data.
Partnership
Saxo Group is the professionals' choice - supplying trading and investment solutions to over 100 large banks, brokers and financial service providers around the world.
Security
We offer the stability and security of a regulated broker, exceeding some of the toughest global standards for financial services.
Support
Through our local sales and service organisation, we serve clients in more than 180 countries and provide regional phone support 24/5 whenever markets are open.
Trusted around the world
Saxo has received wide-spread industry recognition for its product offering, platforms and services.
Forex Risk Warning
Forex is categorised as a red product as it is considered an investment product with a high complexity and a high risk.
Saxo Capital Markets is required to categorise investment products offered to retail clients depending on the product's complexity and risk as: green, yellow or red. Please refer to our "Product Risk Categorisation".
Trade responsibly
Losses can exceed deposits on margin products. Please ensure you understand the risks.