Shaping the future of Bonds trading
Our fully digital bonds trading solution is cutting out the time-consuming and cost-intensive middlemen, giving you direct online access to global bonds providers via our award-winning, online trading platform SaxoTraderGO

Why trade Bonds with Saxo?
Fully digital: Trade bonds online with Saxo and access a universe of over 5,000 bonds; including more than 3,400 developed-market and over 1,600 emerging-market bonds.
Global access: Gain access to selected high yield and emerging market paper including LATAM, APAC and MENA in both USD and local currency, in addition to government and corporate bonds form the US and Europe.
Fast execution: Benefit from automated access to multiple exchanges and liquidity sources, with our trading platform automatically directing your trade to the one with the best conditions at that moment.
Significant cost reduction: Get the best accessible price from over 40 global bonds providers and major exchanges called by our bond trading algorithm.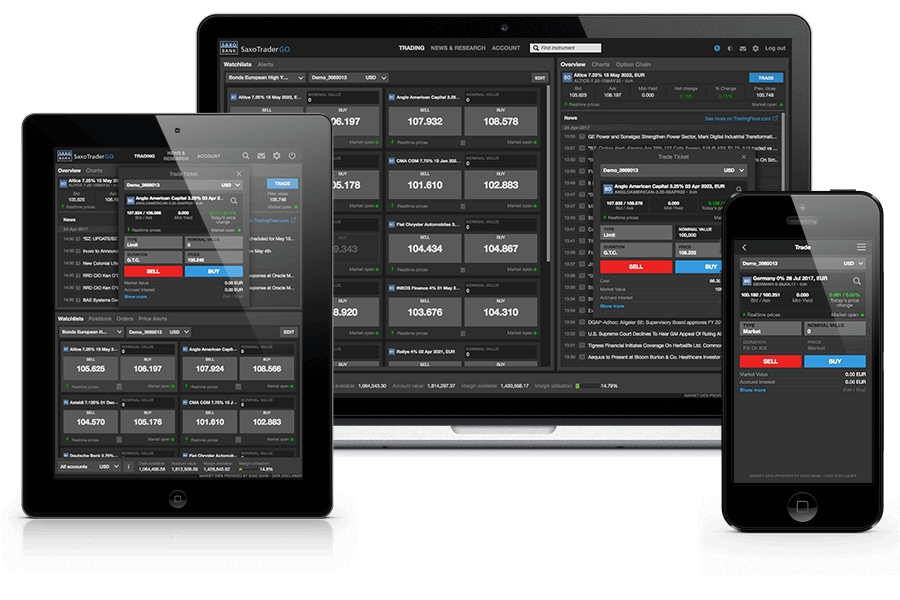 Trade Bonds online on an award-winning trading platform
Change the way you trade with Saxo
Expertise
We share the views of our strategists on daily market-moving events, and support traders with educational webinars, research tools and financial data.
Partnership
We are the professionals' choice - supplying trading and investment solutions to over 100 large banks, brokers and financial service providers around the world.
Security
We offer the stability and security of a regulated broker, exceeding some of the toughest global standards for financial services.
Support
Through our local sales and service organisation, we serve clients in more than 180 countries and provide regional phone support 24/5 whenever markets are open.
Trusted around the world
Saxo Group has received wide-spread industry recognition for its product offering, platforms and services.

Bonds Risk Warning
Bonds are categorised as either green, yellow or red products depending on the individual instrument.
Saxo Capital Markets is required to categorise investment products offered to retail clients depending on the product's complexity and risk as: green, yellow or red. Please refer to our "Product Risk Categorisation".
Bond Disclaimer
For most bonds, in particular corporate bonds, bid and offer prices are not public available and transparent, as the majority of trading takes place outside regulated marketplaces. Bonds are traded OTC with Saxo Capital Markets as counterpart, and OTC trading conditions apply. Please see Saxo Capital Markets' execution policy for further information.
None of the information contained herein constitutes an offer or an attempt to offer to purchase or sell a financial instrument, or to make any investments. Saxo Capital Markets HK Limited is not responsible for and not liable to any loss arising from any investment based on any recommendation, forecast or any other information contained herein. Leveraged investments in foreign exchange or derivatives can be speculative and carry a high degree of risk which may result in significant gains or losses. Investors should carefully consider their financial situation and consult their independent professional advisors as to the suitability of their situation prior to making any investments.
Trade responsibly
Losses can exceed deposits on margin products. Please ensure you understand the risks.