AI: The elevation of customer service in banking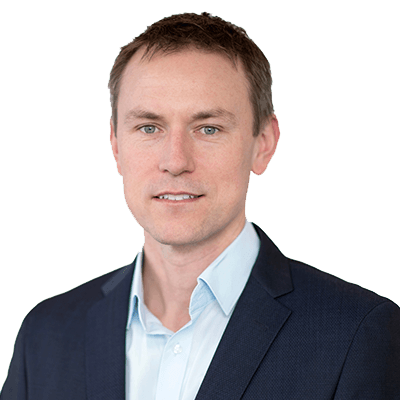 Christian Hededal
Head of Data Science, Saxo Bank
We are now entering an age where artificial intelligence (AI) and machine learning are fast becoming mainstream and accepted forms of technology. From the easy welcoming of voice-controlled personal assistants like Amazon Alexa and Google Home, to the rapid progression of recommendation engines, AI has quietly become an everyday part of our life. A few years ago, these were not even a concept in the average person's mind, but now a huge number of consumers are perfectly happy to instruct their personal assistant to turn off their lights at home, to take advice from Netflix on what TV series to watch next, or for Amazon to make a purchase based on Amazon's suggestions.
Being a more complex and regulated industry, applying this learning to the banking and financial services industry may have been a little slower. But at Saxo Bank we are now seeing speedy progression in this area thanks to acceptance at all levels of the company of the need to elevate the democratisation of services across the full client spectrum in a scalable fashion. Previously, when the markets moved or interesting trading opportunities or news arose, banks would call just their top clients and talk the situation over in relation to their specific needs and portfolio. Thanks to technology, that high level of personalised service can be delivered to everyone. AI has made it possible to personalise services both on a scale and to a level of precision never seen before, with the utilisation of client behavior and data lying at the heart of this.
The ability to personalise service and recommendations is one of the most exciting aspects to emerge. Netflix has shown that the take-up rate for personalised video recommendations is three to four times higher than simply providing the most popular videos. By taking the data that we have as part of our everyday business activities, such as the instruments each customer prefers to trade, the times of day they are most active, together with other data, we too are now able to develop insights to individually service our clients in ways not previously possible on this scale. By personalizing service, it means that each customer gets a better and more relevant experience.
The world's most valuable resource is probably no longer oil, but data
We offer more than 35,000 instruments available to trade on our platforms. If we inform all our clients about every market movement and news in these instruments, it is overwhelming and useless. However, what is valuable is the ability to identify what's relevant for each individual client and show them this information such as with an alert in the platform or a pop-up news item that they can click on to read in more depth. With the right information to the right person at the right point in time, clients are in a better position to make the right decisions.
Beyond this though, the utilization of machine learning helps us at every stage of the customer journey from client acquisition, through to trading services and retention and - most importantly - it is part of the democratizing of trading and investments which has been at the heart of Saxo Bank's business for more than 25 years. Previously you would have had to be a large customer to get bespoke support from a financial advisor and broker - now we aim to replicate this high level of personalised service for all our clients.
Just as if technology has democratised access to global financial markets, AI will also democratise access to bespoke and relevant information and service. This will be a game changer in levelling the playing field in access to financial services.
A recent claim says that the world's most valuable resource is probably no longer oil, but data. The technology behind machine learning is built on advanced computer modelling - which is exciting in itself - but it would be nothing without being fueled with good data. Data is at the heart of everything we do in data science and clean, high quality data is essential to invest in to get the most out of these new technologies.
Data scientists spend a lot of time maintaining clean data and this may well be a challenge for some big banks using old, legacy systems or those who have undergone mergers where they didn't have time to do a proper clean-up of the client data. Just like in construction, if you invest in building the foundation in titanium in the first instance it pays off with longevity and robustness. If you are in a rush and cut corners by using chewing gum and duct tape to hold things together, then you will suffer when your construction doesn't stand the rigors of what you are demanding. No one knows the demands of tomorrow so the best way to be prepared is to ensure a sound, flexible, and robust infrastructure. You need a corporate culture where data is seen as an asset and you shouldn't be throwing away data just because you're too busy to clean it up.
When introducing machine learning into a business, although data is the top requirement critical to success, another thing that is important is to have a strong mandate. The introduction of machine learning is transformational and will have large impact on the way we work. In many cases, it will augment or even replace human tasks. If you don't have the full support of top management then it can be hard to get buy-in throughout the business. At Saxo Bank our management are our biggest supporters and this means it is not a question of should we invest in machine learning or not, it's more how do we do it at scale?
The point is not to render humans obsolete, but rather to use AI and machine learning to provide a better service
The role of data scientists in such a business scenario is ensure that what we do is relevant to the organisation. Data science needs to be an integral part of the business organisation, to identify what challenges are being faced and then try to identify solutions in our technology toolbox. Beyond senior management you also need to have wider buy-in across all layers of the business; to facilitate collaboration and to get to the roots of the business challenges. In addition, it is important the all parts of the organisation understands what data science can add to the equation and that we have a shared language.
There is a perception that AI is all about robots making humans redundant, but actually the point is not to render humans obsolete, but rather to utilise AI and machine learning to make sure we do more of the right work and provide an even better service to our clients. Tedious and repetitive tasks can be replaced by computers, which allow humans to focus on tasks that are more complex. In the case of complex tasks, the role of AI and machine learning is more about optimizing and assisting with insights. Finally, AI can also be a measure to grant access for a broader audience to services that has previously been available only to the few. If we can ensure that what our teams do well for the very high net worth clients is also digitally available to all our clients across the investment spectrum then that is the true definition of the democratization of investing.
Our co-founder and CEO Kim Fournais has said many times that when he started investing in technology in the mid-1990s, the employees were concerned they would lose their jobs because they would be replaced by machines. However, history has shown that this was absolutely not the case because Saxo Bank has grown from having 25 employees based in Copenhagen to now having more than 1500 employees all across the world.
Now I see that applied AI and machine learning has the broad support of our colleagues because they recognise that these technologies are able to help them to do their job better and to democratise trading so that all our clients can get the same high level of personalised service that you used to only get if you were a top trader.
Being relevant to the organisation buys data science a ticket to be more ambitious with other initiatives which may have been harder to get support for otherwise. That's a really important point because it's not that people don't think technological innovations are important, but if it's not directly relevant for them, it's human nature that people tend to be always too busy to adapt to change. Put to a larger scale though and those banks which are always too busy to innovate will soon start to feel the differentiating impact as machine learning and AI are not just the future, they are the present too.
You can access both of our platforms from a single Saxo account.