Xiaomi IPO a 'monumental symbol' of Chinese ambition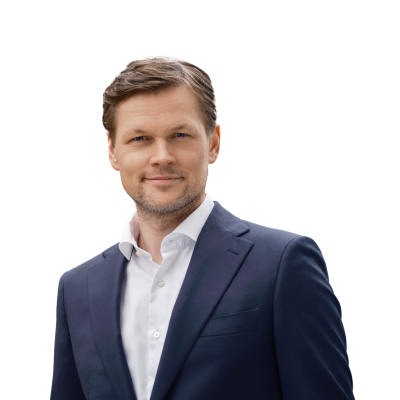 Peter Garnry
Head of Equity Strategy
Most people in Europe and the US have never heard of Xiaomi, often called "the Apple of China", but this young Chinese company founded in 2010 is one of China's fastest-growing technology firms. Its IPO is aimed to take place sometime in July as the company filed its Application Proof (first submission) with the Hong Kong Stock Exchange on May 3. Initial rumours indicated a market value of close to $100 billion but Xiaomi has recently indicated the $70-80bn range as being more realistic.

While not indicated in the initial filing, analysts expect Xiaomi to attempt to raise around $10bn in equity capital. This would make it the largest IPO in 2018 and among the 20 largest seen since 1995.

The Chinese IPO market is red hot – the recent Ping An Good Doctor offering was oversubscribed by a factor of 600 – and we expect the Xiaomi IPO to be one of the year's biggest events in equity markets, resembling the Alibaba and Facebook IPOs.

An expanding empire

As noted, Xiaomi is often called the Chinese equivalent of Apple with smartphones as it largest product category (see table) in 2017. Revenue grew 68% /year-on-year) in 2017 to RMB 114.6bn, or around $18bn. This impressive growth rate came after a disappointing 2016 with revenue growth stalling on failed product launches.

Xiaomi's operating income (EBITDA) rose to around $929 million in 2017. Half of the company's reported operating profit comes from the line item "fair value changes on investments measured at fair value through profit or loss". If Xiaomi follows IFRS accounting standards, this line item is not an operating activity as it flows from investment activity. As result, we have had to adjust the income statement to better reflect the operating nature of Xiaomi's business.

The business is concentrated around the smartphones segment (~70% of revenue in 2017) but the Internet of Things and Internet Services segments have been growing quickly over the past couple of years and have lowered the company's reliance on a single product category. Xiaomi has expanded from smartphone production into many new categories – smart TVs, laptops, home speakers, smart routers, power banks, headphones, air purifiers, fitness bands, robot vacuum cleaners, and many other products.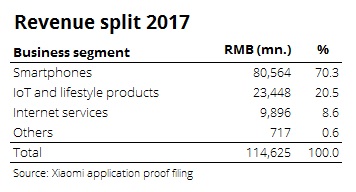 Probably the most attractive feature of Xiaomi is its international success; it occupies the top spot in smartphone market share in India, which is a fast-growing emerging market. Apple has struggled in India for years and has a 2.8% market share, or only enough to take ninth spot. Xiaomi is number four in the Chinese smartphone market with Huawei taking the lead. Globally, Xiaomi is now the fourth largest smartphone manufacturer.

In 2017 Xiaomi received 28% of its revenue from outside China and we expect that trend to continue as it expands in neighbouring countries. The filing shows long-term expectations for growth across the global smartphone market (5.5% per annum) and IoT (~20% p.a.). Given that its current business is still mainly about smartphones, the high growth rate needed to support the valuation will have to come from taking market share as the current 5.5% growth rate is too low to justify lofty valuations over the longer term.




Source: Xiaomi's Application Proof document
The most worrying part of the business is that the company has barely been cash flow positive from operations during the years 2015-2017 on a cumulative basis. Together with an aggressive investment plan, the need for financing has been high. The cash flow from financing activities has been close to RMB 7bn ( $1.1bn) over the past three years. If Xiaomi raises $10bn it will fill the firm's war chest with fresh capital to go out and conquer emerging markets with its suite of technology products.

This would likely create a third giant in the global smartphone market, adding to the existing battle between Samsung and Apple.

Another concern judging from the company's financial statements is the big disconnect between operating profits and the cash flow from operations, indicating accounting decisions hidden deep into the accounts. This means that some degrees of freedom is being pursued in terms of what gets recognised over the income statement.

The most unusual part of the initial filing document is the pledge to cap the profit margin to 5% across all hardware categories with the excess profits being returned to users. The company does not state how it will return this surplus, but the most likely scenario is through lower prices across products.

Initial valuation thoughts

The best way to compare companies across different industries, capital structures, and countries is to use the enterprise value valuation metrics such as EV/sales and EV/EBITDA. We have been deep into the notes to reconcile the numbers into an estimated enterprise value.

According to the balance sheet, Xiaomi has RMB 11.6bn in cash and cash equivalents and RMB 5.3bn in short-term investments (that can be liquidated at fair value). In total, this is RMB 16.9bn in cash and short-term investments, or $2.6bn. To get the enterprise value, then, we need the gross debt. According to notes 33 and 35, the company has a combined RMB 172.3bn in debt ($27bn) with preferred shares at fair value being the largest source of debt (this has been obtained through many financing rounds with private investors).

Adding all the numbers together, and assuming a market value of $75bn and IPO proceeds around $10bn, the enterprise value becomes $89.4bn.

This estimated enterprise value means that Xiaomi's estimated 12-month trailing EV/EBITDA and EV/Sales ratios are 96.3x and 5.0x respectively. Xiaomi's estimated EV/Sales ratio is definitely above peers such as Samsung (1.0x), Apple (2.8x), and HTC (0.3x). This obviously reflects high expectations but also a worrying premium for investors to pay.

On the other hand, if Xiaomi can become the largest hardware technology company in China and India then it should have a premium as this could potentially turn Xiaomi into one of the biggest companies in the world.

Based on our estimates, Xiaomi's 12-month trailing EV/EBITDA is 96.3x which is significantly above its peers: Samsung (3.5x), Apple (10.2x), and HTX (neg.). Typically it would not be an issue to pay a steep valuation premium if future growth is high and margin expansion is part of the journey, but that is where it becomes a different story for Xiaomi as the company has pledged to cap profit margins. This means that the high EV/EBITDA can only be justified through rapid top line growth.

Overall, Xiaomi looks expensive but the upside investors are chasing in this IPO is access to the fastest-growing technology company in China with (so far) the best track record of international expansion outside the safe domestic market with a billion consumers.

We will provide an improved update as Xiaomi expands its filing with the Hong Kong Stock Exchange.
You can access both of our platforms from a single Saxo account.