Technical analysis made simple.
Saxo Capital Markets has teamed up with Autochartist to let you find and evaluate trading opportunities based on automated trade signals - at no extra cost - across desktop, tablet and mobile.

Simplify your market analysis with Trade Signals
Let technology identify your next trade opportunity
Choose between trade signals based on their success probability and pattern quality
Go from analysis to trade at the click of a button
Manage your risk with auto-calculated take-profit and stop-loss levels
Experience the benefits of Trade Signals for yourself with a 20-day demo trial of our trading platform – SaxoTraderGO.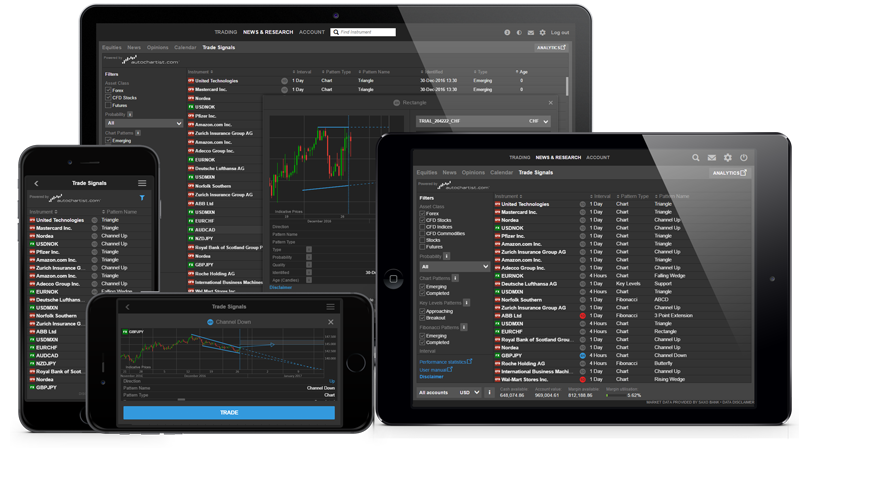 Available across multiple asset classes
Detecting a wide range of signals
Ideal for all types of traders, Trade Signals identifies both emerging and completed Support & Resistance, Chart and Fibonacci patterns across hundreds of instruments. Use it for trade inspiration or simply to supplement your own trade ideas and analysis. Trade Signals by Autochartist also helps you identify key levels for stop losses and take profits, giving you a potential entry or exit strategy.
Who can benefit from this tool?
Novice and experienced traders who trade FX, CFDs or Stocks on shorter time-frames (15min to several days).
How are Trade Signals generated?
Trade signals featured in the platform are based on one of the following methods for technical analysis: Chart patterns, Fibonacci-levels or Key-Levels.
Does it work?
We are 100% transparent about the performance of all generated trade signals and provide access to a full performance statistics overview via a direct link in our trading platform.
How much does it cost?
For Saxo clients, Trade Signals are complimentary and available through our trading platform - SaxoTraderGO. 
More questions?
Find more information about Trade Signals powered by Autochartist, please check out the user guide below.