Balanced ETF portfolios DKK Q1 2021 commentary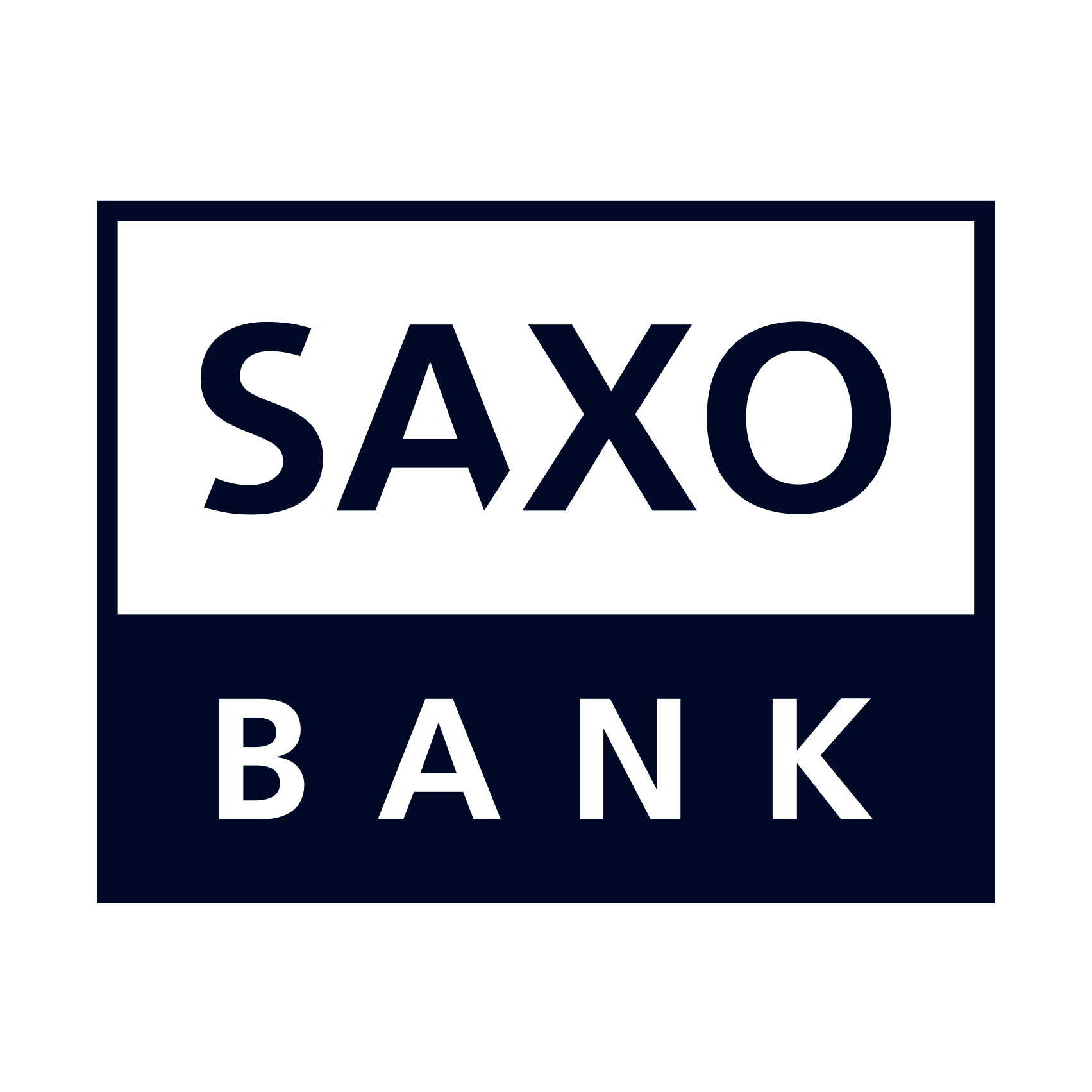 Saxo Bank
| | |
| --- | --- |
| Asset classes | Stocks (developed and emerging equity), bonds, non-traditional |
| Instruments | ETFs |
| Investment style | Macro, diversified investment focus |
| Quarterly return (net of fees) | |
| Defensive | -0.03% |
| Moderate-Defensive | 1.41% |
| Moderate | 2.36% |
| Aggressive | 3.48% |
| Aggressive-Growth | 4.39% |
Market overview
Q1 2021 was positive for most risky assets. The quarter began with two political upheavals in the US in the first week of January, namely capitol hill riots and the Georgia senate election run-offs. For markets any influence capitol hill riots might have had were overshadowed by the unexpected victory of the Democrats in Georgia. This allowed Biden to pass a USD 1.9 trillion stimulus later during the quarter, which increased consumer and investor confidence.
Against this backdrop, unexpectedly low vaccine supplies in Europe did not derail markets and the global recovery continued to gather pace in sync with a strong vaccine roll-out in the US and the UK. By the end of the quarter, preliminary evidence that suggested the AstraZeneca vaccine to cause blood clots led to restrictions around its use in Europe, but the prospect of a significant increase of vaccine supplies for the region in Q2 overcompensated this negative data point. Meanwhile, Germany, France and Italy imposed fresh restrictions as third wave concerns rapidly spread across the EU. The UK set out a four-step plan which is expected to pave the way back to a "normal" life, starting March 8th. In the U.S., the White House announced a $2.25 trillion jobs and infrastructure plan to advance racial equity in employment, housing, transportation, healthcare and education, adding to the unprecedented fiscal support. Given the strong economic outlook, a continuously dovish Fed and the large fiscal stimulus, yield curves steepened over the quarter contributing to a cyclical rotation out of highly valued growth stocks particularly from the technology sector into value stocks. Overall, equity markets broadly ended the quarter on a high note. Developed market equity (MSCI World Index) was up 4.5% in USD terms and 8.75% in EUR terms. Emerging market equities (MSCI Emerging Markets Index) lagged developed markets and only gained 1.94% in USD terms and 6.01% in EUR terms.
Within fixed income, benchmark 10-year U.S. treasury yields reached 14-month highs in March, though slightly retreating towards the end of the quarter at 1.759%. Government bonds of Eurozone economies such as Germany, France, Italy and Spain, performed slightly better with losses in the range of 0.5%-3%.
The EUR ended at 1.17 against the dollar, down from 1.22 (~4%) at the beginning of the year, given the concerns around vaccination logistics. Gold retracted over the quarter, finishing at $1726.9 per ounce after falling to one year lows in early March, given improving economic outlook and rising yields.
Portfolio performance
| | | | | | |
| --- | --- | --- | --- | --- | --- |
| Returns net of fees | Defensive | Moderate Defensive | Moderate | Aggressive | Aggressive Growth |
| Jan | -0.43% | -0.31% | -0.28% | -0.31% | -0.24% |
| Feb | -0.91% | -0.36% | 0.09% | 0.65% | 0.86% |
| Mar | 1.33% | 2.10% | 2.55% | 3.14% | 3.75% |
| 2020 | 1.18% | 1.18% | 1.72% | 1.19% | 0.21% |
| Since Inception (May 2016) | 13.2% | 19.4% | 28.0% | 34.3% | 38.5% |
Q1 2021 was generally positive for risky assets given investor optimism around global economic recovery. As such all portfolios posted positive performance, with the higher risk profiles outperforming the lower risk profiles.
Within the equity sleeve, U.S. and European equities were the main contributors to performance while emerging market and Asia-Pacific equities were also additive.
The fixed income sleeve detracted from performance. U.S (EUR hedged) and broad European government bonds were the main detractors from performance across all profiles, with long-dated treasuries (EUR hedged) suffering losses on the back of rising yields over the quarter.
Portfolio Allocation and top portfolio holdings (as of 9 December 2020)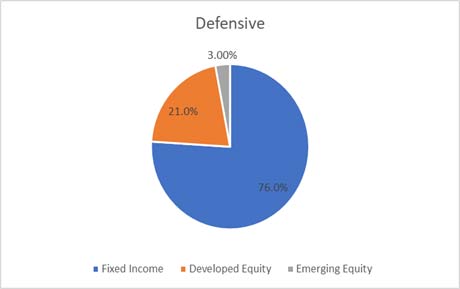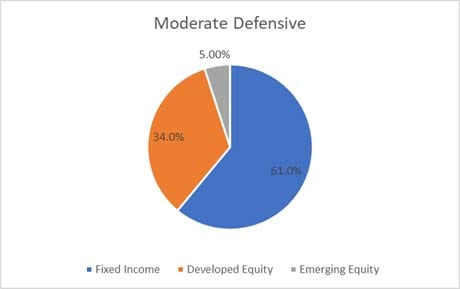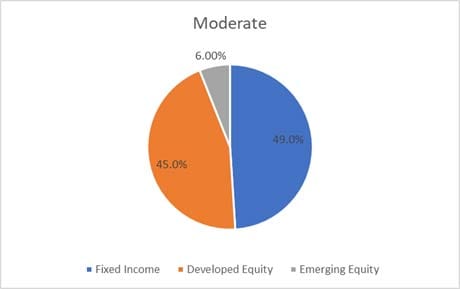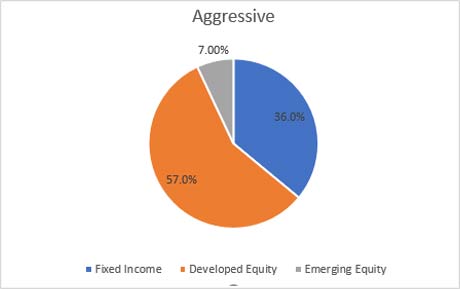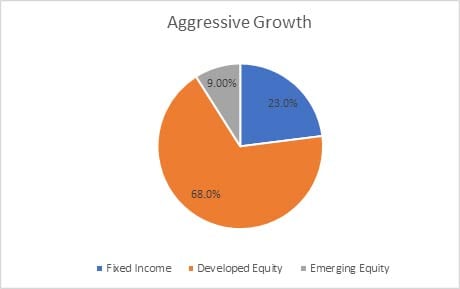 Outlook
The investment management team (the "investment team" or the "team") favors equities over the mid-longer term horizon, anticipating a better outlook for earnings. Incorporating the climate change theme, the team's return expectations are brighter, with notable appeal for developed market equities given their large exposure to sectors such as tech and healthcare. There is also a current preference towards "quality" stocks.
Within corporate bonds, the investment team is underweight over the mid-longer term, as they are expensively priced and there is preference to take risk in equities. That said, the team still likes high yield bonds for income.
The team prefers to take an underweight view on government bonds with yields near lower bounds and rising debt levels may eventually pose risks to the low-rate regime. Inflation-linked bonds are favored, given the higher risk of inflation in the medium term.
You can access both of our platforms from a single Saxo account.