For those planning on investing in US Stock, Saxo's new interest rate model enables Australian Investors to earn higher interest on US Dollar funds while waiting to invest.
Sydney, Australia 08/05/2023
– Australian's looking to invest in US and international securities can now earn market leading interest on their idle funds. Saxo has introduced a new, innovative interest rate model that allows clients to earn interest on their uninvested cash, while they pick their moment to invest.
With this new interest rate model, the interest rate paid on clients' funds, whether in US dollars, Australian dollars or Pound Sterling, is updated on a daily basis based on market conditions, which means adjustments to the respected central bank policy are reflected accordingly. Saxo's clients will now see the interest rate increase to reflect when the US Federal Reserve or even the RBA interest rate changes.
The new model illustrates Saxo's commitment to being the trusted trading and investment partner for our clients, as Saxo's platforms and broad access across asset classes and wealth solutions let clients trade through all macroeconomic cycles.
Client's cash, which often sits idle in trading accounts, has historically lagged behind the market in terms of interest rates, which Saxo feels is unfair. This new model offers Saxo's clients a more dynamic and transparent trading service, which for those trading across international markets, now offers competitive interest rates calculated daily while waiting for the right opportunity to invest.
Saxo clients can use the
interactive interest calculator
to estimate the total interest received on their uninvested cash depending on how much they fund and currency.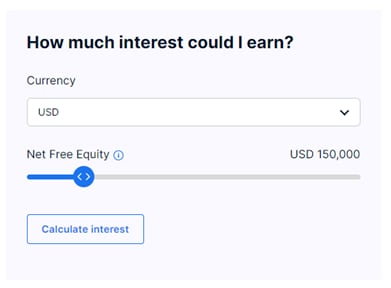 Saxo Australia CEO Adam Smith says: "Australians now, more than ever, are looking to put their money to work for them.

When it comes to share market investing, we are looking overseas for investment opportunities that are not available in Australia, and this search is being facilitated by rapid improvements in technology which is making access to international share markets so much easier.

At Saxo it is as easy to invest in household names such as Apple, Microsoft and Tesla as it is to invest in BHP, Telstra and Woolworths.

If you are looking to diversify your share portfolio all you need to do is open an account with Saxo.

As an international broker we offer access to all major share markets - and we also offer a multi currency capability, which means for example that you can invest in US shares using US dollars and in doing so you can avoid ongoing foreign exchange conversion fees.
At Saxo we also appreciate that patient investors like to time their entry into the share market, so we are currently offering market leading interest rates on US dollar balances so that you can be sure that your cash is working for you while you wait for the right time to make your investment.

By way of example - on a USD100k balance you could be earning up to 3.65% p.a. on your funds, with the opportunity to earn higher interest rates on higher balances. There are no lock in periods, there is no upper limit and importantly you can withdraw your cash at any time.

In addition to US shares we also offer access to US ETFs, bonds, options, futures and CFDs - so if you are looking to invest or trade the US markets, Saxo should be your first choice of broker.

What clients can get with the new interest rate model while they invest:

When investing in US, international or local securities, Saxo platinum and VIP clients receive highly competitive interest paid on their idle funds while they make their investment decision.

• No strings attached. Clients do not have to tie up their funds to benefit from the new interest model. The interest received follows the market rate without binding client funds for a certain period.
• The more you fund, the higher the interest.. The larger the cash balance clients have in their account, the closer they get to the Fed or RBA interest rate.
• No upper limits: With Saxo, there is no upper limit on how much clients can fund their trading account and how much interest they can earn.
• Earn interest on different currencies. The interest rate model applies to all deposits in US dollars, Australian dollars, Pound Sterling and more.

Read more here: https://www.home.saxo/en-au/campaigns/interest-rates-cal
At Saxo we believe that when you invest, you unlock a new curiosity for the world around you. As a provider of multi-asset trading and investment, Saxo's purpose is to Get Curious People Invested in the World, and we are committed to giving our clients more ways to make
more of their money
. We were founded in Copenhagen, Denmark in 1992 with a clear vision: we believe that access to global capital markets should not be the privilege of a select few. By 1998, we were one of the first online trading platforms in Europe, providing professional-grade tools and easy access to global financial markets for anyone who wanted to invest.
Today, we are an international award-winning investment firm for investors and traders who are serious about making more of their money. As a well-capitalised and profitable company, Saxo is a fully licensed bank under the supervision of the Danish FSA and we
hold broker and banking licenses in multiple jurisdictions
. Saxo has operated in Australia since 2012 and is a licensed subsidiary regulated by ASIC. As one of the earliest Fintechs in the world, we continue to invest heavily into our technology. Our clients and partners enjoy broad access to global capital markets across asset classes on our industry-leading platforms. Our open banking technology also powers more than 200 financial institutions as partners by boosting the investment experience they can offer their clients. Keeping our headquarters in Copenhagen, we have expanded our reach to having more than 2,500 professionals in financial centers around the world including London, Singapore, Amsterdam, Hong Kong, Zurich, Dubai and Tokyo.
For more information, please visit:
www.home.saxo/en-au/
.