Saxo Markets Australia launches SaxoInvestor, an intuitive and user-friendly platform developed for Australian investors
New intuitive platform available on mobile and desktop offers curated investment themes, inspirational content and broad market access
Part of Saxo's long term strategy to double down in the investor space in Australia, where more people are looking to grow and accumulate wealth through investing
AUSTRALIA, 28 February 2022: Saxo Markets Australia, the online trading and investment specialist that connects people to investment opportunities in global capital markets, has launched SaxoInvestor – a new platform designed to make investing simple, intuitive, and personalised for digitally savvy and busy professionals.
SaxoInvestor provides access to a wealth of research content and investment themes, in addition to over 35,000 Stocks, ETFs and Bonds that are listed locally on ASX and on overseas exchanges.
Built on the same technology as the Saxo Group's other platforms, SaxoTraderGO and SaxoTraderPRO, SaxoInvestor has a simpler interface that meets the needs of retail investors. With price transparency as well as one of the most extensive stock offerings in the market, SaxoInvestor is the perfect fit for investors who are looking to benefit from broad access to markets and professional insights to make more informed investment decisions.
Adam Smith, CEO of Saxo Markets Australia, said: "SaxoInvestor is designed specifically to provide busy retail investors with the convenience they require. We're looking to support everyone from new entrants to the market right through to seasoned investors. Anyone who wants access to high quality investment education, research content and low cost brokerage on global markets will find SaxoInvestor a compelling platform."
"We at Saxo are determined to provide investors with the opportunities to fulfil their financial aspirations, whatever they are, as well as using our investment themes to make an impact with their investing. This could mean investing in women-led businesses, which is one of our current investment baskets, or clean energy. This has the added benefit of helping investors diversify their portfolios – a must in today's volatile markets", Smith concluded.
Signing up for an account is straightforward, as Saxo's fully digitised onboarding process ensures investors enjoy a hassle-free experience. SaxoInvestor is available across mobile and desktop so investors can easily navigate across the research themes and the selection of global offerings across Stocks, Bonds and ETFs.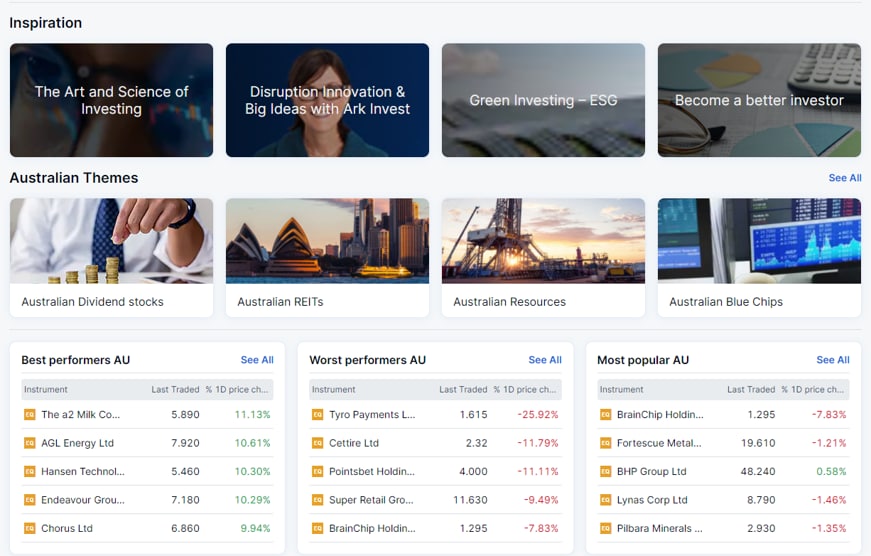 Enabling investors to make an impact
As more investors participate in the global capital markets, Saxo also launched Money Matters – Make Your Impact in Australia in November last year, a series of five animated films exploring different topics in the world of investing. The video series is Saxo's vehicle for inviting people to rethink the financial system, the role of money, and how they can make an impact through their investment choices, whatever they may be.
The SaxoInvestor Investment Themes provide insights into how investors can gain exposure to a wide range of global themes and trends, and include curated lists of relevant stocks, ETFs and Crypto Exchange Listed Products (ETPs) that offer the best exposure to each topical theme. Supported by Saxo's research and charts, investors get a clear picture of the trends in each sector, why they matter as well as the potential risks.
Visit https://www.home.saxo/en-au/platforms/saxoinvestor for more information.
Founded in 1992, Saxo Bank was one of the first financial institutions to develop a online trading platform that provided private investors with the same tools and market access as professional traders, large institutions and fund managers.
Saxo offers clients around the world broad access to global capital markets across asset classes, where they can trade more than 40,000 instruments in over 25 languages from one single margin account.
Saxo Markets Australia is known locally for its broad range of asset classes and international market access, as well as a seamless and personalised platform experience that connects traders, investors and partners to global FX, CFDs, Stocks, Options, Futures and more from a single account.
The Saxo Bank Group holds four banking licenses and is well regulated globally. In Australia, Saxo Capital Markets is licensed and regulated by the Australian Securities and Investment Commission (ASIC) as a share trading platform.
The Saxo Bank Group also powers more than 135 financial institutions as partners by boosting the investment experience they can offer their clients via its open banking technology.
Headquartered in Copenhagen, Saxo Bank's client assets total more than 80 billion USD and the company has more than 2,000 financial and technology professionals in financial centres around the world including London, Singapore, Amsterdam, Shanghai, Hong Kong, Paris, Zurich, Dubai and Tokyo.
For more information, please visit: https://www.home.saxo/en-au.