Trade ETFs and ETNs with Saxo
We offer transparent and reliable access to over 3,000 ETFs and ETNs across the world's major exchanges, allowing you to build a well-diversified and cost-efficient portfolio with an award-winning online trading platform.

Why trade Exchange Traded Products (ETPs) with Saxo?
Access to more markets: Besides your local market, you get access to a wide range of exchanges around the world, giving you more trading opportunities than ever. Our tradeable universe covers more than 3,000 ETPs and 19,000 stocks across 36 exchanges.
Exchange Traded Funds: Get exposure to a broad market or specific sector with just one trade, and achieve cost-efficient diversification while trading on an exchange in the same way as you would trade stocks. Also benefit from Inverse ETFs, known as "Short" or "Bear" ETFs, with the purpose of profiting from a decline in the underlying benchmark.
Exchange Traded Notes: Use ETNs to get exposure to indices, commodities, currencies, fixed income or even volatility – which is usually difficult to access for individual investors. Additionally, benefit from an integrated element of leverage, typically 2x or 3x, build into many ETNs.
Low commission: Benefit from our competitive default commission rates, that get cheaper the more you trade. As an active trader you can trade exchange traded products for as low as USD 6 per trade.
Quality execution: Benefit from a wide range of order types, including Market, Limit, Stop and Algorithmic orders. All stock and ETP orders are executed using Smart Order Routing technology which seeks liquidity across multiple venues to improve execution results.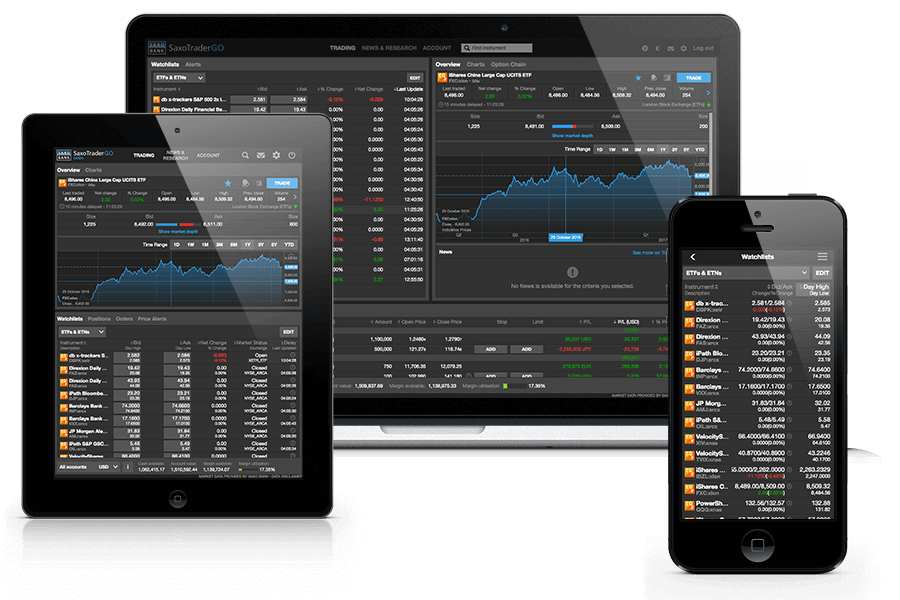 Trade ETFs and ETNs online on an award-winning trading platform
Change the way you trade with Saxo
Expertise
We share the views of our strategists on daily market-moving events, and support traders with educational webinars, research tools and financial data.
Partnership
We are the professionals' choice - supplying trading and investment solutions to over 100 large banks, brokers and financial service providers around the world.
Security
We offer the stability and security of a regulated broker, exceeding some of the toughest global standards for financial services.
Support
Through our local sales and service organisation, we serve clients in more than 180 countries and provide regional phone support 24/5 whenever markets are open.
Trusted around the world
Saxo Group has received wide-spread industry recognition for its product offering, platforms and services.

ETFs and ETNs Risk Warning
ETFs and ETNs are categorised as yellow or red products depending on the individual instrument.
Saxo Capital Markets is required to categorise investment products offered to retail clients depending on the product's complexity and risk as: green, yellow or red. Please refer to our "Product Risk Categorisation".
Trade responsibly
Losses can exceed deposits on margin products. Please ensure you understand the risks.