Saxo introduces new interest rate model that lets clients earn interest on uninvested cash with no lock-in period
Saxo Capital Markets Pte. Ltd. ("Saxo") has introduced a new, innovative interest rate model that allows clients to earn interest income on their uninvested cash with no lock-in period or upper limit on amount paid. This applies to both existing and new funds.
With this new interest rate model, interest rate on clients' deposits are updated on a daily basis based on market conditions, which means adjustments to central bank policy are reflected accordingly. Saxo's clients will now see their deposit interest rate increase to reflect when the Hong Kong Monetary Authority (HKMA) or Federal Reserve, for instance, raises its interest rate.
This is part of Saxo's commitment to be the trusted trading and investment partner for our clients, as Saxo's platforms and broad access across asset classes and wealth solutions let clients trade through all macroeconomic cycles.
The deposit interest rate for retail investors has historically lagged behind market rates, but that is now a thing of the past. With the new interest model Saxo's clients get a more dynamic and transparent model that follows the market developments every single day.
Saxo clients can use the interactive interest calculator to estimate the total interest received on their uninvested cash depending on deposit amount and currency.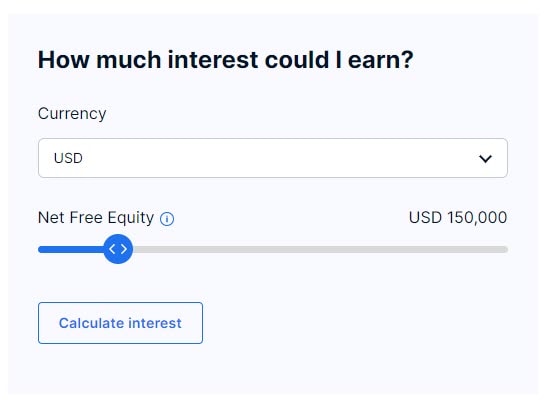 Richard Douglas, CEO, Saxo Hong Kong says: "We are thrilled to be able to bring this new interest rate model to our clients, as it fully reflects our commitment to help our clients make more of their money. Our clients will get generous interest rates, across a variety of currencies, and those interest rates will increase as they deposit more funds.
Saxo is here to get curious people invested in the world, and we hope with this, we make it easier for clients to stay invested, and we make it more transparent when and why their rate changes."
What clients can get with the new interest rate model:
No lock-in period. Clients do not have to tie up their funds to benefit from the new interest model. The interest received follows the market rate without binding client funds for a certain period.
Get higher interest with larger deposits. Starting from account balance above USD 10,000, clients will receive a variable interest rate, scaled proportionally with the deposit amount. The larger deposit clients have on their account, the closer they get to the HKMA interest rate.
No upper limits: With Saxo, there is no upper limit on the level of deposit which clients can earn interest on.
Earn interest on different currencies. The interest rate model applies to all deposits in GBP, Euro and US dollars.
Read more here:
https://www.home.saxo/en-hk/campaigns/interest-rates-cal
At Saxo we believe that when you invest, you unlock a new curiosity for the world around you. As a provider of multi-asset trading and investment solutions, Saxo's purpose is to Get Curious People Invested in the World. We are committed to enabling our clients to make
more of their money
. Saxo's parent company, Saxo Bank A/S, was founded in Copenhagen, Denmark in 1992 with a clear vision: to make the global financial markets accessible for more people. In 1998, the Saxo Group launched one of the first online trading platforms in Europe, providing professional-grade tools and easy access to global financial markets for anyone who wanted to invest.
Today, Saxo is an international award-winning investment firm for investors and traders who are serious about making more of their money. As a well-capitalised and profitable Fintech, Saxo is a wholly-owned subsidiary of Saxo Bank A/S, a fully licensed bank under the supervision of the Danish FSA, holding
broker and banking licenses in multiple jurisdictions
. As one of the earliest fintechs in the world, Saxo continues to invest heavily into our technology. Saxo's clients and partners enjoy broad access to global capital markets across asset classes on our industry-leading platforms. The Saxo Group's open banking technology also powers more than 200 financial institutions as partners by boosting the investment experience they can offer their clients. Keeping our headquarters in Copenhagen, the Saxo Group has more than 2,500 professionals in financial centres around the world including London, Singapore, Amsterdam, Hong Kong, Zurich, Dubai and Tokyo.
For more information, please visit:
https://www.home.saxo/en-hk