The Great Rewind
Summary: Australia has a clear comparative advantage when it comes to renewables; and nowhere has the devastating impact of climate change been more obvious than Australia this year.
Covid-19 may have started as a health crisis, but it quickly morphed into an economic and social one.
In crisis, the strengths and weaknesses of existing operating models are laid bare. In these uncertain times, when openness, policy collaboration and international cooperation could only benefit the individual and the nation state, it seems the crisis and post-pandemic blame game is set to accelerate the pre-existing trend towards de-globalisation, autonomy and nationalist sentiment.
In doing so, it is exacerbating prior inequities, shaking the foundations of our democracies and further fragmenting geopolitical architectures that have upheld the global order since the fall of the Berlin Wall. The result: slower, lower growth plus diminishing free markets and central bank independence, alongside an increasingly polarised society contributing to heightened political instability and economic fragility.
Following decades of interconnected global supply chain optimisation prioritising cost minimisation above all else, the Covid-19 pandemic has exposed the vulnerabilities embedded in maintaining "just-in-time" production with low or no inventories. The US-China trade war initiated this shift and warned against an over-reliance on China, and the pandemic has now accelerated the move to local over global. Moving forward, businesses will focus on adding resiliency to supply chains via localisation and regional ties, resulting in more robust production capabilities that are able to manage disruption and tail risks more efficiently.
Within this shift, Australia – as a small open economy with high energy and labour costs and an obsolete manufacturing sector – is in many ways swimming naked as the tide goes out on globalisation. Much will depend on the resultant policy response following a new Federal Government manufacturing task force that has been engaged on this issue.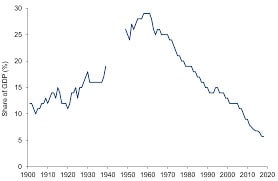 Manufacturing's share of GDP in Australia has reduced significantly
The shift towards self-sufficiency is not just playing out at a company level, but a country and consumer level also, as nation states incentivise self-reliance and reshoring via the localisation of production capabilities. From government investment right down to the consumer, local over global is in favour. Not by their own design, but by necessity Australians will holiday within Australia. However, this change is also witnessed as Australians increasingly support local business and "Made in Australia". Recent research from Venture Insights on behalf of NBN Co found that 70% of survey respondents now select local over global when it comes to shopping online in lockdown.
It is not just the crisis itself, but also a response where intervention is the new normal that presents a threat. The unconventional monetary responses used as the first line of defence for ailing economies risk fostering structural impediments within neo-liberal economic systems. These impediments exacerbate inequalities by aiding persistent wealth transfers to an ever-decreasing component of the population. Prevention may typically be better than the cure, but in some ways the Austrian cure, while politically unpalatable, could be better than the "prevention" – mountains of corporate debt, zombie companies and mounting inequality alongside declining productivity.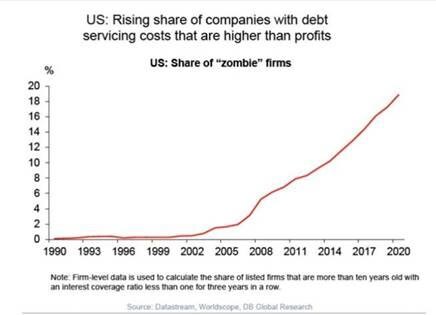 Thus, as capitalism is replaced with corporate socialism, mounting wealth disparities and the disproportionate losses suffered by small businesses and the bottom share of income earners will only contribute to the rising tide of populism we have witnessed in recent years.
Central banks may call time on volatility, but the entropy of the system will result in volatility erupting elsewhere: such as an angrier, more polarised society that undermines political stability and fragments our social fabric. This anger could become a feeding frenzy for policy hawks attacking globalisation as a scapegoat and enhancing their raison d'etre lose-lose protectionist regimes under the guise of self-sufficiency. The resultant backing for nationalist agendas – which have to date proved their ability to rally voter support by providing simple answers to complex issues – presents another tailwind for deglobalisation.
For risk assets, this should be a toxic combination. But equities are currently driven by an abundance of liquidity and speculative sentiment, not fundamentals. The bottom line is the Fed and global central banks remain (and will remain) accommodative at all costs. No bubble will stop them, irrespective of the risks. Rising asset prices may foster the perception of stability, but they heighten systemic fragilities as valuations become extended and divorced from fundamentals.
History teaches us that irrationality can persist in financial markets for far longer than one can remain solvent. Even though we would argue fundamentals eventually trump liquidity, the liquidity-driven narrative has clearly proven tough to break – particularly as the lack of appealing alternatives and expectation that rates will remain low for an extended period drives investors up the risk spectrum into equities (TINA). Conditioned by central banks put to "buy the dip", these investors are reaching for yield and piling into risky assets (FOMO). Resistance has proven futile and expensive, but the existence of this dynamic perversely dictates one need not be positive on the expectations of a swift economic recovery to be long stocks (and by default short cash/efficient markets/price discovery).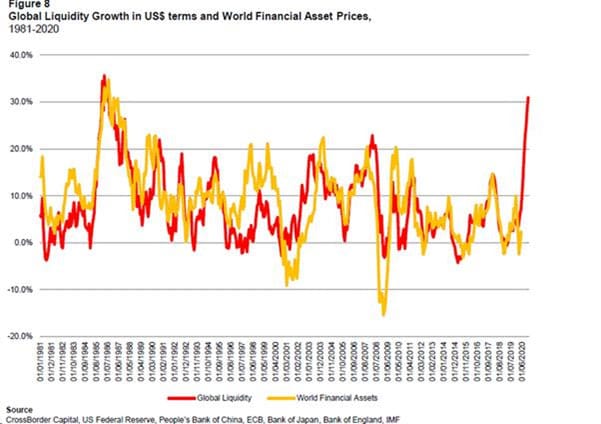 Central banks may have prevented reality from being reflected in asset pricing, but on the ground, Main Street still faces the consequences of capitalism – as evidenced by unprecedented job losses and elevated unemployment levels.
For Australia, the focus should turn to the rebuild, not budget repair and winding back stimulus measures. Covid-19 should act as a catalyst for doubling down on revitalisation as opposed to central bank profligacy.
Diversified and inclusive growth needs to be the modus operandi, with fiscal spending centred around creating jobs – as well as reinvigorating investment and productivity – as opposed to incentivising speculation on non-productive assets such as real estate. R&D incentives that go beyond tax breaks, investment in focused education – vocational and formal, retraining and upskilling – and a period of policy calm will all be key.
In the process of enhancing domestic industry, embracing the renewable energy sector could not only stimulate domestic manufacturing but also provide a framework for a more vibrant and productive economy post-pandemic that will serve for the years ahead, not just the here and now.
When we talk about deglobalisation and reshoring, the concept of comparative advantage is often lost. However, Australia has a clear comparative advantage when it comes to renewables, and nowhere has the devastating impact of climate change been more obvious than Australia this year. This provides a clear impetus for investment and fiscal stimulus targeting not just the economic crisis but also the climate crisis.
The assumptions that have underpinned asset prices over recent years are shifting, calling time on the traditional 60/40 portfolio. Fixed income will no longer serve the buffer it once was for balanced portfolios, with yields at historic lows and the gains from convexity spent. The deglobalisation tailwind and heightened focus on economic sovereignty bring a push to local over global. The increased investment in local infrastructure, climate change and sustainability, wind and solar, energy and water security, defence and local medical infrastructure presents opportunities within the equity space – with portfolio diversification pivoted toward precious metals, alternative investments and real assets.
You can access both of our platforms from a single Saxo account.