Hedge funds
Access to multi-asset prime brokerage and execution services
for all hedge fund strategies
Multi-asset execution and custody
Execute your hedge fund strategy from a single margin account covering 72,000+ instruments.
Reduced cost and complexity
Get scale and efficiency from a single prime broker with competitive pricing.
Technology-driven prime brokerage services
Receive multi-asset execution, and integrated custody, clearing and post-trade services.
24/5 expert service
Access senior sales traders, expert market analysts and personal relationship managers.
Multi-asset trading, custody, clearing and financing
Access 72,000+ instruments across multiple asset classes, with execution, financing and real-time risk management from a single clearing and custody account with integrated back-office services.

Forex
189+ FX spot pairs and 130+ forward outrights.
CFDs
8,900+ CFDs across stocks, indices, FX, commodities and bonds.
Stocks
23,500+ stocks on 50+ exchanges globally.
ETFs
7,500+ ETFs and ETCs, plus ETNs on cryptocurrencies.
FX options
Puts and calls on 40+ FX vanilla options, plus six FX touch options.
Listed options
3,200+ equity, index and futures options on metals, energy and rates.
Futures
300+ futures across 29 global exchanges and multiple asset classes.
Bonds
5,700+ bonds online from 26 countries and 21 currencies.
Mutual funds
17,700+ instruments from 300+ issuers
Get to market quickly with a VCC vehicle
Benefit from the greater operational flexibility and other advantages of the Singapore-domiciled Variable Capital Company (VCC) vehicle.
We onboard funds looking to expand from managed account structures into a fund structure – and redomicile funds currently set up as unit trusts, limited partnerships and investment companies.
We take pride in supporting an ever-evolving regulatory landscape and offer accelerated onboarding to the VCC structure.
Read press release announcing Noviscient as one of the first VCC funds under the new Variable Capital Company (VCC).
Expert support from institutional professionals
Expert support from institutional professionals
With more than 100 institutional specialists operating from offices in key financial centers, including Denmark, London, Singapore, Shanghai, Hong Kong, Switzerland and Dubai, we can deliver the right solution for your business.
Relationship managers
Your personal point of contact for strategic partnership building.
Prime services
Daily account management and operational support.
24/7 IT maintenance
Constant monitoring of IT systems for continuity management.
Quality execution and Tier 1 liquidity
Quality execution and Tier 1 liquidity
Best-in-class execution
Trade stocks, bonds, CFDs, FX, futures and options via our platform or API connection, with access to our DMA liquidity pools and market-made liquidity.
Tier 1 liquidity from multiple global venues
Our liquidity is sourced from a range of institutions, including banks, exchanges, ECNs and market-making firms.
Execution of multiple hedge fund strategies
Our technology effectively enables multiple hedge fund strategies across global macro, event-driven, CTA, systematic traders, long only and long short equity.
Gateway to China's capital markets
Get direct electronic access to mainland China bonds through Bond Connect and China A-shares via our platform or API connection.
Hedge fund solutions
Our technology helps hedge funds access and execute across global capital markets.
Multi-asset PB and execution

Receive multi-asset execution and integrated custody, clearing and post-trade services.

Platforms

Access multi-asset trading and custody through our proprietary platforms.

Connectivity and APIs

Connect to our capital markets infrastructure and create bespoke, integrated experiences via APIs.
Single trading environment via our platform or API
Single trading environment via our platform or API
Proprietary trading platforms
The award-winning, multi-device SaxoTraderGO partners seamlessly with SaxoTraderPRO, our fully customisable, professional-grade platform.
Multi-asset access
Access 72,000+ instruments across all asset classes and trade, invest or hedge from a single platform and account.
Powerful tools and features
Benefit from integrated charts and Trade Signals, live newsfeeds and market data, and an innovative suite of risk-management tools.
Noviscient

Singapore-based Noviscient wanted to launch a multi-strategy, investment management platform with a business model based on alignment, performance and transparency.

Standard Bank

South Africa's largest bank and leading stock broker, Standard Bank had an existing domestic investment platform, but wanted a solution that opened its offering to global markets.
Award-winning technology
We have set the benchmark within our industry for over 25 years and consistently win the highest accolades for our product, platforms and service.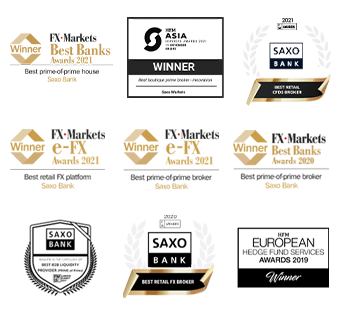 Design your solution
Develop your business plan and key metrics with our experts.
Implement technology
We'll help you configure, implement and test your solution.
Launch
Receive ongoing expert support from your commercial launch onward.