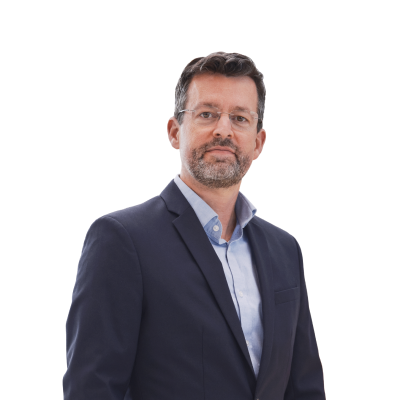 John Hardy
Head of FX Strategy
The market conditions here for currency trading – and bond trading for that matter as well – seem unprecedented, full of pent-up energy but showing no immediate volatility as traders search for clues on what to do next. The geopolitical backdrop continues to provide a distinctly uncomfortable level of worry without knowing the potential breadth of the market fallout.. And the latest seeming détente in China-US trade tensions seems unlikely to last beyond the very short term. Overnight, Chinese authorities announced they have a very specific plan for responding to further US moves on trade, even as they outlined new measures to open up their economy.

In short, it feels like something very much needs to give – but the what and when and which direction are the inconvenient unknowns. A trader's only course of action would seem to be to continue to sit on one's hands and to slowly accumulate long-dated, long volatility options for the hopefully inevitable return of large directional moves in coming months.

Within the G10 currencies today, one of the more interesting technical situations has unfolded in USDJPY, as we discuss in today's chart below and whether the USDJPY rally ambitions could be clearly disappointed as early as today. Elsewhere, the SEK focus picks up on today's CPI release and whether anything can provide support for the beleaguered krona.

EM currencies are selectively on the move on specific stimuli like Trump tweets threatening to lob missiles at Russia's ally in Syria and the risk of hotter forms of war breaking out between the two nuclear powers. The Trump threat has yet to be followed up with action, a fact that is keeping markets on edge, though oil markets have taken the ball and run with it. The ruble has stabilised a bit after an ugly extension lower post-Trump's missile tweet yesterday. Elsewhere in EM, the Turkish lira is quietly collapsing and could risk a more broadly destabilising negative spiral if investors panic on the smell of default as Turkey's external debt exposure rapidly mounts with every downtick in the lira and President Erdogan is sending all of the wrong signals.

Chart: USDJPY
USDJPY is emblematic of the limbo currency traders find themselves in at the moment, having shown upside promise in breaking local resistance, only to get stopped dead in its tracks at the edge of the daily Ichimoku cloud, which has so far held firm. A return of market volatility would seem to favour the JPY again, but the pair needs a solid close well below 106.50 again to provide a better hook for bears.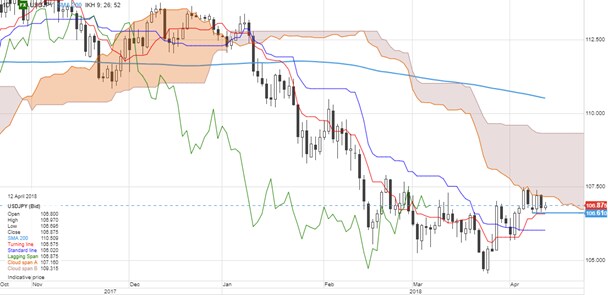 Source: Saxo Bank

The G-10 rundown

USD – weak but the big technical breaks not yet in evidence and the market is already rather short of USD's, a very tough mix for near-term direction.

EUR – collapsing volatility and will today's ECB minutes shed much light? Watching for a significant move above 1.2500 or below 1.2200 in EURUSD before believing that any potential is building.

JPY – stuck in neutral in USDJPY as discussed above. Generally looking for a JPY rally extension eventually.

GBP – endless disappointment for GBP bulls, though the bounce in EURGBP has so far been insufficient to call a bullish rejection – any promising Brexit-link announcement could thus provide that catalyst for a sterling rally.

CHF – EURCHF has achieved new highs, now about holding those highs, especially if market volatility picks up again.

AUD – AUDUSD trying to put in a bullish reversal, but someone pressed the Pause button and the 0.7750-0.7800 zone needs to be taken out with conviction to build something bigger. Disappointment will be quick on a close back below 0.7700.

CAD – one of the more impressive mover as the loonie picks up the scent from energy markets – but can it build anything beyond 1.2500 in USDCAD?

NZD – highs of the range approaching in NZDUSD as we await a broader USD move for whether something bigger can build, and AUDNZD pushing on the 1.0500 handle. Next Wednesday's CPI the next potential data catalyst for the kiwi.

SEK – today's CPI a critical one for whether SEK can put up a fight against the NOK or EUR.

NOK – has to be very disappointing for NOK bulls that EURNOK still rangebound after a five-dollar blast higher in Brent – the recent weak Norway CPI the obvious culprit, but still… A couple of Norges Bank speakers today could provide a refresher on their stance on inflation.

Upcoming Economic Calendar Highlights (all times GMT)

07:30 – Sweden Mar. CPI
07:30 – Sweden Mar. Average House Prices
07:30 – Norway Norges Bank's Olsen to speak
09:00 – Eurozone Feb. Industrial Production
11:30 – ECB March Meeting Minutes
12:15 – ECB's Coeure to speak
12:30 – Canada Mar. Home Price Index
12:30 – US Weekly Initial Jobless Claims
15:30 – Norway Norges Bank's Nicolaisen to speak
16:00 – ECB's Weidmann to speak
18:00 – Mexico Central Bank Policy Rate