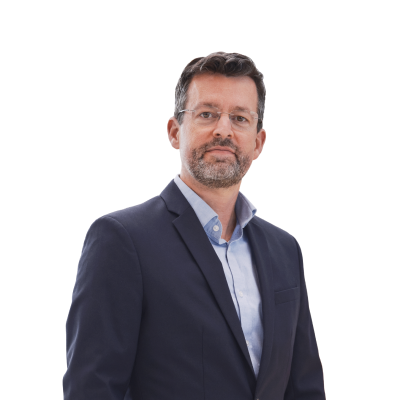 John Hardy
Head of FX Strategy
Markets opened the week in a blast of good cheer as the latest developments in the trade war showdown between the US and China suggest room for hope, with both sides expressing interest in working through differences. This came a mere couple of days after the ugly close to trading last week, with the global risk benchmark, the S&P 500, closing the week perilously perched on its 200-day moving average. This is a classic case of a market driven by headline risk and makes for a treacherous trading environment. With the surge in risk appetite and perhaps telling absence of a more forceful repricing of US bond yields higher, the US dollar suffered and the Japanese yen suffered even more so, serving as it has lately as the highest beta currency to risk appetite. EURUSD pulled sharply higher to its highest closing level in weeks and look set to challenge the highs for the cycle.

Chart: EURUSD weekly
EURUSD saw its strongest close in weeks, well above 1.2400, and bulls should take heart that this signals a new challenge of the highs for the cycle and possibly more – with many noting the very long term trend-line in play from the 2008 top. 1.3000 has been an pivotal level for the pair in the past and could attract if 1.2500 is finally broken (EURUSD has a long tradition of magnetism around big round levels).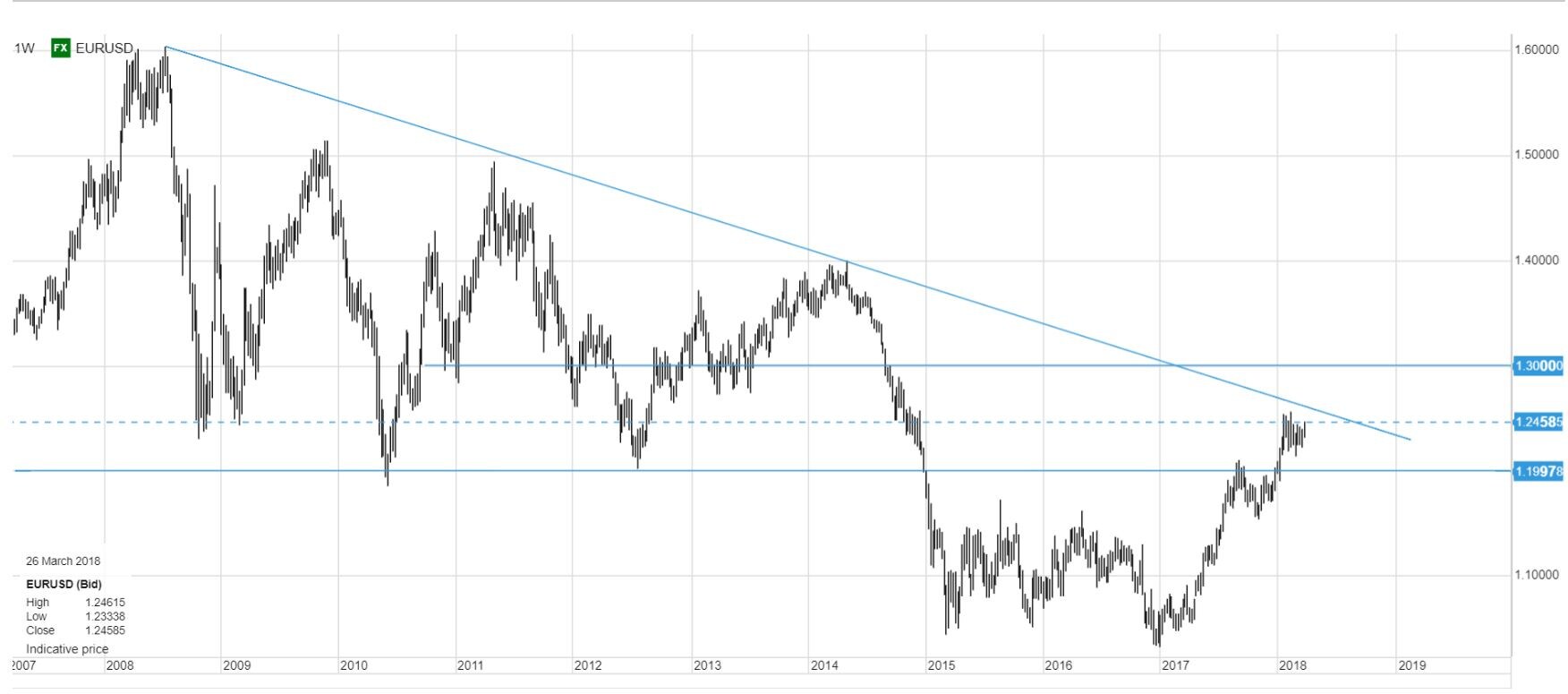 Source: Saxo Bank

EM is not just EM any more, that much has become clear in recent sessions. First, many EM currencies showed immunity to the general risk contagion going into last week's ugly closing levels, and this week has seen varied developments. The blast stronger in China's renminbi to start the week has been the most notable development, and has dragged much of Asian EM stronger with it. Also enjoying strength are the South African rand on recent supportive headlines and political developments and now the Mexican peso, with USDMXN now more forcefully below the 200-day moving average yesterday on the general sense of relief on the trade war theme. A bit weaker relative to the supportive backdrop are the Russian ruble after so many nations have moved to show solidarity with the UK in giving Russia a diplomatic cold shoulder. The Turkish lira is being given the widest berth among major EM's at the moment, on Erdogan's aggressive tone and intervention in Syria against US-backed Kurdish forces and his growth-at-any-cost agenda.

The G-10 rundown

USD – the greenback is not doing well when rate expectations muted and risk appetite strong. USDJPY aside, the USD looks on the defensive now, but then again, a headline of the wrong stripe can come at any time and muddle the signal once again.

EUR – the euro is looking strong again and ready to test the highs for the cycle, even as concerns mount that the two largest populist parties in Italy may join forces and moribund expectations for the ECB interest rate normalisation.

JPY – the yen getting the worst of it on the global relief rally linked to the sudden ebbing of trade war fears. We still like the yen as a longer term valuation trade, but tactically defensive. The USDJPY bears are disappointed here, but nothing "broken" yet unless the pair backs all the way up through 108.00-50 or so.

GBP – sterling looks in fine form versus the USD, but for sterling to deserve real attention we need to that pesky EURGBP range (lows below 0.8700) taken out for good.

CHF – EURCHF is looking ready to challenge the highs for the cycle and this would be made easier by a bit of support from bond yields, although the pair has done quite well through the latest volatile period in global risk appetite.

AUD – the Aussie is not finding much love despite the strong risk appetite backdrop, as key commodity prices, particularly iron ore, are struggling and Australia's bank equities are suffering badly. Is the market sniffing out a financial crisis Down Under as the Australian housing bubble risks eventual implosion, something that may already be happening?

CAD – the loonie's enjoying a resurgence on the recent relief over exceptions to US protectionism threats and on the surge in crude oil prices. USDCAD traders stuck in limbo between the tactically bearish reversal back well below 1.3000 while the longer term picture suggests support if the pair remains up above 1.2500.

NZD – kiwi traders are celebrating the arrival of new Reserve Bank of New Zealand chief Adrian Orr, who has now signed on the dotted line on the new Fed-like dual mandate requiring the RBNZ to focus on maximum employment as well as inflation. AUDNZD is down through recent support and the kiwi should garner increasing attention in the RBNZ's inflation talk if it remains here or stronger.

SEK – the return of risk appetite is doing little to brighten the prospects for the krona as EURSEK approaches the 10.20+ top for the cycle. The SEK is very cheap, but investors lack a catalyst for buying the currency as long as Swedish inflation remains low.

NOK – EURNOK has recently disappointed the bears by not following through on the recent break below 9.50, but neither has the recent rally convinced that the pair wants to remain in the higher range. The backdrop of sharply higher Norges Bank policy rate expectations in recent months, the recovery in risk appetite and strong oil prices are all NOK-supportive at the moment.

Upcoming Economic Calendar Highlights (all times GMT)

09:00 – Eurozone Mar. Confidence Surveys
13:00 – US S&P CoreLogic Jan. House Prices
14:00 – US Mar. Consumer Confidence
15:00 – US Fed's Bostic (FOMC Voter)