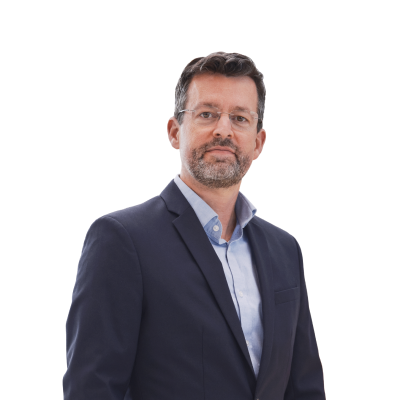 John Hardy
Head of FX Strategy
Sterling was the biggest mover Monday, rallying hard in the wake of a promising Brexit breakthrough as the two sides announced agreement on some portions of the transition period, which will stretch all the way to the end of 2020. The impression from yesterday's initial announcements sounded a bit more promising on the Northern Ireland border issue, which effectively remains unresolved, so there seems plenty of chance for the negotiations to get bogged down. Still, there was compromise on both sides, so the positive sterling reaction was justified at the margin.

The difficulty is in the longer-term perspective. Yes, it is nice to clear up the details of the transition period and a relief for businesses to see that operations won't be meaningfully affected for the next almost three years until the proper Brexit begins on a January 1, 2021. But on the other hand, this does not clear up the long-term uncertainty for the UK financial services sector, its EU passporting rights, and other details that must be in place before other businesses can make long-term investment decisions.

In the wake of the Brexit press conference, GBPUSD extended nearly to 1.4100 and EURGBP down to just below 0.8750 before a large portion of the move was reversed, though not enough to call it a technical reversal. A key rest-of-the-week lies ahead for sterling as we discuss for the chart below that could set the direction for the next couple of weeks or more for the currency. It was also worth noting that the Euribor strip notice the Brexit talks breakthrough as well and saw a few basis points of ECB tightening priced in further out the curve before the move was retraced – somewhat mimicking the action in GBP pairs intraday.

Chart: GBPUSD

To break or not to break, that is the question. The 1.4000 area was the clear upside pivot recently and was taken out yesterday, but the immediate retracement gives bulls a bit of pause as well as we look to today's CPI data and whether Bank of England hawkishness on Thursday can impress – not to mention whether further details will emerge on the Brexit negotiations at the EU summit on Thursday-Friday. As well, we have the FOMC meeting tomorrow affecting the USD side of the equation.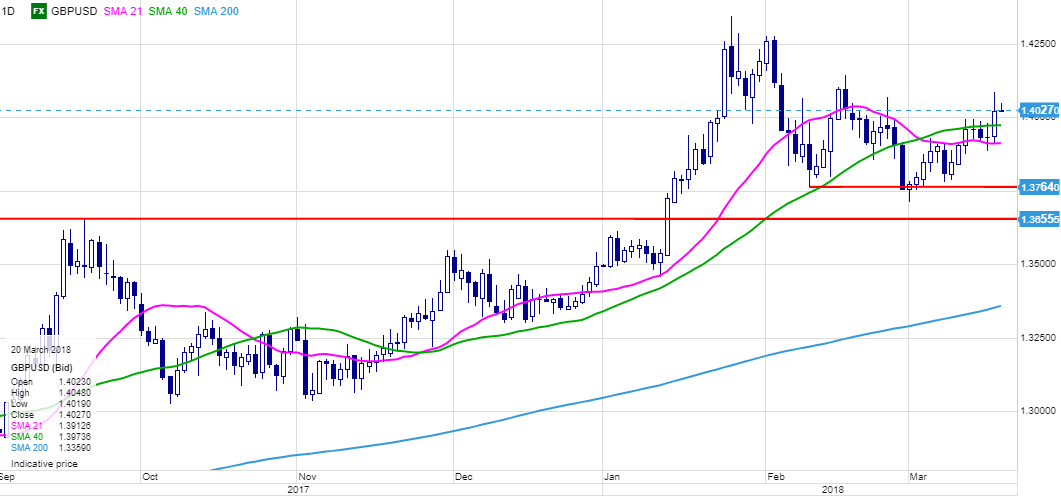 Elsewhere, the dominant focus was on an ugly start to the week for the US equity market, particularly Facebook's woes which are linked to this ugly Cambridge Analytica case. Facebook lost nearly $40 billion in market cap on the selloff. As well, there has been noise from the G20 about the need for a consensus on "digital tax" by 2020, as sovereigns want to reap more tax revenue from massive internet companies that pay very little in tax – these companies are virtually all US-based.

From a trade war perspective, incidentally, this issue could give the world some leverage in leaning against Trump and his protectionist threats. Worries on the trade war theme continue to simmer along as we possibly await China-directed US tariffs in the coming week or so.

The G-10 rundown

USD – FOMC meeting tomorrow the obvious focus, with the risk that we don't get much in details or pointed guidance but have to react to the intangibles of Powell's demeanor and reading his stance in the Q&A. I think Powell prefers less, not more forward guidance, even if he eventually takes a more hawkish path on rates. So very interesting to see how this feeds into the reaction function for the USD.

EUR – European Central Bank expectations picked up yesterday on the Brexit breakthrough, but a large portion of the move was unwound by the end of the day. EURUSD avoided a small local new low yesterday, but not likely to get anything definitive there in either direction until post-FOMC.

JPY – the USDJPY move lower has lost considerable momentum during this long phase of triangulating consolidation and looks ready to test resistance if the Fed manages to surprise on the hawkish side tomorrow.

GBP - the reaction yesterday appeared a bit hesitant, but we're hopeful for a breakthrough higher. A strong close to end the week after all of this week's key sterling-linked event risks would look promising for a durable extension of the rally.

CHF – EURCHF looks very bid and the Brexit breakthrough helps – to test the top for the cycle and then some soon? This would seem particularly likely if rate expectations globally generally pick up. Possible focus on GBPCHF trades here as well – enormous rally has unfolded there over the last couple of weeks.

AUD – the Aussie continues to trade heavily with the Reserve Bank of Australia offering nothing of note and the key focus here is a plunging iron ore price, which could continue to drag the currency lower across the board.

CAD – seeing our AUDCAD reversal coming into view if we get the pair back another 100 pips lower or so toward parity as we have felt that the CAD was a bit unfairly singled out in relative terms recently. The pop in crude oil prices also boosting CAD a bit here.

NZD – milk auction later today likely the pivot for whether AUDNZD can engineer a downside break. We are long term contrarians looking for short NZD opportunities with no short term fundamental or technical catalysts. Stay tuned.

SEK – consolidation of the EURSEK rally has executed a near perfect test of the 38.2% retracement at 10.0550. Anything lower and we are starting to work into reversal territory for the pair, as 10.00 is the big focus for whether SEK undervaluation can become a theme again.

NOK – EURNOK is a bit of a tease after executing a big break of the 200-day moving average and 9.5200 area and then pressing the pause button. Oil prices somewhat NOK supportive – better would be a solid bounce in risk appetite after yesterday's ugly session.

Upcoming Economic Calendar Highlights (all times GMT)

• 0930 – UK Feb. CPI / RPI / PPI
• 1000 – German Mar. ZEW Survey
• 1000 – Norges Bank's Matsen to speak