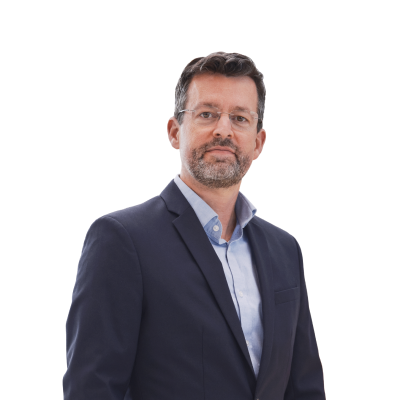 John Hardy
Head of FX Strategy
White House economic adviser Gary Cohn resigned yesterday, just as global markets had rallied a bit on news of détente on the Korean peninsula and on hopes that Cohn could scramble a coterie of business leaders to talk Trump down from his intentions to implement the threatened tariffs. This news is an ominous sign that Trump has decided that there is no turning back and that he could choose someone more sympathetic to his protectionist views to replace Cohn.

The market reaction to the move overnight was swift and fairly deep in S&P 500 futures terms, though the FX fallout is rather limited. We did, however, see the typical pattern of JPY strength and emerging market/smaller currency weakness.

A key figure in Japan, Government Pension Investment Fund head Takahashi, said that Trump's measures are merely a show for his supporters and that the threat of a trade war is low, while US Treasuries look like an attractive investment.

Indeed, if the Trump tariff measures stop here in line with Takahashi's shoulder shrug and there is little or no retaliation, the markets may be able to recover and the actual impact could prove rather modest, but if this is the opening volley in a bigger shooting war that leads to something like a comprehensive targeted anti-China protectionist framework, look out below for global markets.

Note the European Union lining up its own response to Trump's move with a suggested menu of tariffs that seem aimed squarely at key Congressional leaders' districts.

The Bank of Canada meets today, and while the currency has absorbed a good deal of selling over the last few weeks on the risk appetite wobbles and threats to NAFTA and protectionism in general from the Trump administration, the rate outlook has held relatively steady. We have to imagine that the BoC's Poloz and company sound a strong note of caution on the risks to the Canadian economy from US policy if it continues down the current road.

The Australian GDP missed slightly overnight, making us wonder if the Reserve Bank of Australia had a peek at the details before releasing its most recent statement. It is profoundly shocking to note the Aussie's relative resilience to what is unfolding here. A true global trade war scenario is profoundly Aussie-negative – this is being expressed to a degree in the likes of EURAUD, but Australia risks its own showdown with China on a number of fronts (whether investment is welcome, both private and state-sponsored).

Chart: CADJPY

CADJPY has been at the epicentre of recent themes of first repricing the JPY as the market woke up to its own complacency and then squared JPY shorts on general risk-off, and as CAD has weakened on Trump's protectionist moves as Canada is a satellite economy of the US and its economy is highly dependent on trade with the US.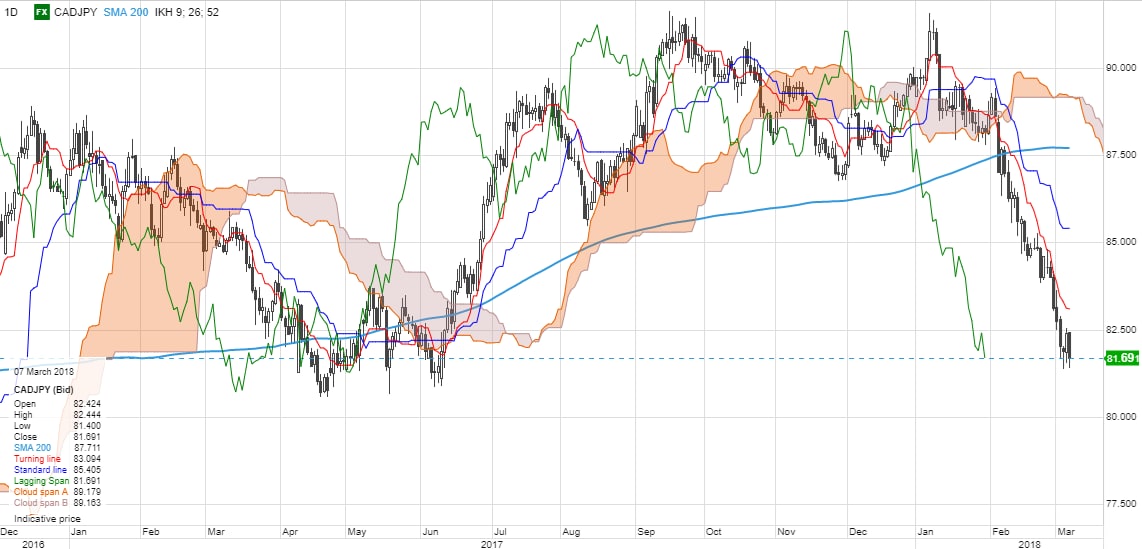 The G-10 rundown

USD – the market judges that Trump protectionism is mildly USD-negative against traditional safe havens like JPY and CHF, but is less so elsewhere, especially versus the riskier currencies. An all-out trade confrontation is more likely to be expressed along these lines, with EM particularly vulnerable, but also G10 smalls

EUR – EURUSD mid-range as we await what will likely prove a dovish-as-possible blast from European Central Bank head Mario Draghi at tomorrow's press conference, but the market may care less about policy outlook than it does about weighing the risks of a trade war.

JPY – the clear winner on the trade war theme for now, but JPY upside requires a constant stream of negative developments at the moment. Also, BoJ speaker Wakatabe very dovish overnight on the central bank's policy outlook.

GBP – sterling weakening toward that big 0.9000-plus area in EURGBP as risk-off tone discourages fresh sterling longs as long as there are no new Brexit developments.

AUD – the AUD rally turned away overnight on the Cohn resignation news and then on weak GDP, but remains remarkably resilient, all things considered.

CAD – CAD already heavily pummelled on the latest protectionist developments, but the rate outlook has been less heavily impacted and there could be further downside risks for the CAD if the BoC significantly upgrade the risks to the forward guidance based on trade.

NZD – kiwi biding its time in a range here awaiting bigger developments (have to imagine any further deepening risk-off is NZD-negative).

SEK – a top in EURSEK will be tough to find if the current environment worsens from here.

NOK – EURNOK thoroughly steering away from the downside pivots again, suggesting little support for NOK in the current environment, even with the recent slight recovery in oil prices.

Upcoming Economic Calendar Highlights (all times GMT)

• 1000 – Eurozone Q4 GDP Revision
• 1100 – Turkey Central Bank Rate Decision
• 1300 – US Fed's Bostic (Voter) to Speak
• 1315 – US Feb. ADP Employment Change
• 1320 – US Fed's Dudley (Voter) to speak
• 1330 – US Jan. Trade Balance
• 1530 – US Weekly Crude Oil/Product Inventories
• 1900 – US Fed's Beige Book