Saxo Markets announces suite of price reductions on SGX equities, free live prices on all stock exchanges
No minimum commission on SGX equities for new clients until 30 April 2021; existing clients' minimum commission on SGX equities cut in half


Together with free live prices on dozens of stock exchanges, Saxo Markets supports clients in making more timely and informed decisions in the financial markets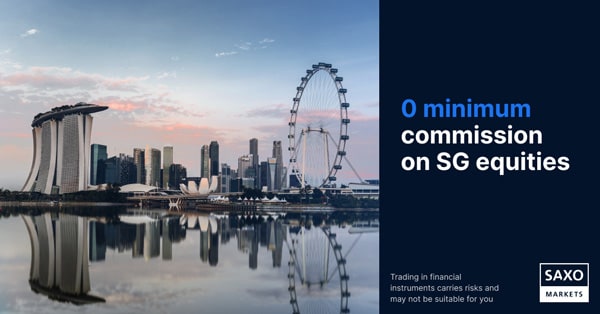 SINGAPORE, 9 November 2020 – Saxo Markets, the online trading and investment specialist that connects people to investment opportunities in global capital markets, has today announced a suite of price reductions that are designed to enable more investors in Singapore to access SGX equities as well as global financial exchanges.
SGX equities: Attractive pricing for new and existing clients
Starting from today, Saxo will charge no minimum commission on Singapore Exchange (SGX) equities. This is available to all new clients (private individuals and joint accounts) who sign up for a Saxo account until 30 April 2021.
Saxo's commission rate remains at 0.08%, the lowest rate in the market. In addition, existing clients' minimum commission on SGX equities is also halved from SGD10 to SGD5, making it more attractive for them when trading SGX equities.
"As we serve more clients than ever before, Saxo is committed to being the best choice for our clients. Pricing structures and complexities are often cited as challenges for investors looking to navigate the markets and place trades. We are dedicated to removing these barriers for our clients, as more investors now turn to us to fulfill their financial aspirations and to make an impact, whether it's through their investments or the outcome of their investments. The pricing adjustments and commitment to transparency reflect our commitment to always support our clients to make more informed and optimal investment decisions," Adam Reynolds, Asia Pacific CEO, Saxo Markets, said.
For Saxo clients who want to access global markets, they can enjoy free live prices on dozens of stock exchanges – including those in Singapore, the US and Hong Kong - available by way of quarterly rebate, with a minimum of four trades placed each month on each respective stock exchange (note: six trades on ASX).
"The free live prices feature has always been available, but we are making it even more visible for clients so that they can tap into it to make more timely and relevant decisions in the markets, at no cost provided they're active in trading the markets," Reynolds added.
Commitment to transparency: No hidden fees, no new fees
No new fees are being introduced or other fees increased as part of this suite of price reductions. Saxo remains committed to full transparency on pricing, with costs outlined up front and no hidden fees. Saxo clients can also be assured that they will not be charged Inactivity Fees, Platform Fees or Maintenance Fees, for example.
Visit https://www.home.saxo/en-sg/campaigns/no-minimum-commission for more information.
Saxo Markets is a licensed subsidiary of Saxo Bank, a leading Fintech specialist that connects people to investment opportunities in global capital markets. Saxo Markets has operated in Singapore since 2006 and serves as the APAC headquarters. As a provider of multi-asset trading and investment, Saxo's vision is to enable people to fulfil their financial aspirations and make an impact.
Founded in Copenhagen in 1992, Saxo was one of the first financial institutions to develop online trading platforms that offer everyday investors the same tools and market access as professional traders, large institutions, and fund managers. As the most innovative and best choice for clients, Saxo offers broad access to global capital markets across asset classes, where they can trade more than 40,000 instruments in over 20 languages from one single margin account. The Saxo Bank Group also powers more than 120 financial institutions as partners by boosting the investment experience they can offer their clients via our open banking technology. Whether it's through their investments or the outcome of their investments, Saxo gives clients and partners the tools, platforms and knowledge to make an impact.
The Saxo Bank Group holds four banking licenses and is well regulated globally. With client assets totaling more than 45 billion Euros, Saxo is a global company with local presence, employing more than 2,100 people in financial centres across the world, including London, Singapore, Amsterdam, Zurich, Dubai, Shanghai, Hong Kong and Tokyo.
For more information, please visit: www.home.saxo/en-sg/.