Saxo Markets wins Best Boutique Prime Broker in HFM Asia Services Awards for second year in a row

Saxo, the leading fintech specialist focused on multi-asset trading and investment, was honoured with the Best Boutique Prime Broker at the HFM Asia Services Awards 2019, for the second year running.

Held in Hong Kong on 13th November, the annual HFM Asia Services Awards recognise and reward excellence in hedge funds servicing and product innovation across Asia over the past year. It is a great honour for Saxo Markets to win the Best Boutique Prime Broker Award in Asia for two years straight, testament to the team's consistent efforts in providing competitive offerings and services in the hedge fund space.
Over the past five years, Saxo has also won the award for Best Technology Prime Broker in Asia. Winning this top industry award deepens Saxo's commitment to the hedge fund community in Asia and the recognition it has gained with Hedge Funds, Family Offices and peer service providers.
Commenting on the win, Echo Zhao, Country Head of Saxo China , said, "It is a privilege to receive this prestigious award two years in a row, amongst a distinguished peer group in the prime brokerage space. Saxo's investment in the hedge fund community and ongoing focus on innovation and technology in Asia are paying off, as evidenced by the awards won over the past few years. We will continue to deliver seamless access to global capital markets and expertise to institutional partners, of which hedge funds are an integral part."
The global Hedge Fund industry is globally around US$2.3 trillion in AUM, and while still a growing space, there is a huge opportunity for Asia to become a prominent fund centre for the fund management and asset management market. Asia remains strategically important for Saxo and pursuing win-win partnerships and delivering an optimal client experience will remain key to driving growth in the region.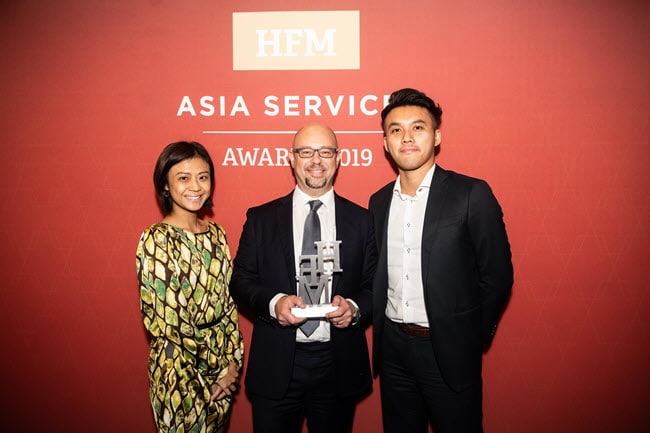 Saxo Markets is a licensed subsidiary of Saxo Bank A/S, a leading Fintech specialist and global multi-asset facilitator of capital markets products and services. Saxo enables private clients to trade more than 35,000 instruments from one single margin account. Additionally, Saxo provides institutional clients such as banks and fintechs with Open Banking solutions from multi-asset execution, prime brokerage services to trading technology. Founded in 1992, Saxo has embraced Open Banking from the beginning, and is focused on helping clients and partners through win-win partnerships and product innovation. Since launching its first online trading platform in 1998, Saxo today wants to empower everyone to navigate their financial future by opening up access to trading and investment. Headquartered in Copenhagen, Saxo Group's AUM totals more than 45 billion euros, and employs more than 2000 people in financial centres around the world including London, Singapore, Amsterdam, Shanghai, Hong Kong, Paris, Zurich, Dubai and Tokyo. For more information, please visit www.home.saxo/en-hk/.