Expected Trading Range
Expected Trading Range
For FX crosses in particular, the major financial centres of the world all have their unique impact on the trading range. It is vital that both Fundamental and Technical traders understand these ranges and account for them in their trading strategies.
Expected Trading Range is an analysis of the volatility of the instrument, offering a view of the expected price range movement for the specific weekday and time of day based on average instrument price ranges over the past 6 months. The daily movement is a measurement of the high to low range, calculated over 6 months with the average movement for that day marked within the range for current market conditions.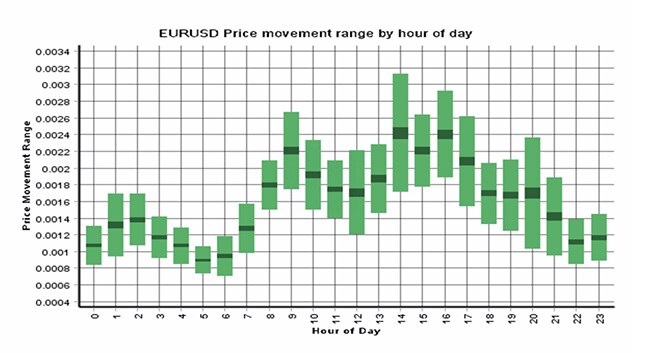 Knowing when an instrument is likely to be volatile or might consolidate due to lack of participation can give you an important insight into the psychology and flow of the market. Expected volatility can be particularly useful for:
setting appropriate market exit levels - Stop loss and Take profit placement should not only be place at strategic technical levels but should also take account of expected trade ranges for the period that the position is expected to be held

when to avoid trading instruments at specific times of the day when the instrument's price is expected to be volatile
Trade Signals
Expected Trading Ranges are integrated into Trade Signals in TraderGO and can be shown by checking the Show Expected Trading Range checkbox on a Trade Signal.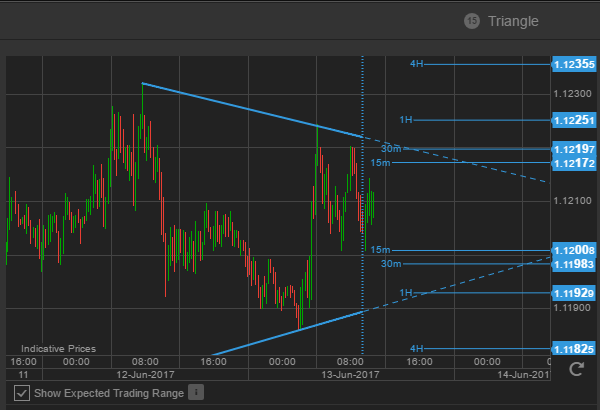 Expected Trading Ranges are shown for the Trade Signal period and for higher periods. This 15 minute Trade Signal example shows the Expected Trading Ranges for the next 15m, 30m, 1H and 4H.
Disclaimer
The technical analysis, like any and all indicators, strategies, columns, articles and all other features, accessible through this platform (including those from Autochartist) is for information purposes only and should not be construed as investment advice. Technical analysis is obtained from sources believed to be reliable, but Saxo Bank Group does not guarantee its completeness, accuracy, or any results from the use of this information.
Your use of the technical analysis tool, as with your use of any and all mentioned indicators, strategies, columns, articles and all other features, is entirely at your own risk and it is your own responsibility to evaluate the accuracy, completeness and suitability of the information. You should assess the risks of any trade with a financial adviser and make your own independent decision(s) regarding any tradable products which may be the subject matter of the technical analysis or any of the said indicators, strategies, columns, articles and all other features.
Please also be advised that if any of the said technical analysis or any of the said indicators, strategies, columns, articles and other features accessible on/through this platform is found to be advisory or a recommendation, the content is in any event provided with the intention of being for general circulation and availability only. As such it is not intended to, and does not form part of any offer or recommendation directed at you specifically, or have any regard to your investment objectives, financial situation or needs of yourself or any other specific person. Before committing to a trade or investment, please seek advice from a financial or other professional adviser regarding the suitability of the trade for you and where available read the relevant product offer/description documents, including the risk disclosures. If you do not wish to seek such financial advice, please consider carefully whether the product is suitable for you as you alone remain responsible for your trading gains and losses.
Trading risks are magnified by leverage – losses can exceed your deposits. Trade only after you have acknowledged and accepted the risks. You should carefully consider whether trading in leveraged products is appropriate for you based on your financial circumstances.